Summer 2015 Issue Out Now
Conscious Lifestyle Magazine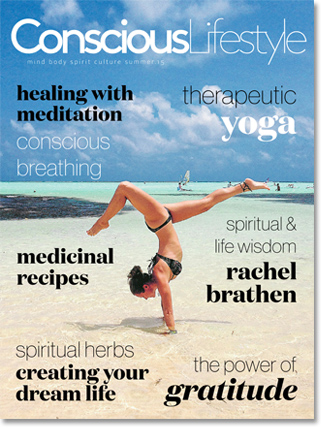 THE ART OF CONSCIOUS BREATHING
Spiritual teacher Shems Heartwell leads us on a journey within to reconnect with the power of breath.

YOGA, LIFE & WISDOM: RACHEL BRATHEN (YOGA GIRL) INTERVIEW
Justin Faerman & Meghan McDonald interview Rachel Brathen
An interview with Rachel Brathen (aka Yoga Girl) where she shares the finer points of living a conscious life.

RECIPE: MEDICINAL SUPERFOOD SOBA NOODLES
By Greg Arnold
World-renowned chef Greg Arnold offers up a medicinal twist on a Japanese classic: soba noodles with tonic herbs.
SPIRITUAL HERBS: HEALING POWER OF HOLY BASIL
By Justin Faerman
Revered for millennia throughout India, the medicinal herb Holy Basil, is believed to be a god in plant form. Rad.
HOW YOGA HEALS YOUR BODY
By Justin Faerman
Yoga is deep. So deep in fact, that researchers are discovering that it heals the body on a genetic level.
HEAL YOUR BODY WITH YOUR MIND
By Dina Proctor
Dina Proctor shares the profound story and techniques behind how she healed her body with her mind.
THE POWER OF GRATITUDE
If you let it, gratitude will transform your life. Dr. Barbara De Angelis shares 30 years of wisdom on the art.

CREATING YOUR DREAM LIFE
Who better to learn about creating your dream life from than spiritual billionaire Jack Canfield?
THE REALITY OF CONSCIOUSNESS
You are far more powerful than you realize, because you are consciousness and consciousness is everything.
GETTING WILD: THE ART OF CONNECTING TO NATURE
Lori Robinson interviews Tina Welling
Tina Welling and Lori Robinson muse on the spiritual art of getting wild—
reconnecting with the soul of nature.
TRAVEL: MARRAKECH
By Justin Faerman
The jewel of Morocco, Marrakech is truly unlike any other city on the planet. Ancient, modern, majestic.
ART: SURREAL REALITIES
Photographs by Reuben Wu
Every single one of Reuben Wu's totally surreal photographs is real. I know, we couldn't believe it either at first.
CONSCIOUS EVENTS, BOOK REVIEWS & MORE