Spring 2014 Issue Out Now
Conscious Lifestyle Magazine
EMOTIONAL FREEDOM
By Jim Dreaver
Jim Dreaver reveals a four-step process for effortlessly disarming even the most difficult emotions

GOTU KOLA: REJUVENATE YOUR MIND

By Justin Faerman
For thousands of years, Gotu Kola has been revered for its potent rejuvenative and mind-enhacing qualities

HEAL YOUR DIGESTION
By Justin Faerman
Stop avoiding 'problem' foods and turn your digestion into a wood-fire oven that can handle just about anything
EVERYTHING IS CONNECTED
After reading Michael Brown's essay, we're sure you'll never see anything quite the same way again
YOUR BRAIN ON SPIRITUALITY
By Justin Faerman
Neuroscience research reveals some surprising effects of spiritual practice on the brain
RECIPE: APPLE CINNAMON MUFFINS
By Renée Blair
Soft, moist and surprisingly easy to make, these apple cinnamon muffins are always in season
MOVING FROM WISDOM TO INTELLIGENCE
Gary Null interviews Author Stephen Hall
Wisdom, it turns out, can be acquired and Stephen Hall shares the fascinating findings of his years of research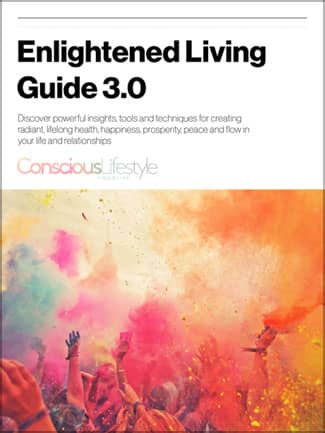 Free Enlightened Living Course:

Take Your Happiness, Health, Prosperity & Consciousness to the Next Level

Discover powerful insights and techniques for creating radiant health, happiness, prosperity, peace and flow in your life and relationships.

CHANGING THE WORLD, ONE CAMERA AT A TIME
By Justin Faerman
100Cameras gives marginalized children worldwide a voice through the transformative power of photography
THE SURREAL BEAUTY OF ICELAND
By Justin Faerman
Iceland is a seductive land of paradox, stark contrast and surreal beauty floating amidst the high seas
THE EVOLUTION OF CORK
By Meghan McDonald  + Justin Faerman
Cork is much more versatile a material than many realize… from wine to wallets, cork is in a renaissance
ART: WE ARE NATURE
The Photography of Christoffer Relander
Stunning double exposure photographs reveal the very thin line between humans, animals and the natural world
THE FINE ART OF ALMOND BUTTER
By Meghan McDonald
Until you've tried JEM's decadent almond buttters, we'd say you've never really 'experienced' almond butter
BOOK REVIEW: THIS. ONLY THIS.
By Justin Faerman
MUSIC: RELMIC STATUTE
By Justin Faerman