Careers With Soul: Help Make a Positive Impact on the World Teaching Yoga and Mindfulness in Schools
BY MEGHAN MCDONALD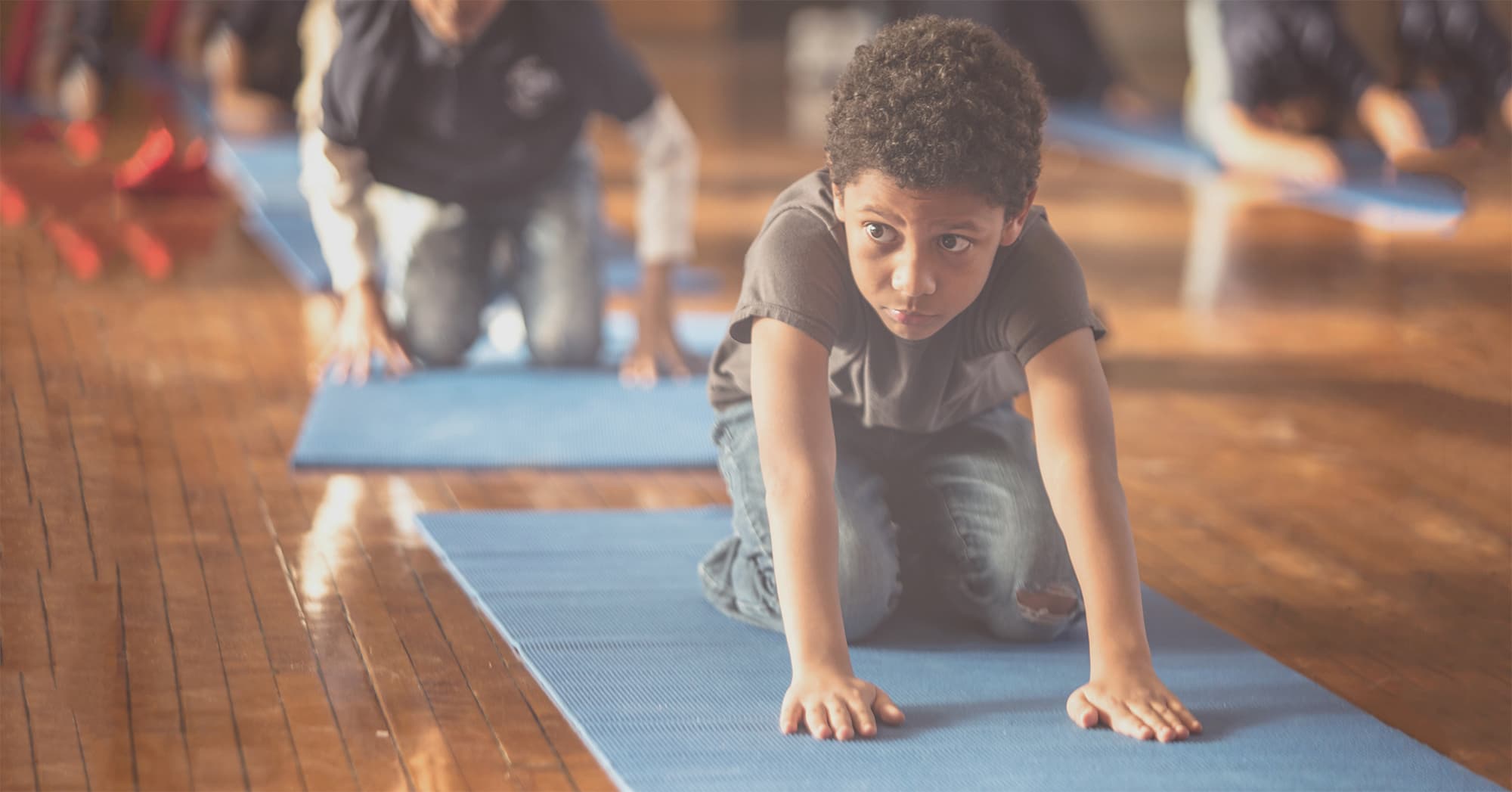 It's everybody's dream to earn a living doing something they love that has a positive impact on the world, and we can think of few better ways to do that then by helping children learn proven practices for long-term health, happiness, and holistic success like yoga and mindfulness.
In the last few years, there has been an incredible amount of research showing just how profound yoga and mindfulness practices are for improving pretty much every area of a person's life—and the earlier we learn them, the better. Children's brains are shaped by their experiences in their formative years and learning yoga and mindfulness at these young ages has been shown to have a number of benefits from measurably lowering stress levels, to significantly increasing happiness and academic performance to building healthy social skills and increasing the likelihood of positive contribution throughout the child's life.
This is truly how we can build a better future for us all—by equipping the next generation with the skills they need to develop high levels of emotional intelligence and tools to live happy, healthy, fulfilling lives.
How to Help Bring Yoga and Mindfulness into Schools
The positive aspects that yoga can have on a child's life is something the team at Bent on Learning realized many years ago and has been working tirelessly to achieve ever since. Bent On Learning is a nonprofit organization committed to teaching yoga and mindfulness to public school children, aiming to touch the lives of as many students as possible—not after school, but right there, in the classroom, where the learning happens.
They have an incredible track record of success: they currently facilitate 61 classes per week, touching the lives of 1,140 kids every week, with over 22,356 children served to date.
And they are growing—they have 50 schools on their waiting list, with new requests for their program coming in every month…
With a vision to bring yoga and mindfulness skills to children everywhere, they are seeking to expand their experienced team of yoga educators through their Yoga Alliance Certified Children's Yoga Teacher Training. This training shares Bent On Learning's highly effective, real-world proven methodology with school teachers, yoga teachers, and those who feel called to this path either as a part-time addition to their existing career or something that they would like to pursue full-time.
Designed to prepare participants to teach yoga to diverse populations of children in a school environment, their training is a sure path to learning the core skills needed to kick off a career helping future generations to thrive.
It is an extremely comprehensive training that covers a wide range of topics from understanding the needs of students and schools, to learning classroom management techniques and writing lesson plans. Participants have the option to receive hands-on teaching experience in New York City schools, under the guidance of a senior Bent On Learning teacher.
If you are interested in participating, you can learn more and apply here: bentonlearning.org/tt2018/
Each module of the training features special guest experts in education and youth development who share the fruits of their many years of experience working with children in the classroom, both with yoga and other synergistic skills to help you to be able to navigate any experience that arises and have the greatest impact.
Already a School Teacher? It Gets Even Better…
Bent On Learning's Children's Yoga Teacher Training Program is a great way to add depth and impact to your existing curriculum, and it does not require any previous yoga certifications or teaching experience. It's also highly specialized to serve and accommodate a diverse, inclusive range of ages, body types, ethnicities, and learning styles, making it accessible and impactful for each and every student.
Imagine walking into your classroom every day to kids that feel confident in themselves, their bodies, and their abilities. Here's what a few of the students have experienced this in their classrooms had to say…
"Yoga makes me feel like I'm important." – Diamond, 6th Grade, Robert Wagner Middle School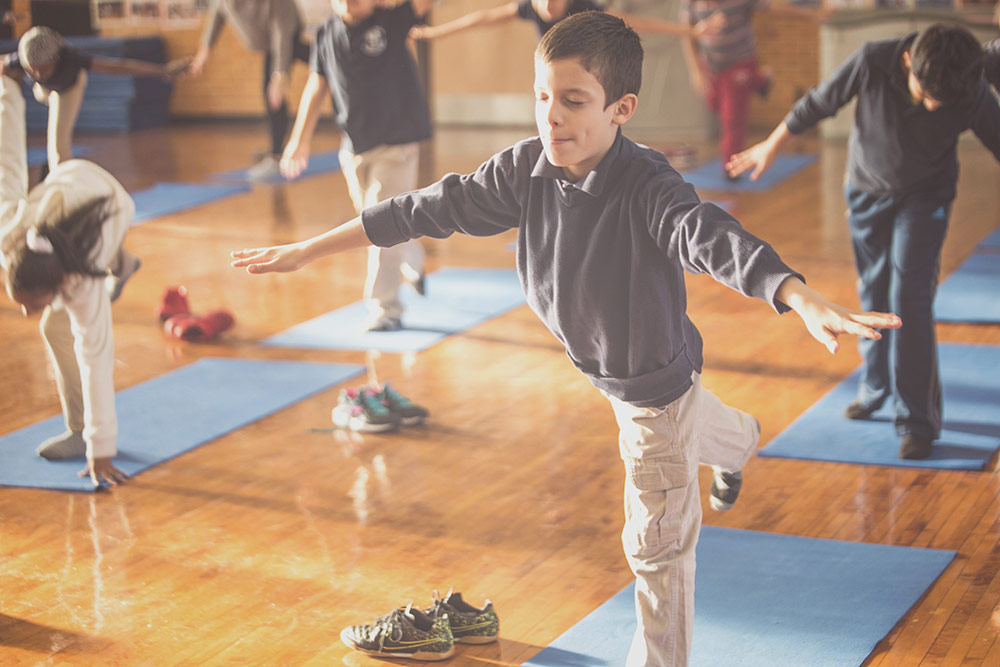 "Yoga has taught me the importance of taking a minute to be still, listen to my thoughts and relax.  I also have a more positive attitude about my body.  Now I know that if I want my body to be able to do more, I just need to practice.  Before I would just say I can't, now I try…" – Bobbi, Senior, Williamsburg Prep High School
Bent on Learning has been closely monitoring the effects of their in-school programs and yoga teacher curriculum. Thus far, they've found that 83% of Bent On Learning high school students showed statistically significant gains on the following youth development outcomes, which have been linked to improved overall health, happiness, academic performance and positive behavior.
1. Self-Management
2. Positive Identity
3. Contribution
4. Social Skills
5. Social Capital
6. Academic Self-Efficacy
And in fact, when it comes to academic self-efficacy, the results of their research show that the students with the lowest confidence in their ability to attain academic success improved the most!
"Our students saw significant gains in their ability to self-regulate through the Bent On Learning program. They learned how to use a simple yet important tool like their breath to instill focus and manage their emotions. The BOL yoga program is particularly vital to supporting our at-risk and special needs student population. It is our vision to become a flagship school and bring the benefit of these practices school wide from Pre-K through 8th grade". – David Cintron, Principal, PS214
To learn more about how this is possible in your classroom and to find out more about Bent on Learning mission and training, visit: bentonlearning.org/tt2018/
This article is a sponsored post written in collaboration with the non-profit Bent On Learning, whose trainings and ethos comply with Conscious Lifestyle Magazine's stringent quality and integrity guidelines.
About The Author
Meghan McDonald is the Co-founder and Editor-in-Chief of Conscious Lifestyle Magazine. She holds a master's degree in social psychology from San Diego State University where she conducted award-winning research into the nature of human social behavior. She is an advocate for many environmental and social justice causes and a champion of social impact-focused brands and products that adhere to high sustainability and ethical standards. As a regular travel and lifestyle contributor to Conscious Lifestyle Magazine, Meghan funnels her extensive knowledge of natural products, organic living, and consumer behavior into researching and reviewing brands and products that promote health, wellbeing, sustainability, equality, and positive social change. She has traveled to over 25 countries and loves exploring diverse destinations worldwide while documenting the local artisans and businesses offering conscious, healthy alternatives.