Winter 2018 Issue Out Now
Conscious Lifestyle Magazine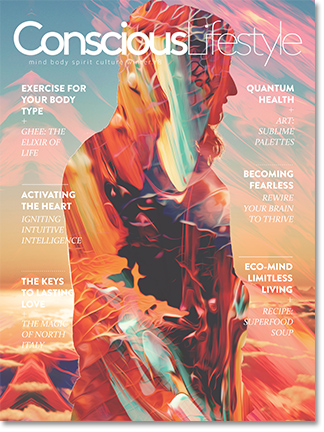 Digital Edition:
Order Now
Collectors Edition Print Issue:
Coming Soon!
EXERCISE FOR YOUR BODY TYPE
By Dr. Suhas Kshirsagar
Each of us is fantastically unique and our exercise should be as well. Don't just workout, move for your body type.
GHEE: THE ELIXIR OF LIFE
By Justin Faerman
Revered as a sacred food for thousands of years, ghee is equal parts delicious and medicinal.
RECIPE: SUPERFOOD PEA SOUP
By Nicola Graimes
Rich in nutrients and flavor, this is easy-to-make slow cooker recipe is a warming superfood treat.
BECOMING FEARLESS
By Akshay Nanavati
Discover a neuroscience-based practice for rewiring your brain to let go of old memories and become fearless.
HEART INTELLIGENCE: AWAKENING YOUR INTUITIVE ABILITIES
By Jeff D. Nixa
The heart is in many ways just as intelligent as the brain. Learn how to tap into your heart-mind.
QUANTUM HEALTH: ACTIVATING THE SUPERHUMAN BODY
By Alberto Villoldo
Health is far more than just a physical proposition. Learn how the unseen worlds affect the core of our being.
LIMITLESS LIVING: REIMAGINING OUR FUTURE
By Frances Moore Lappé
Ignore the doom and gloom. For every major problem we face as a society, an elegant solution exists.
THE FIVE KEYS TO LASTING LOVE
By Gay and Katie Hendricks
Gay and Katie Hendricks have made it their life's work to map the keys to lasting love—here's what they found.
THE CONSCIOUS TRAVELER'S GUIDE TO NORTH ITALY
By Justin Faerman and Meghan McDonald
If you are looking for magic, you just might find it somewhere in Northern Italy.
ART: MYSTERIOUS PALETTES
By Jack Vanzet
Experience the sublime colorscapes of Australian painter Jack Vanzet. You won't be disappointed.
CONSCIOUS EVENTS, BOOK REVIEWS, ENLIGHTENED PRODUCTS & MORE
Vote with your wallet for a better (and more stylish) future by supporting these conscious, sustainable brands.
– OR –
Order the Print Edition Winter 2018 Issue (Coming Soon!)
– OR –