Winter 2016 Issue Out Now
Conscious Lifestyle Magazine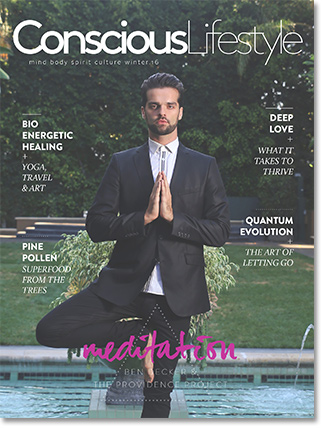 Collectors Edition Print Issues Now Available
Beautiful, ultra-high-quality collectors edition printed editions of Conscious Lifestyle Magazine are now available for you to curl up with in bed, at the beach or anywhere you like.
Order Now Through the Following Retailers with Free Shipping:
(Free shipping on qualifying US Orders only)
Amazon.com:

Click Here to Order
(US & International Orders Accepted)
BIO-ENERGETIC HARMONY
By Dr. Mark Mincolla
One size definitely does not fit all and knowing your unique bioenergetic code allows you to honor your needs.
PINE POLLEN: ELIXIR FROM THE FOREST
By Justin Faerman
You can tell a lot about a superfood's effects by how it grows in the wild. This one creates massive, life-giving trees.

RECIPE: FRENCH LENTIL SOUP
By Dr. Claire Ragozzino
Culinary wizardess Claire Ragozzino's delicata squash soup recipe will have you wishing it's winter all year long.
CONSCIOUS HOLIDAY GIFT GUIDE
By Alexa Gray
Stand out in a sea of sweaters and gift cards with these thoughtfully pure and healing conscious artisan goods.
YOGA TO SHIFT CONSCIOUSNESS
By Matt Cooke
Take your yoga practice to a whole new level of depth with neuroscience-based yoga teacher Matt Cooke.
THE ART OF LETTING GO
By Dr. Ronald Alexander
Of what no longer serves you, that is. World-renowned Zen teacher, Dr. Ronald Alexander shows you the way.
THE PROVIDENCE PROJECT
By Justin Faerman & Meghan McDonald
Visionary change maker Ben Decker is healing the world, one meditation at a time. This is his incredible story.
WHAT IT TAKES TO THRIVE
By Dr. Donna Stoneham
Wouldn't it be nice if life came with an instruction manual on what you need to do to thrive? Here you go.
QUANTUM EVOLUTION
By Cynthia Sue Larson
Physicist Cynthia Larson shares her unique methodology for making quantum leaps in your personal evolution.
CONSCIOUS RELATIONSHIPS
By Drs. Gay & Katie Hendricks
Gay and Katie Hendricks share the keys to creating healthy, deeply fulfilling relationships that just keep on giving.
NATURE AND YOUR BRAIN
By Justin Faerman
Stanford researchers are finding that some very interesting things happen to your brain when you're in nature.
FINDING YOUR TRUE SELF
By Julia McCutchen
The meaning of life is to find your gift. The purpse of life is to give it away. Discover sage advice for doing it well.
CONSCIOUS TRAVEL: BALI
By Ryan Mandell
We're pretty sure Bali is one of the most magical place on the planet. We explore for your spiritual benefit.
ART: MYSTICAL REALITIES
Art by Collin Elder
Visionary artist Collin Elder proves that the separation between man and nature is nothing but an illusion.
CONSCIOUS EVENTS, BOOK REVIEWS & MORE