Winter 2014 Issue Out Now
Conscious Lifestyle Magazine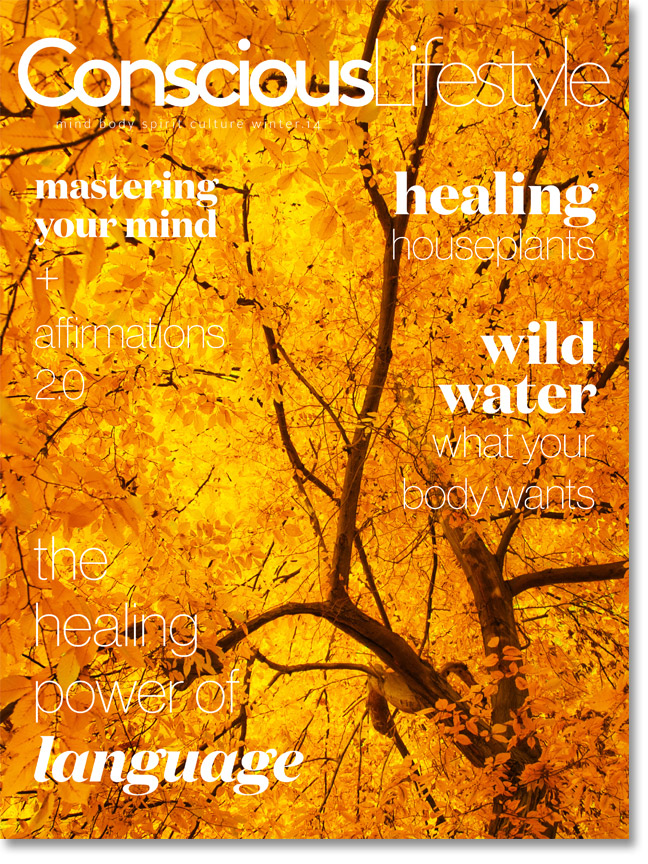 IN SEARCH OF WILD WATER
By Daniel Vitalis
The wilder the better, according to Daniel Vitalis.  and we're pretty convinced he's right too.

SHILAJIT: MEDICINE OF THE MOUNTAINS
By Justin Faerman
Literally speaking, this is medicine created by the mountains themselves and it is powerful and healing indeed.

THE PERSONALITY GENE
By Justin Faerman
Is your personality genetically encoded?  And if so, can it be altered after the fact? We investigate.
THE HEALING POWER OF LANGUAGE
By Mark England
Mark England shows you how to start creating the life you want by changing the way you speak (and think).
AFFIRMATIONS 2.0: QUESTION EVERYTHING
By Justin Faerman
A simple little tweak to a classic self-help technique that makes it infinitely more powerful for creating change.
CULTIVATING JOY
By Christina McMahon
It's really not that hard, especially after you read this wonderful article by the wise Christina McMahon.

RECIPE: COCONUT SPLIT PEA SOUP
By Renée Blair
For most of the world, winter is just around the corner and there's nothing like nourishing soup to keep you warm.
MASTERING YOUR MIND
By Brendan Murphy
Visionary healer, thinker and writer Brendan Murphy shares his powerful techniques for taming your mind.
AIR PURIFYING PLANTS
By Justin Faerman
Doing way more than just adding a little color to the room, these house plants clean your air (and then some).
TRAVEL: AO PHANG NGA, THAILAND
By Justin Faerman
We get you acquainted with Thailand's spectacular Ao Phang Nga National Park in all its splendor and beauty.
ART: BETWEEN DREAM AND REALITY
The Artwork of Samantha Keely Smith
Artist Samantha Keely Smith creates vibrant, otherworldly paintings at once organic and surreal.
BOOK REVIEW: CONSCIOUS DREAMING
By Justin Faerman
MUSIC: TINARIWEN REMIXED
By Justin Faerman
Everything about Tinariwen is awesome, including the tasteful, mystical remixes they've released.