Recipe: Seasonal Vegetable
Coconut Curry [Vegan]
BY KRISTIN DAHL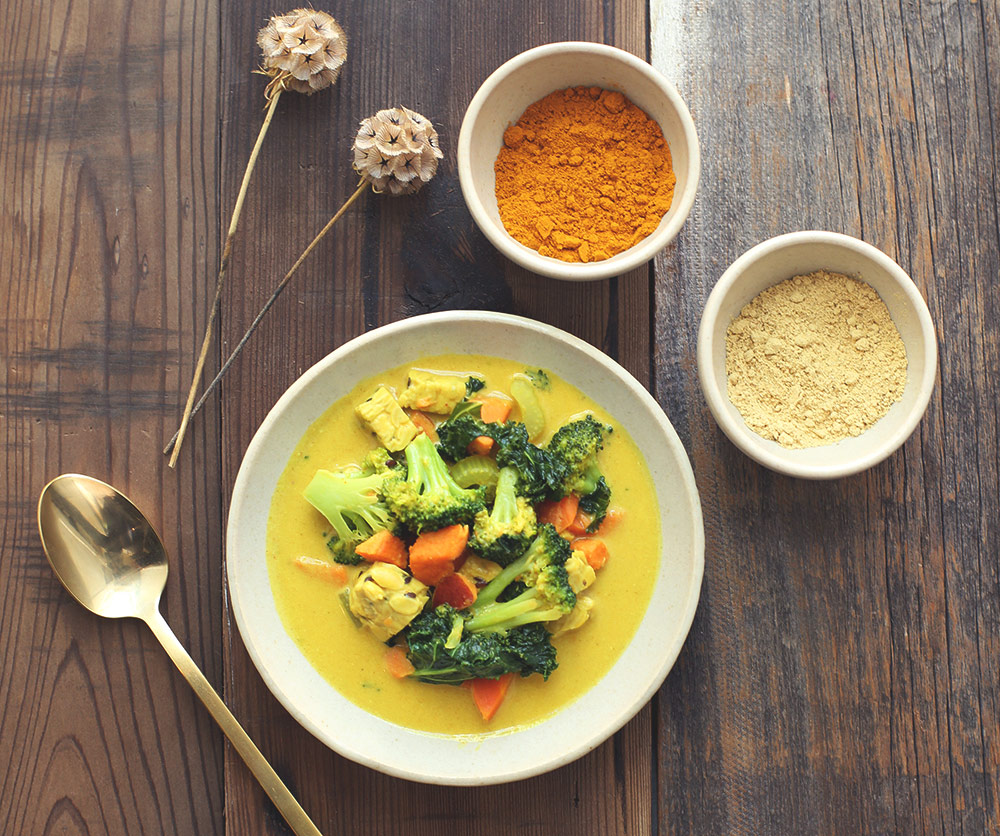 photo: alexa gray
This immune-boosting, anti-inflammatory recipe offers a nutritious blend of medicinal spices to warm the body and support cellular strength. The absence of garlic and onion makes this dish sattvic and gentle on digestion. It's a fun recipe to mix and match your favorite veggies, proteins, and grains, plus optional fresh herbs to take your cleansing to the next level. Play around to personalize this hearty and health-enhancing dish!
Ingredients & Recipe
2 tbsp coconut oil
1 tbsp minced peeled fresh ginger (or 1 tsp ground ginger)
1 tsp ground cumin
1 tsp ground coriander
1 tsp turmeric
1/2-1 tsp curry powder
1/2-1 tsp cayenne (optional)
1-1 1/2 tsp Himalayan sea salt
2 15-ounce cans unsweetened (organic, no guar gum) coconut milk
1-2 cups of water—use more or less, depending on how creamy you like it!
1 tbsp raw honey (exclude or substitute for vegan)
A few splashes of coconut aminos
Any seasonal veggies you want
Optional Ingredients
+ Add chickpeas, tempeh, chicken, or fish (cook separately, then combine)
+ Serve over brown or basmati rice, soba or rice noodles and add fresh herbs such as basil, cilantro, or lemongrass.
Cooking Directions
1. Warm coconut oil in a large pot.
2. Add spices and heat on low until aromatic but not burnt—1 minute maximum and then remove from heat.
3. Add dense veggies like root vegetables, carrots, sweet potatoes, and celery first, then sauté with spices for a few minutes on low heat, stirring to combine.
4. Add coconut milk, then water, and bring to a boil—roughly 5-7 minutes.
5. Add veggies like broccoli, kale, and bok choy—plus anything else you like—and cook for roughly 3 minutes.
6. Add a few splashes of coconut aminos and a heaping tablespoon of raw honey; mix to combine.
7. In separate pans, cook protein and grains of choice until just tender; add to curry mixture, garnish with fresh herbs, serve, and enjoy!
About The Author
Kristin Dahl of Dahl House Nutrition is a Los Angeles-based nutritionist, chef, and author who offers a fresh take on holistic living. She specializes in nutrition consulting, plant-based cooking, and seasonal transformation programs. Her book, The Art of Wellness, put her on the map as a leader in the wellness field. Her offerings come from an extensive background and training in holistic nutrition, plant-based cooking, herbal medicine, Ayurveda, Chinese Medicine, yoga, and functional nutrition. Visit her website: dahlhousenutrition.com