Stop Anxiety in Its Tracks with CBD: The Natural Remedy for Anxiety that Actually Works
BY MEGHAN MCDONALD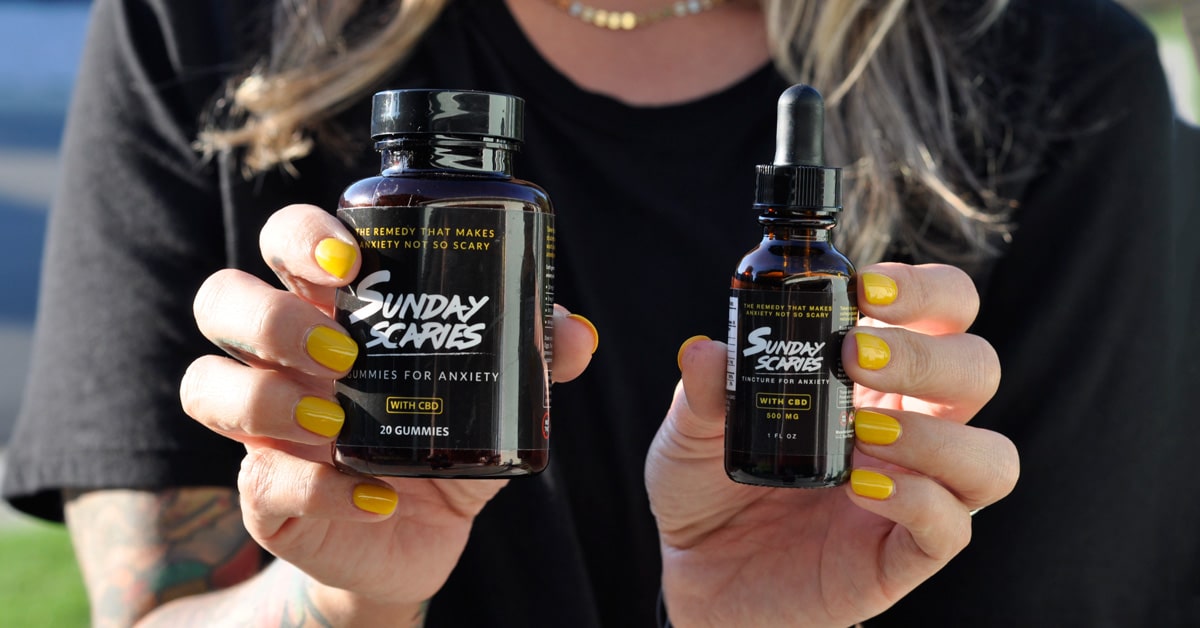 When it comes to natural remedies for anxiety there are scores of supplements and herbs that make big claims, but few that truly work well, putting you in a calm, confident, and centered state without making you drowsy or tired. And in this special class of borderline-miracle treatments that actually get the job done (and get it done quickly and effectively), there is one that stands out above the rest in a league of its own as the leading natural option for anxiety that is 100% legal, safe, and non-habit forming: CBD.
Why CBD is the King of Natural Anxiety Herbs
You may have heard some buzz around CBD lately—it's rapidly growing in popularity among health and wellness conscious individuals as one of the most effective holistic anxiety treatments for a number of reasons: it's affordable, it most definitely works, and there is a substantial amount of high-quality research backing it up. And perhaps best of all, it's completely natural and gets the job done fast.
How CBD Works to Rapidly Reduce Anxiety and Produce a Profound Sense of Calm
One of the most noticeable effects that many people report after taking CBD oil is a pleasant sense of centeredness and a noticeable lift in mood. Many describe feeling a wave of calm and bliss washing over their bodies, which is consistent with CBD's reported effects at 5-HT receptors that control the release of many important neurotransmitters (particularly serotonin) that affect stress, anxiety levels, and mood.
Researchers have also found that CBD in high doses powerfully calms the amygdala and cingulate cortex, two important areas of the brain well-known to control fear, stress levels and anxiety, among other things.[1] Cannabidiol extract has also been shown to reduce feelings of anxiety in individuals with social anxiety disorder and even beyond that to help lower cortisol levels (the hormone that results from stress and anxiety).[2]
Choosing an Effective CBD Product to Help with Anxiety
As a result of all these incredible findings, in combination with the fact that millions of people are finding benefit from taking CBD products regularly, there are a number of companies producing CBD products in all manner of potencies, formulas, and combinations for a number of different uses from pain to fighting inflammation, protecting the brain, and more.
However, there are only a handful of companies specifically focused on formulations to help with anxiety—one of which is Sunday Scaries.
Sunday Scaries CBD: Specifically Formulated to Help Reduce Anxiety without Drowsiness
Sunday Scaries was founded in 2017 by friends Mike and Beau who both struggled with social and situational anxiety for most of their lives. They had tried countless natural products and herbs with varying levels of success. But once they tried CBD, they knew they had truly found something remarkable and set off to create a high-quality, potent, and natural formulation that worked quickly and without the drowsiness that is often caused by sedating herbs and supplements.
Beau and Mike actually owned a bar together, and they wanted a natural alternative that could help alleviate their anxiety in such a high-stress business environment. So, they spent a year tinkering with different formulas until they found the magic combination—high-potency CBD mixed with a little bit of Vitamin B12 and D3 for a slight uplift—and voila, anxiety relief without feeling tired. Oh, and to make it super easy to take, they formulated it as a tasty, chewable gummy bear for casual consumption on the go.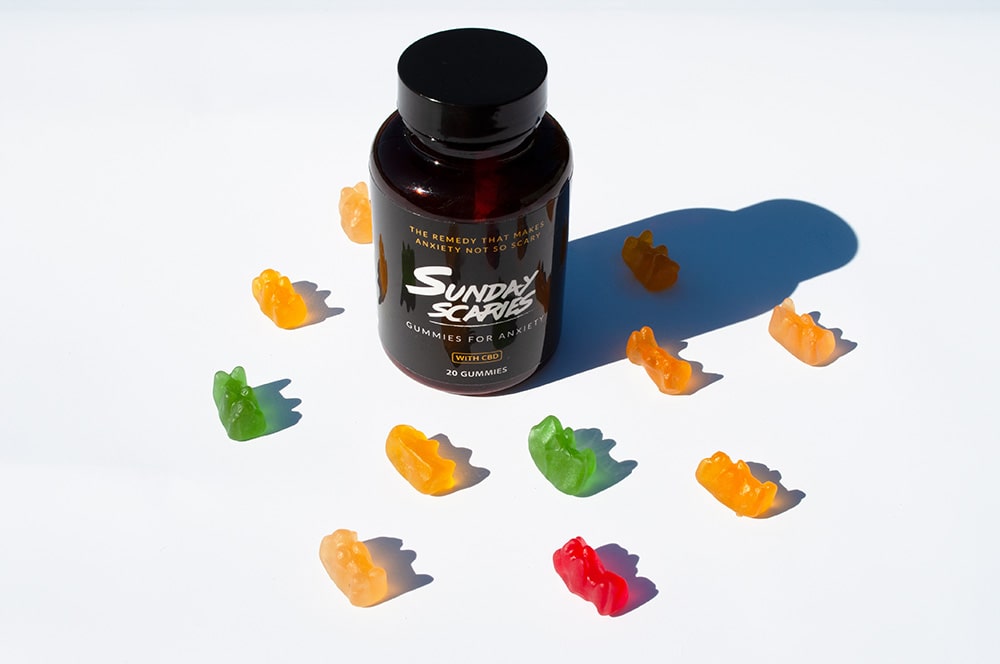 It really doesn't get much easier than that—whenever you need to make sure you are feeling calm, centered, and chill, munch on one of Sunday Scaries' delicious CBD gummies, which are made with 100% natural ingredients like essential oil-based flavors, coconut oil, and beet and turmeric juice for coloring—and you are good to go. Literally. Speaking from experience, these things work fast since they use a special type of nano-amplified CBD extract that is absorbed more rapidly by your cells than other forms. In fact, they are one of our favorite CBD supplements because they are so effective. And, if your childhood was anything like mine, their gummy bear likeness congers up all kinds of blissful nostalgia, making you feel like you're getting a little treat each time you reach for one.
In case you're wondering, Sunday Scaries' CBD gummies are derived from hemp, and there's no THC (the psychoactive compound of cannabis) within their product whatsoever. The very small amount of naturally occurring THC is completely removed during the CBD extraction process, which results in a safe, natural, and legal alternative to anxiety relief.
Head over to their website here to check out their full line of anxiety-reducing products. Use code: LIFESTYLE10 for 10% off.
This article is a sponsored post written in collaboration with Sunday Scaries, whose products and ethos complies with Conscious Lifestyle Magazine's stringent quality and integrity guidelines.
[1] Fusar-Poli et al. "Distinct effects of delta-9-tetrahydrocannabinol and cannabidiol on neural activation during emotional processing." Arch Gen Psychiatry 66.1 (2009): 95-105.
[2] Schier et al. "Cannabidiol, a Cannabis sativa constituent, as an anxiolytic drug." Rev Bras Psiquiatr 34.1 (2012): 104-110.
About The Author
Meghan McDonald is the Co-founder and Editor-in-Chief of Conscious Lifestyle Magazine. She holds a master's degree in social psychology from San Diego State University where she conducted award-winning research into the nature of human social behavior. She is an advocate for many environmental and social justice causes and a champion of social impact-focused brands and products that adhere to high sustainability and ethical standards. As a regular travel and lifestyle contributor to Conscious Lifestyle Magazine, Meghan funnels her extensive knowledge of natural products, organic living, and consumer behavior into researching and reviewing brands and products that promote health, wellbeing, sustainability, equality, and positive social change. She has traveled to over 25 countries and loves exploring diverse destinations worldwide while documenting the local artisans and businesses offering conscious, healthy alternatives.