Summer 2017 Issue Out Now
Conscious Lifestyle Magazine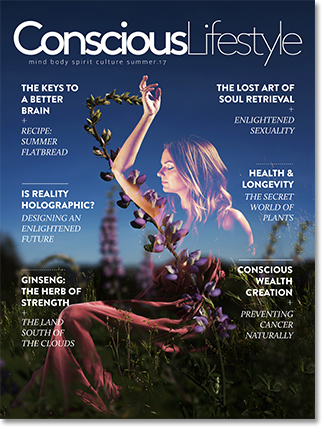 Collectors Edition Print Issues Now Available
Beautiful, ultra-high-quality collectors edition printed editions of Conscious Lifestyle Magazine are now available for you to curl up with in bed, at the beach or anywhere you like.
Order Now Through the Following Retailers with Free Shipping:
(Free shipping on qualifying US Orders only)
Amazon.com:
Click Here to Order Now via Amazon
THE ART & SCIENCE OF LONGEVITY
By Drs. Elizabeth Blackburn and Elissa Epel
Breakthroughs in genetic science are helping us to understand what lifestyle changes keep us alive longer.
THE KEYS TO PREVENTING CANCER
By Justin Faerman
Why didn't ancient cultures get cancer? By examining what's changed, we can gain great insight into the roots of it all.
GINSENG: HERB OF HARMONY
By Justin Faerman
Once a favorite of Chinese emperors this legendary herb builds deep strength and harmony in the body.
RECIPE: SUMMER BERRY FLATBREAD
By Alle Weil
Sweet, savory and gluten-free, this easy-to-make flatbread is a perfect treat for long summer days.
THE KEYS TO A BETTER BRAIN
By Ray Kurzweil & Dr. Terry Grossman
Recent breakthroughs in natural medicine are offering incredible insights into rejuvenating the brain.
CONSCIOUS WEALTH
An Interview with Seth Streeter
An in-depth interview with financial genius Seth Streeter exploring the art of blending purpose with prosperity.
THE LOST ART OF SOUL RETRIEVAL
By Howard G. Charing
Shamans have a penchant for working miracles that defy explanation. Here's one of the ways they do it.
THE HOLOGRAPHIC UNIVERSE
By Jude Currivan
Everything we think we know about reality is being shaken up. Jude Currivan helps us to make sense of it all.
SEXUAL WISDOM OF THE ANCIENTS
By Acharya Shunya
The sages of India have a thing or two to say about sexuality and how to approach it from a higher perspective.
AN ENLIGHTENED FUTURE FOR ALL
By Duane Elgin
Duane Elgin offers a new perspective on human evolution and maps out the shifts to creating an enlightened future.
YUNNAN CHINA: THE LAND SOUTH OF THE CLOUDS
By Madeline Weinfield
Take an adventure deep into the heart and soul of the remote Yunnan province in the southern edge of China.
ART: THE SECRET WORLD OF PLANTS
Art by Craig Burrows
Photographer Craig Burrows uses cutting-edge technologies to help us peer into the hidden worlds of plants.
CONSCIOUS EVENTS, BOOK REVIEWS, ENLIGHTENED PRODUCTS & MORE