Summer 2016 Issue Out Now
Conscious Lifestyle Magazine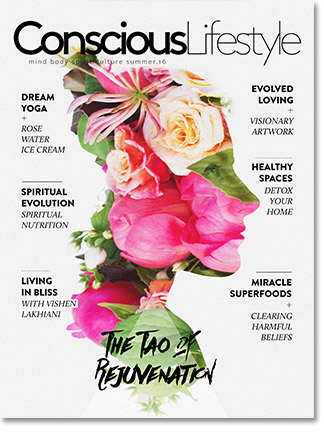 Collectors Edition Print Issues Now Available
Beautiful, ultra-high-quality collectors edition printed editions of Conscious Lifestyle Magazine are now available for you to curl up with in bed, at the beach or anywhere you like.
Order Now Through the Following Retailers with Free Shipping:
(Free shipping on qualifying US Orders only)
Amazon.com:

THE TAO OF REJUVENATION
By Angelo Druda
Angelo Druda shares the art and ancient science of rejuvenating your body and mind from the inside out.
MORINGA: THE MIRACLE TREE
By Justin Faerman
Revered throughout the world as one of the greatest medicinal plants of all time, Moringa lives up to the hype.
RECIPE: RASPBERRY ROSE WATER ICE CREAM
By Rosie Santos
Super easy to make, vegan, raw and ultra-tasty, this rose-water infused ice cream is the healthiest kind of decadent.
YOGA: EXPANDING YOUR SPIRITUAL BANDWIDTH
By Matt Cooke
Rewire your nervous system to create more bandwidth for having deep spiritual experiences.
CLEARING HARMFUL BELIEFS
By Amy B. Scher
Healer Amy Scher shares powerful energetic techniques for working through limiting beliefs.
LIVING IN BLISS
By Vishen Lakhiani
Vishen Lakhiani shares the secrets to Blissipline: the art of cultivating happiness and bliss in your everyday life.
THE KEYS TO SPIRITUAL EVOLUTION
By Colleen Mauro
Seeking higher consciousness? Then you'll love this compilation of powerful practices for spiritual evolution.
DREAM YOGA: THE ART & SCIENCE OF LUCID DREAMING
By Andrew Holecek
Andrew Holecek guides us into the realms of dream consciousness and offers powerful tools for the journey.
DETOX YOUR HOME: CREATING HEALTHY SPACES
By Kamea Chayne
The food you eat is organic, now it's time to make the home you live in meet the same healthy standards.
RELATIONSHIPS: EVOLVED LOVING
By Shems Heartwell
Master relationship coach Shems Heartwell shares the keys to creating an evolved relationship built on love.
TRAVEL: THE JUNGLES OF COSTA RICA
By Justin Faerman & Meghan McDonald
Journey with us on a health-focused adventure through the jungles of Costa Rica exploring the best of nature and nurture.
ART: PIXEL-DRIVEN MAGIC
The Art of Ari Weinkle
Visionary artist Ari Weinkle blends art, technology and meditation into some of the finest art we've ever seen.
CONSCIOUS EVENTS, BOOK REVIEWS & MORE
– OR –
Order the Print Edition Summer 2016 Issue (Coming Soon!)
– OR –