Spring 2018 Issue Out Now
Conscious Lifestyle Magazine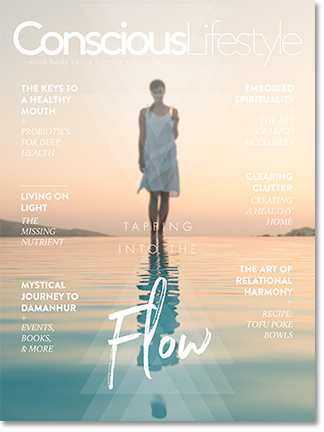 Digital Edition:
Order Now
Collectors Edition Print Issue:
Coming Soon!
TAKING CARE OF YOUR TEETH
By Nadine Artemis
Often overlooked by those seeking wellness, a properly cared for mouth is an essential ingredient in health.
THE POWER OF PROBIOTICS
By Jo Panyko
It is kind of mind boggling that invisible microorganisms can so profoundly influence our health but they do.
RECIPE: TOFU POKE BOWLS
By Carina Wolff
Hearty but not heavy, flavorful but not fatty, poke bowls are a delicious and healthy lunchtime staple in Hawaii.
HOW TO TAP INTO THE FLOW
By Dr. Nauman Naeem
Beyond the confines of normal waking consciousness lies the mystical, but very real, realm of flow.
EMBODIED ENLIGHTENMENT
By Amoda Maa
All too often ignored on the spiritual path, the body is one of the final frontiers on the path to enlightenment.
LIVING ON LIGHT
By Dr. Jacob Israel Liberman
Most of the energy our body uses to give us life doesn't come from food or even our breath—it comes from light.
CLUTTER INTERVENTION
By Tisha Morris
Your home is a reflection of the state of your being and can be a powerful tool for development, healing, and growth.
THE ART OF RELATIONAL HARMONY
By Jessica Graham
Discover the keys to bringing harmony and flow into your relationships, even when things get challenging.
A MYSTICAL JOURNEY TO DAMANHUR
By Justin Faerman and Meghan McDonald
If you are looking for magic, you just might find it somewhere in Northern Italy.
ART: SOUL CONSCIOUSNESS
By Leigh McCloskey
Visionary artist Leigh McCloskey captures inspired glimpses into the higher planes of consciousness and beyond.
CONSCIOUS EVENTS, BOOK REVIEWS, ENLIGHTENED PRODUCTS & MORE
Vote with your wallet for a better (and more stylish) future by supporting these conscious, sustainable brands.
– OR –
Order the Print Edition Spring 2018 Issue (Coming Soon!)
– OR –