Spring 2017 Issue Out Now
Conscious Lifestyle Magazine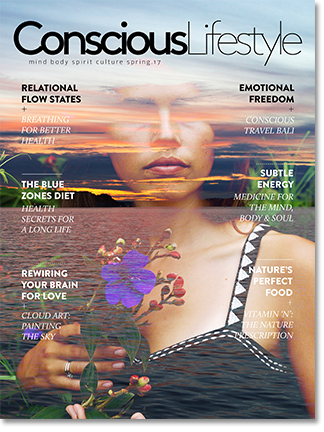 Collectors Edition Print Issues Now Available
Beautiful, ultra-high-quality collectors edition printed editions of Conscious Lifestyle Magazine are now available for you to curl up with in bed, at the beach or anywhere you like.
Order Now Through the Following Retailers with Free Shipping:
(Free shipping on qualifying US Orders only)
Amazon.com:

THE BLUE ZONES DIET
By Dan Buettner
By studying the diets and lifestyles of the world's longest-lived people you can learn a thing or two about health.
THE HEALTH HACKER'S GUIDE TO BETTER BREATHING
By Terence Carfrae
Breathing better is the easiest and most powerful way to improve your health. Learn how to do it like a pro.
CHLORELLA: NATURE'S MOST PERFECT FOOD
By Justin Faerman
Lovingly referred to as the king of superfoods, this nutrient-rich algae is a potent tonic for greater health.
RECIPE: HERB-INFUSED GLUTEN-FREE CARROT CAKE
By Julia Corbett
Master dessertress Julia Corbett shares her recipe for medicinal carrot cake that still tastes divine.
REWIRING YOUR BRAIN FOR LOVE
By Barbara De Angelis, Ph.D.
What if you could program yourself to show up from a place of love all the time? You can. Here's how to do it.
THE KEYS TO EMOTIONAL FREEDOM
By Briana & Dr. Peter Borten
Learn a powerful technique for letting go of what's holding you back and finding emotional freedom.
SUBTLE ENERGY MEDICINE
By Philippa Lubbock
Energy medicine is a powerful tool for self-healing and spiritual growth and you can start practicing it today.
THE ART OF RELATIONAL FLOW
By Shems Heartwell
Living in the flow. Sounds great doesn't it? It is, and this is how you can bring it into your relationships.
THE NATURE PRESCRIPTION
By Richard Louv
Nature is the best medicine. Seriously. And now there is quite a bit of science to back it up as well.
THE CONSCIOUS TRAVELER'S GUIDE TO BALI
By Justin Faerman with Meghan McDonald
As the crown jewel of Indonesia, the small tropical island of Bali is a paradise for the conscious traveler.
COLLAPSING TIME: THE CLOUDSCAPES OF MATT MOLLOY
Art by Matt Molloy
In some ways technology actually brings us closer to nature and reveals a side we seldom get to see.
CONSCIOUS EVENTS, BOOK REVIEWS, ENLIGHTENED PRODUCTS & MORE
– OR –
Order the Print Edition Spring 2017 Issue (Coming Soon!)
– OR –