Superfood Recipe: Easy Raspberry Banana Rose Water Ice Cream [Vegan]
BY ROSIE SANTOS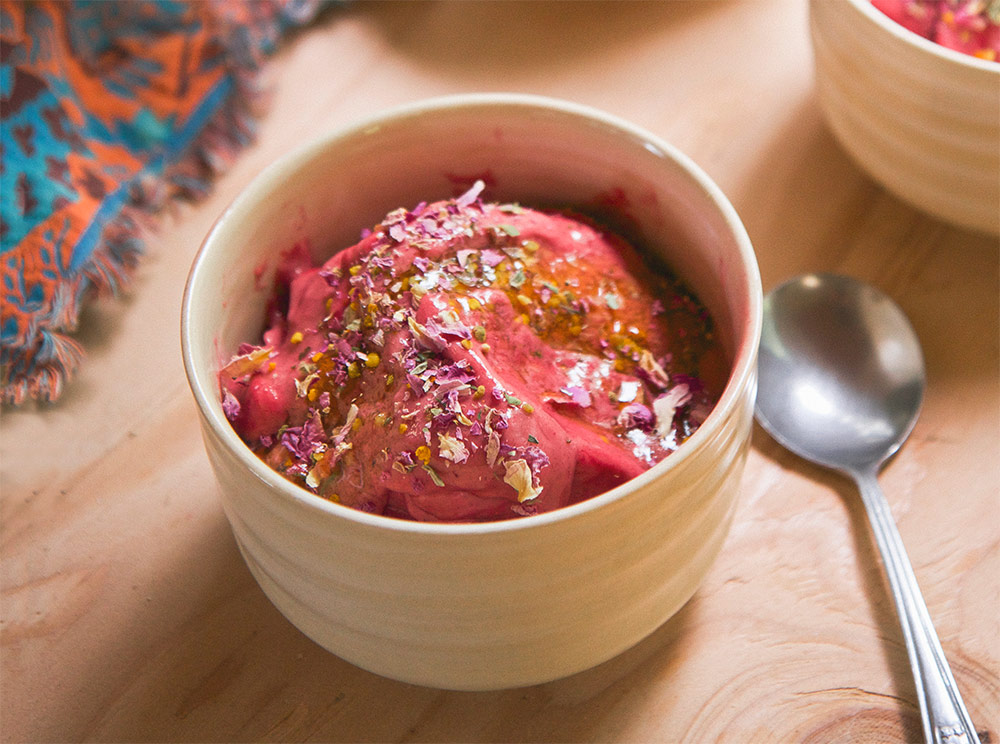 photo: rosie santos
Banana ice-cream is something I used to live off of in Australia so it makes me so so happy that I can enjoy it more and more as the days get brighter and longer! This recipe is inspired by Springtime here in Nevada City, by all these gorgeous blooming flowers and the sun shining so brightly over the mountains.
This is one of my favorites for many reasons but especially because it takes pretty much no time. You can throw any frozen fruit in a high speed blender and create your own version of "ice cream". All you need to do is prepare yourself for these sort of cravings that hit and, if you're like me, fill your whole freezer with tubs of bananas!
It's completely refined sugar free, made from whole foods embraced by their multi-faceted health benefits, fiber, vitamins, minerals and vital antioxidants. This afternoon, I drizzled blackberry honey (absolutely divine!) bee pollen and rose petals, all sourced locally.
I think it's super important, especially with honey (particularly at this time of year to keep allergies at bay) to source as locally and organically as possible, to shop at farmers markets when you can and meet your growers, getting to know the food you're consuming. It really changes the relationship you have with what you're eating by making educated choices on where you choose to buy from. Not only that – I'm sure it tastes so much better and it is super beneficial to your body to eat foods that have grown in the same environment in which you live.
I hope this recipe finds your taste buds melting, your tummy rumbling and ready… that it delights all your senses and makes your whole body zing!
Ingredients & Recipe
5 frozen bananas, chopped
500g (1 lb.) frozen raspberries
2 tbsp rose water
2-3 tbsp maca powder
1 tsp vanilla (optional but ideal)
2 tbsp
bee pollen
2 tbsp
rose petals (optional)
A good douse
of cinnamon
1 tsp – 1tbsp
honey, coconut sugar or nectar, or a few dates to sweeten if desired
Directions
Add all but the bee pollen, petals and honey to your blender/food processor, mix on high, stirring the mix as you go until you get to a delightful creamy consistency. Scoop into bowl or bowls, sprinkle with petals, pollen, and a little honey, or honey alternative if you like, and enjoy!
About The Author
Rosie Santos is passionate and dedicated to working on feats that aim to cultivate social change. She offers this in the way of healing and nourishing through food consumption and education. Inspired by nature's abundance, she loves to make recipes that are simple and nourishing, showing friends how they can change their lives through their diet, and ultimately asking: How can we make better daily choices for our immaculate body temple, our plate, our people and planet. Visit her website: smoothblender.net