The Top 8 Spiritually Activating Places You Have to Visit in Peru Before You Die
BY FRANCESCA CASSINI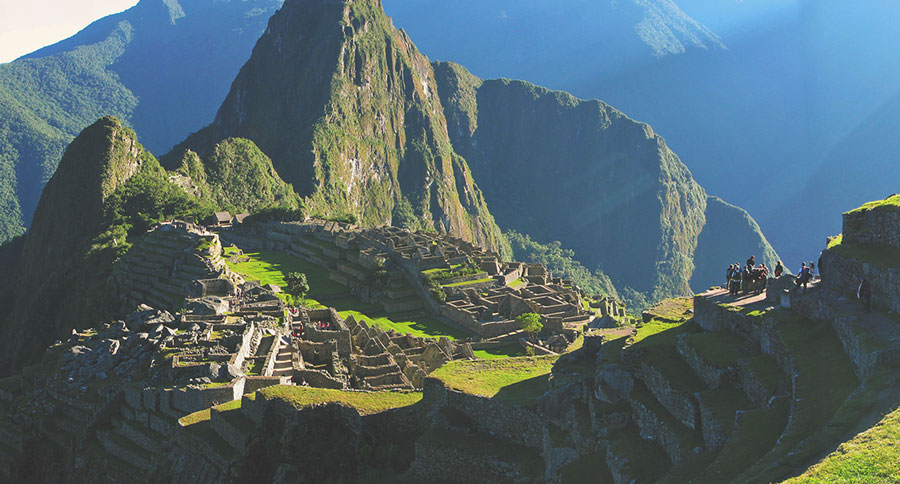 one of the most spiritually powerful places on the planet, machu picchu is one of the key activating places to visit in peru. photo: bill damon
Editors Note: The following is the travel diary of the most spiritually activating places to visit in Peru Francesca Cassini as she partakes of a 23-day journey exploring sacred sites, hiking through majestic landscapes, and experiencing the sacred plant medicine Ayahuasca deep in the Amazon jungle.
P
eru is a mysterious and transformative land with sacred wonders around nearly every corner. Our tour began high in the highlands near Lake Titicaca where Bolivia's majestic mountain ranges jut up from the landscape off in the distance. We finished at Iquitos a few hundred miles south just shy of Colombia's border. Our journey was split between
extreme landscapes
: tracing the spine of the Andes and navigating the steaming jungles below. The following are but a few of the truly life-changing experiences we had exploring this mystical land:
1. Aramu Muru
A massive red rock wall, jutting above the cratered moon-like landscape, was our introduction to the wild landscapes of Peru. An odd-shaped doorway leading nowhere was embedded deeply within it, flanked by two vertical shafts. No one knows exactly when this was built or by whom, but kneel down with your hands on either side, touch the wall with your forehead and you'll sense this is a gateway to higher levels of consciousness. When I stood in the shafts the energy was so intense my body shook. Our sixteen-strong group became a family as we passed through this "initiation" at Aramu Muru, one of the most spiritually activating places to visit in Peru.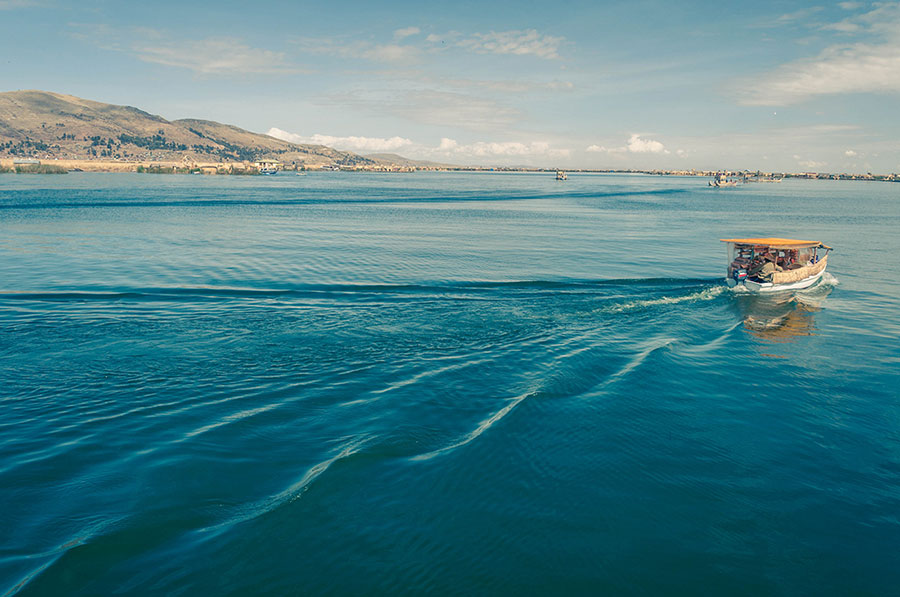 off the beaten track, lake titicaca is a wild spiritual power point that is a gorgeous place to visit in peru photo: nicolas ds
2. Lake Titicaca
At 4,000 meters above sea level it took a few days to feel safe on our feet—altitude sickness had us weaving like sailors on the shores of vast Lake Titicaca—a sight if there ever was one. The birthplace of the Andean God Viracocha: it is the highest navigable lake in the world, and local legend has it that there is an extra-terrestrially placed crystal city in its depths, making it one of the most interesting places to visit in Peru. Shambling down a steep incline to the lake are the Floating Islands of Uros, not far from the nearby town of Pruno, whose residents are of pre-Incan Aymaran descent.  Their custom is to weave everything out of reeds, the islands themselves, including their tiny homes, their beds and even their boats. They greeted us with huge smiles, and we danced to a traditional song, they in their brilliantly colored, tiered and tasselled clothes, and later bartered for similarly vibrant, hand-woven wall-hangings representing their mythical heritage.
3. Amantani
Three sun-drenched hours beyond the floating islands, the traffic-free village of Amantani rose from the water. Paved paths crawled straight up steep slopes into the past adobe farmhouses to the island's twin peaks topped with temples dedicated to Pachatata and Pachamama (the male and female earth deities). Amantani is a charming place—an island far removed from the hectic modern pace of life where old women herd sheep, men carry huge bundles and the scent of sage wafts fragrantly in the air. With no hotels locals offer their homes and a feast of freshly caught trout, deliciously fried. This is a very authentic place to visit in Peru, well off the beaten path.
A sunrise ceremony to Viracocha had called us here. We endured a challenging walk in the dark, up the steep hillside, encouraged by birdsong; watching the light slip over the horizon was Biblical. The sun crested above distant mountains across the lake, a lone cloud spread its wings like a condor, our shaman held aloft a vessel of burning incense. The power of the moment was tangible to all present.
4. Cusco
Next we hit Cusco, the historic Incan capital built on rolling hills in a valley surrounded by towering peaks. The tiny cobbled streets of the old city are bursting with fascinating shops, restaurants, and hotels for every taste and budget. The Inca Empire held sway between the 13th and 16th century when the Spanish conquistadors invaded, and you can see the influence of both wherever you go. The women and children in the street, resplendent in colorful clothes and ever-ready for a photo opportunity with llamas and bonneted lambs, are Inca descendants finding their way in a modern world.
An outer wall of a 14th-century palace, now the Museum of Religious Art, can be found on Hatun Ramiyoc Street. Logic-defying Inca masonry includes the famous twelve angled rock nestled perfectly into the surrounding stones. It seems random at first glance until, upon closer inspection, you see the repetitive design imbued with their mythological hieroglyphs. The condor, puma, and serpent are the main Andean trinity, their depictions found in jewelry and fabric designs as well as their sacred architecture.
Above Cusco spreads an extensive walled complex with over 200 archaeological sites: Sacsayhuaman. Dotted with goliath stones up to 300 tons, once again irregular patterns of jigsaw perfection boggled our minds. Historians claim it was some kind of Inca royal retreat or fortress, but if, as the experts claim, the Inca never used the wheel, is it possible they could have wielded these megaliths at all? According to our shaman guide water erosion at this site proved it was built prior to the last Ice Age and therefore can only have been discovered by the Inca. The debate continues in the academic community to this day over who, why, when, and how, making it a fascinating place to visit in Peru.

5. Sacred Valley
Heading North we dropped into the Sacred Valley. This incredibly fertile plateau winds between mountains that literally pulse with life. Most farmers in Peru still tend with ancient methods like gravity-defying terraces winding up mountainsides to produce coca, corn, potatoes and brown, orange and purple quinoa, among many other heirloom crops. While exploring the lofty ruins nestled above the town of Pisac, we walked alongside these deep-stepped agricultural terraces, our starting point for an inspiring downhill journey. Encroaching, craggy walls peppered with the holes of Inca graves guided us as we meandered through the maze of ruins, followed closely by a local musician serenading us with his flute.
At Urubamba we zig-zagged back up hill to Moray, where the main attraction is an ancient agricultural research center. In brilliant harmony with nature the Inca embedded circular terraces deep into an irregular bowl of the plateau, cleverly creating a series of microclimates. But despite the magnificent spectacle of it all, the Temple of the Sun—a smaller terraced amphitheater set in a hollow between snow-covered peaks overlooked by a glacier—was our true destination and easily one of the most spiritually powerful places in Peru. We followed our guide to the bottom and lay on the spiky grass, feet pointing inwards, our bodies like petals of a sunflower. Eyes closed, the heat of the sun and the rhythm of the shaman's drum took us on a profound inner journey.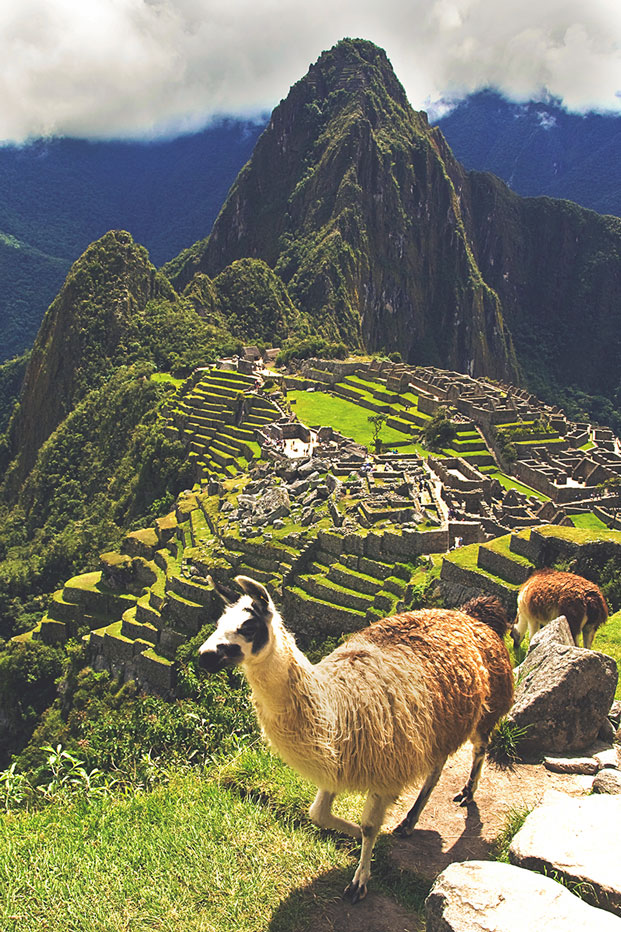 journeying to machu picchu is a virtual right of passage for spiritual travelers in peru. photo: dimitry b
6. Machu Picchu
A restful and luxurious train carried us from Ollantaytambo to Machu Picchu Pueblo the following day to experience the crown jewel of Peru's sacred sites. Early the next morning we found ourselves in line just before dawn for the 5am bus—worth the sacrificed sleep to see the sunrise light up the ruins. It's an absolutely overwhelming scene of solar alignments, roofless temples, crumbling buildings, overgrown gardens and terraces, clustered precariously on top of a mountain surrounded by other guardian peaks and is one of the places you must visit in Peru. It may be a ruin, but it still felt alive to us and was a once-in-a-lifetime place to meditate.

7. Amazon Rainforest
Two weeks had evaporated in the spiritual haze of our travels, and it was time to swap the Andes for the heat and humidity of the Amazon Rainforest. The contrast of entering through the forest-locked city of Iquitos was a shock to our system—the calm of the mountains replaced by the loud frenetic energy of the jungle.
The discordance of Iquitos faded into the distance as the boat carried us to our next destination. Our home for the week was an oasis nestled amidst lush banana plants, huge palms, and towering trees. Chickens clucked, ducks waddled, lovebirds woo'd, macaws strutted their rainbow plumage. We let the jungle's symphony of sound replace our mental chatter in deep reflection on the healing we were all after. If this is what you are seeking this is one of the places you must visit in Peru.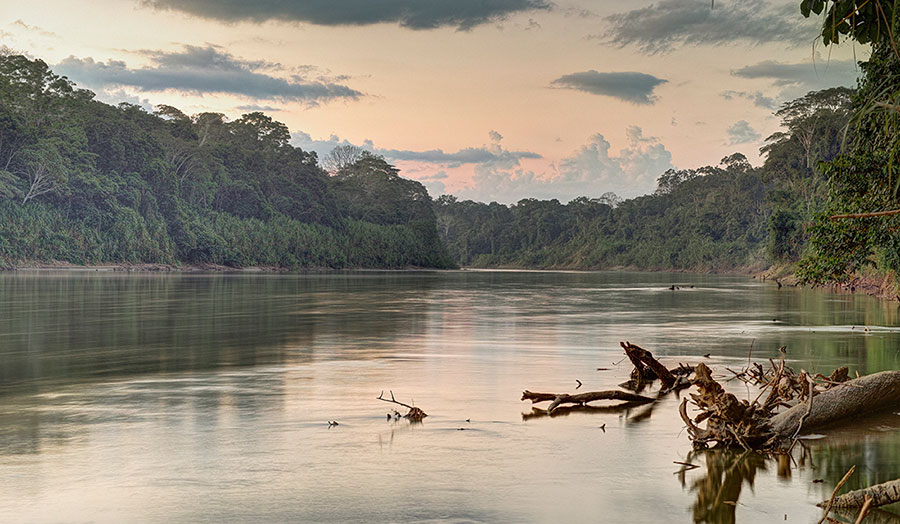 attending an ayahuasca retreat deep in the peruvian amazon jungle is a life-changing experience that is not to be missed. photo: Carlos ortiz de zevallos eguiluz
8. Sacred Ayahuasca Retreat
Ayahuasca is a sacred plant medicine revered for it's healing and divinatory properties, reconnecting those who indulge its spirit directly to the divine. Considered a powerfully wise, sentient goddess, her popularity has increased in recent years, and retreats in the area are big business. Luckily for us, our ayahuasca experience was tended by the reverend Don Lucho, a pot-bellied man with infinite eyes, not some unscrupulous fake that are so easy to come by these days. We had four Ayahuasca ceremonies in the big round thatched hut—we each had a mat, pillow, blanket, and most importantly a bucket. If you didn't know already, Ayahuasca is legendary for its purgative qualities, and proper diet pre and post journey are of the utmost importance. Music, incense, and tobacco created the sacred space, and ceremonies began at 7pm. One by one we'd kneel in front of the shaman to take our cup. Ayahuasca tasted like an unpleasant combination of very dark chocolate and coffee, drank down in one harsh gulp. Purging is an almost inevitable part of the process, cleaning out mental, emotional, and physical toxins accumulated over a lifetime of unconscious choices. This is not psychedelic fun but a deeply transformative and profound path of growth and a must-experience for spiritual travelers in Peru.
Ayahuasca seemed to somehow know exactly what we needed. I had visions of past lives and insights about the one I'm currently living. Most of us received the answers we came for. A man with chronic pain from an accident ten years previous reduced his medication by 80% without withdrawal symptoms.
Emerging from the depths of our soul, it was suddenly time to leave the jungle and say our goodbyes. We'd become a tribe at some point during the journey, going deep within ourselves, and emerging on the other side with the integrated wisdom that nothing is impossible to overcome. The synergy woven between the land, the ancient sites we visited, our facilitators, our guides, and our group delivered transformation far beyond anything we could have imagined, truly embodying the richness of the sacred grounds and culture of Peru.
Francesca traveled with Outer Travels Inner Journeys on The Peru Odyssey—a 23-day complete spiritual adventure to the sacred sites of Peru. Learn more at outertravelsinnerjourneys.com.
About The Authors
Francesca Cassini loves to translate and share the magic of life. She published a free magazine in London, The Changing Times, on living more lightly on the planet and was a founding member of a social network for conscious living. She's completed the first novel in her trilogy Waking the Lions. Living nomadically, she is now a freelance writer and lives inspired by her fertile imagination. Visit her website: francescacassini.com