Relax and Unwind With Hemp CBD:
Nature's 'Chillout' Herb
BY MEGHAN MCDONALD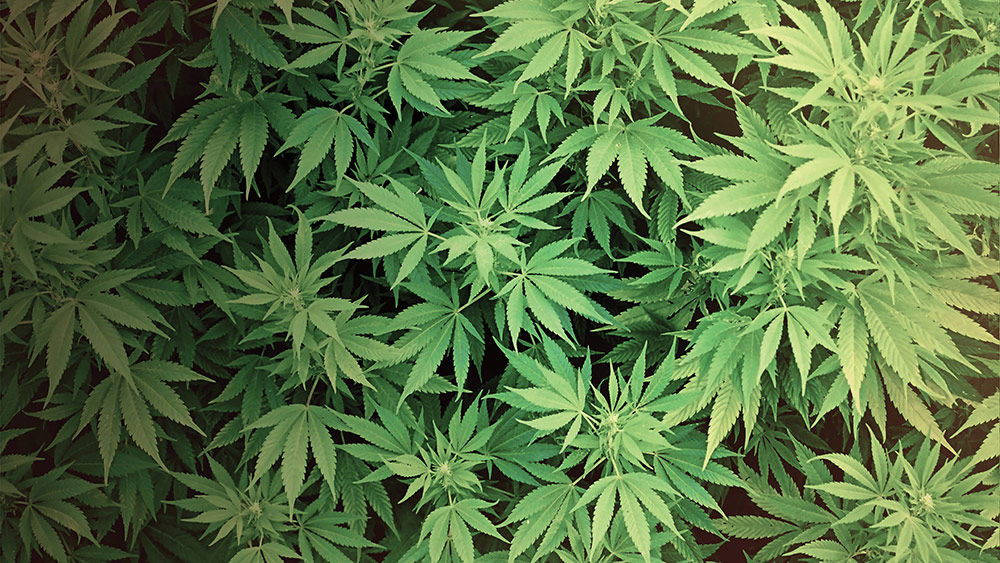 CBD can be extracted from the hemp plant, which has been used as a food, medicine, fibre and fuel by humanity for thousands of years.
Researchers are increasingly becoming fascinated with CBD (cannabidiol), a naturally occurring compound in the hemp plant that is showing great promise as a natural way to help you relax and unwind. Scientists have found through many years of close study that CBD affects 5-HT1A receptors [5-6], which control serotonin levels in the body and brain, and Endocannabinoid receptors, which control stress and energy levels among other things. Both of these receptor types are found throughout the brain and body and affect the body's levels of many important neurotransmitters that control stress, anxiety levels and mood.
As such, CBD has been shown in a handful of studies [1-4] to positively affect emotional behavior, mood, sleep, stress, irritability and fear, among other things. For those simply looking to take the edge off after a long day at work or bring more peace and calmness into their life, CBD is a powerful, natural way to do so. One of the most noticeable effects that many people report is a pleasant and noticeable lift in mood and a deep feeling of relaxation. Some describe feeling a wave of calm and bliss washing over their bodies, which is consistent with CBD's reported effects at 5-HT1A and Endocannabinoid receptors [5-6].
In one notable human trial testing CBD on people with social anxiety [4], study participants found taking 600mg of it measurably reduced worry, anxiety and helped in stressful situations like public speaking. CBD is also undergoing further research for its ability to improve sleep, among other things.
Although it's not fully understood how CBD works just yet, that hasn't stopped people from trying it out for themselves. One thing is clear, however; unlike other substances with similar effects like alcohol or drugs, CBD is non-addictive.
However, before you decide to try it for yourself, there are a few very important things to know about CBD products.
Time is of the Essence
Important Note: The DEA has recently stated that it is going to be tightening laws around the sale of CBD in the US, which means that most companies will stop selling it when they go into effect in mid-January 2017.  As such, this is one of the last chances many will have to get high quality CBD products in many areas. If you are thinking about trying it, now is the time while it is still fully legal.
Not All Hemp CBD Products are Created Equal
There are literally hundreds of CBD products that have popped up in recent years as more and more research has come out reporting on CBD's wide range of health benefits. However, there are only a handful of companies with access to truly high-quality ingredients and the technology to offer potent and effective products. One of the best is Omica Organics.
Omica Organics has a long track record of producing some of the highest-quality, most-revolutionary natural products available. From farm to shelf, they meticulously control every aspect of their sourcing to ensure only the finest, cleanest, most potently effective final product is created—one that is as good for you as it is for the planet. And their CBD products are no exception.
In fact, they are one of the only companies currently offering a fully-emulsified, organic CBD product.
You see, CBD is an oily, waxy substance that is normally difficult to digest and absorb, even when organic and properly sourced. With the majority of CBD products, most people only absorb a fraction of what they are ingesting, not only wasting their money, but not getting the full benefits that CBD has to offer.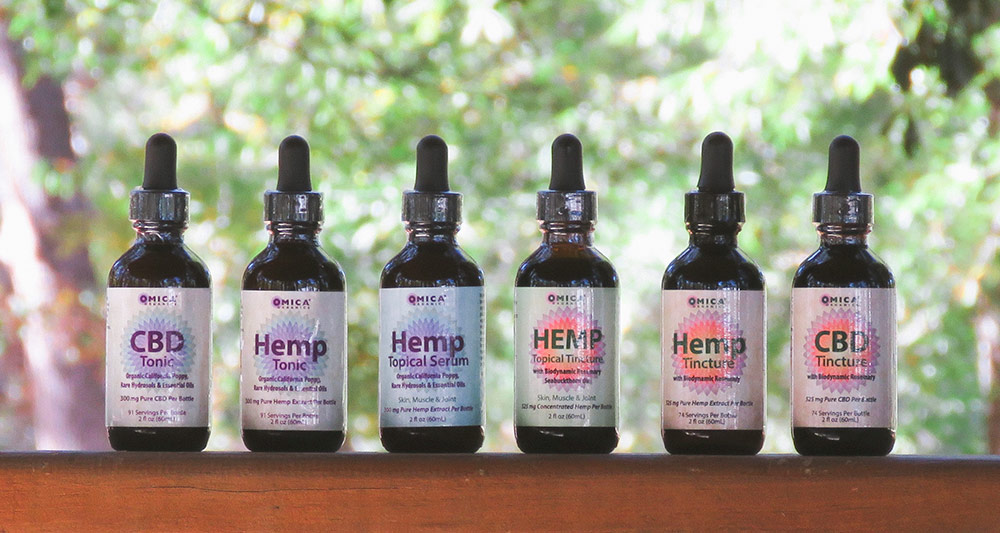 omica organics offers a full line of ultra-high quality, organic and biodynamic cbd products.
However, the master formulator at Omica has come up with a way to fully emulsify their CBD using only plant-sourced, natural and organic ingredients, in a blend of biodynamically-grown plant hydrosols (biodynamic is beyond organic) that synergistically increases the effectiveness of the CBD.
This means that it is up to 100% absorbable, even for people with weakened digestion. That means that one serving of Omica CBD is often up to 4-5 times more potent than other non-emulsified products even at the same dosage.
Furthermore, the formulators at Omica emulsified their CBD with other synergistic plants that complement CBD's anxiety-reducing and mood-boosting effects, like California Poppy, Rosemary, Berberis Aristata and Lavender—all gently relaxing herbs that increase the effects of CBD and enhance the flavor of the product.
Their flagship CBD product, the CBD Tonic, is meant to be taken internally for maximum benefit. They also have a complementary topical CBD product, with the same ingredients and formulation. Topical products can be especially helpful for localized, immediate effects, particularly when used in conjunction with Omica's Botanica Mist Biodynamic Functional Spray which potentiates the CBD formula and helps absorption through the skin.
Omica currently offers a range of CBD products. You can learn more about them on their website here: zomicacbd.com
If you are not sure where to get started, we recommend going with their CBD Tonic formulation. It's potent, versatile, organic, and it tastes amazing.
Disclaimer
The statements made in this article have not been evaluated by the FDA. Any products recommended are not intended to diagnose, treat, or cure any disease. No claim is made or implied whatsoever as to the effects of any recommended products or their effects on health.
References
[1] Fusar-Poli et al. "Distinct effects of delta-9-tetrahydrocannabinol and cannabidiol on neural activation during emotional processing." Arch Gen Psychiatry 66.1 (2009): 95-105.
[2] Schier et al. "Cannabidiol, a Cannabis sativa constituent, as an anxiolytic drug." Rev Bras Psiquiatr, 34.1 (2012): 104-110.
[3] Zuardi et al. "Effect of cannabidiol on plasma prolactin, growth hormone, and cortisol in human volunteers." Braz J of Med and Biol Res 26.2 (1993): 213–217.
[4] Bergamaschi MM, Queiroz RH, Chagas MH, De Oliveira DC, De Martinis BS, Kapczinski F, et al. Cannabidiol reduces the anxiety induced by simulated public speaking in treatment-naïve social phobia patients. Neuropsychopharmacology. 2011, 36; 1219–1226.
[5] Russo EB, Burnett A, Hall B, Parker KK. Agonistic properties of cannabidiol at 5-HT1a receptors. Neurochem Res. 2005;30(8): 1037-43.
[6] Campos AC, Guimaraes FS. Involvement of 5HT1A receptors in the anxiolytic-like effects of cannabidiol injected into the dorsolateral periaqueductal gray of rats. Psychopharmacology. 2008;
About The Author
Meghan McDonald is the Co-founder and Editor-in-Chief of Conscious Lifestyle Magazine. She holds a master's degree in social psychology from San Diego State University where she conducted award-winning research into the nature of human social behavior. She is an advocate for many environmental and social justice causes and a champion of social impact-focused brands and products that adhere to high sustainability and ethical standards. As a regular travel and lifestyle contributor to Conscious Lifestyle Magazine, Meghan funnels her extensive knowledge of natural products, organic living, and consumer behavior into researching and reviewing brands and products that promote health, wellbeing, sustainability, equality, and positive social change. She has traveled to over 25 countries and loves exploring diverse destinations worldwide while documenting the local artisans and businesses offering conscious, healthy alternatives.