Sacred Fashion:
Earth-Inspired Tribal Designs For Modern Times
BY MEGHAN MCDONALD
photo: manos zapotecas
In 2009 Shelley Tennyson was volunteering with a microfinance non-profit in the small Zapotec village of Teotitlán del Valle in the state of Oaxaca, Mexico. She was offering business classes to female micro
loan recipients, many of whom are brilliant weavers, trained in an artisan craft that is deeply rooted in regional tradition. Shelley realized that no matter how exquisite their products, or how savvy their business skills, without buyers, these hardworking and skilled artisans were not going to be able to adequately support themselves or their families.
Three years later, Manos Zapotecas was born out of a belief that commerce can, and should, change lives for the better. What began as a wild idea to sell Zapotec bags globally, in a village where most of the women hadn't even left the state, has grown into a fair trade fashion brand that is run by a team of five women in the U.S. and supports over 50 weavers in Oaxaca. The purpose of Manos Zapotecas is to perpetuate a beautiful regional tradition and improve the lives of Zapotec artisans by connecting them with socially conscious consumers around the globe.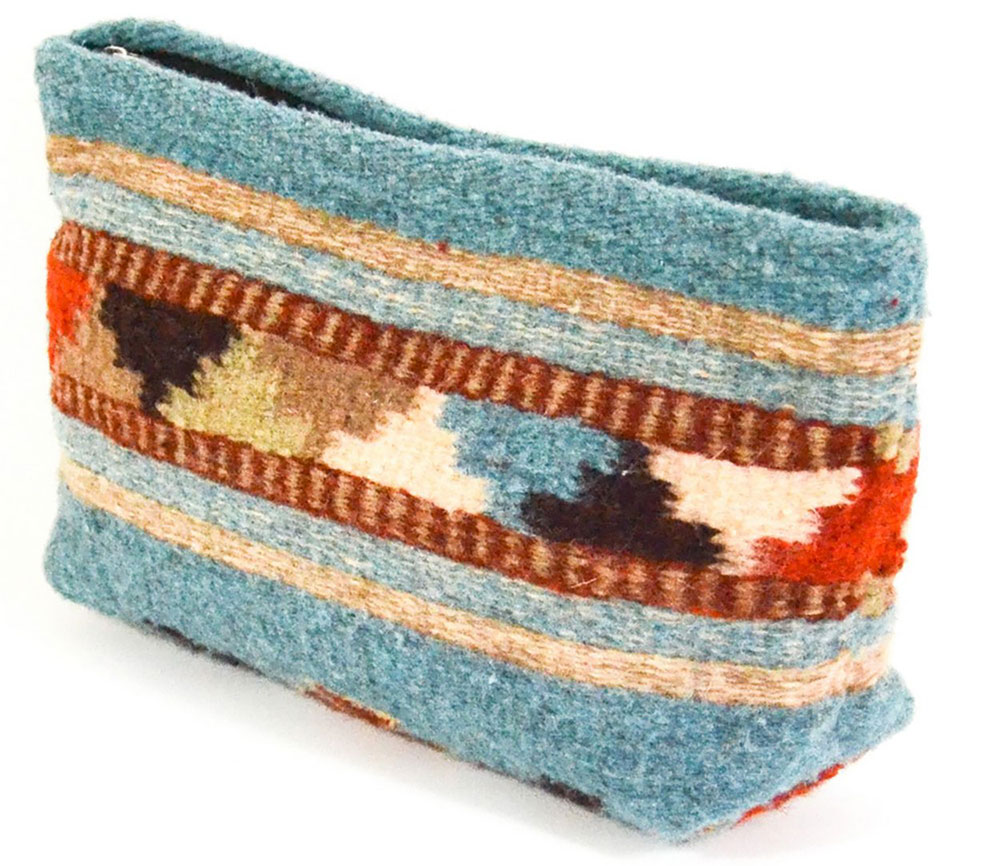 The skilled artisans that make up Manos Zapotecas produce their work with tremendous love and pride, according to time-honored traditions. "We dedicate ourselves to making bags, made by hand with wool," says Maria Luisa, a fourth generation weaver. "I was practically born between the threads." Weaving has been a part of the culture and livelihood of the Zapotec people since about 500 B.C. Although they adopted different kinds of fiber and looms during the Spanish conquest, in modern day Teotitlán there have been few changes to the method of weaving that the Zapotecs have employed for the last 500 years.
Many of the designs seen in the finished products are the same patterns that that have been present in their textiles for centuries. Some images represent the physical world, such as mountains, rain and the agave plant, while others indicate the spiritual realm, such as the greca symbol that shows the interconnectedness of the life cycle, death and rebirth. Manos Zapotecas works closely with the weavers to incorporate their tribal designs with modern bag styles, which are carefully finished with lining and zippers, leather handles and panels. The end result is a line of uniquely beautiful and expertly crafted bags, in a variety of styles and sizes.
The success and growth of Manos Zapotecas as a brand means that more and more weavers in Teotitlán del Valle are employed. Most of these weavers are women, and most of their earnings go directly to feeding their families and providing education for their children. Weaver Antonia Montano Lorenzo recalls, "My life has gotten better because my children can go to school," shares Josefina Guzman Juarez. Gratitude for the ability to offer their children a life with more opportunity is a common thread that weaves through the narrative of all of the weavers.
Manos Zapotecas is a proud member of the Fair Trade Federation, which means that it abides by a set of guiding principles that ensure that the artisans are getting fair pay, as well as the support and safe work conditions they deserve. Making these kinds of business decisions comes second nature to a company that values the humans behind the products higher than the profits themselves.
Each MZ bag holds an element of discovery, from the significance of each Zapotec design to the bold color combinations, and most importantly, to the hands from which they are designed and woven. To discover your favorite bag or learn more about the Manos Zapotecas brand and its talented weavers, visit: manoszapotecas.com
About The Author
Meghan McDonald is the Co-founder and Editor-in-Chief of Conscious Lifestyle Magazine. She holds a master's degree in social psychology from San Diego State University where she conducted award-winning research into the nature of human social behavior. She is an advocate for many environmental and social justice causes and a champion of social impact-focused brands and products that adhere to high sustainability and ethical standards. As a regular travel and lifestyle contributor to Conscious Lifestyle Magazine, Meghan funnels her extensive knowledge of natural products, organic living, and consumer behavior into researching and reviewing brands and products that promote health, wellbeing, sustainability, equality, and positive social change. She has traveled to over 25 countries and loves exploring diverse destinations worldwide while documenting the local artisans and businesses offering conscious, healthy alternatives.