Superfoods for Your Skin:
Gypsy Juice Organic Skincare
Gives You the Glow
BY MEGHAN MCDONALD
If mother nature herself created a skincare line, I'd bet it turn out quite similar to the artisan, superfood creations being meticulously handcrafted by the folks over at Gypsy Juice. They've been quietly churning out an ultra-rare, ultra-high quality organic skincare line
somewhere on the sunny south coast of Spain. It's the most natural thing in the world, right? Simply mixing and bottling nature's finest organic plant medicines (with copious amounts of sunshine and love, of course) in a pure, unadulterated form.  And as simple and obvious as this may seem at first glance, it's not necessarily an easy thing to do these days.
Let me explain. Having myself been in the natural products industry for many years and running my own superfoods company for a few years more, I can personally attest to how difficult it can be to obtain totally pure, 100% organic ingredients. Just take a look at any of the tens of thousands of "natural" skin care products available in health food stores worldwide. I'd wager that less than 1% are truly 100% pure, made with only herbs and foods and absolutely no added synthetic ingredients.  And perhaps 1/10th of that 1% are organic to boot.
That puts Gypsy Juice in the top tenth of 1%—a true testament to their commitment to quality, integrity, and most importantly, connecting you directly with mother nature's wisdom. Let's not kid ourselves. She's running the show and always has been the smartest gal in the room. So let's not try and one up her by tinkering with billions of years of evolved wisdom, right?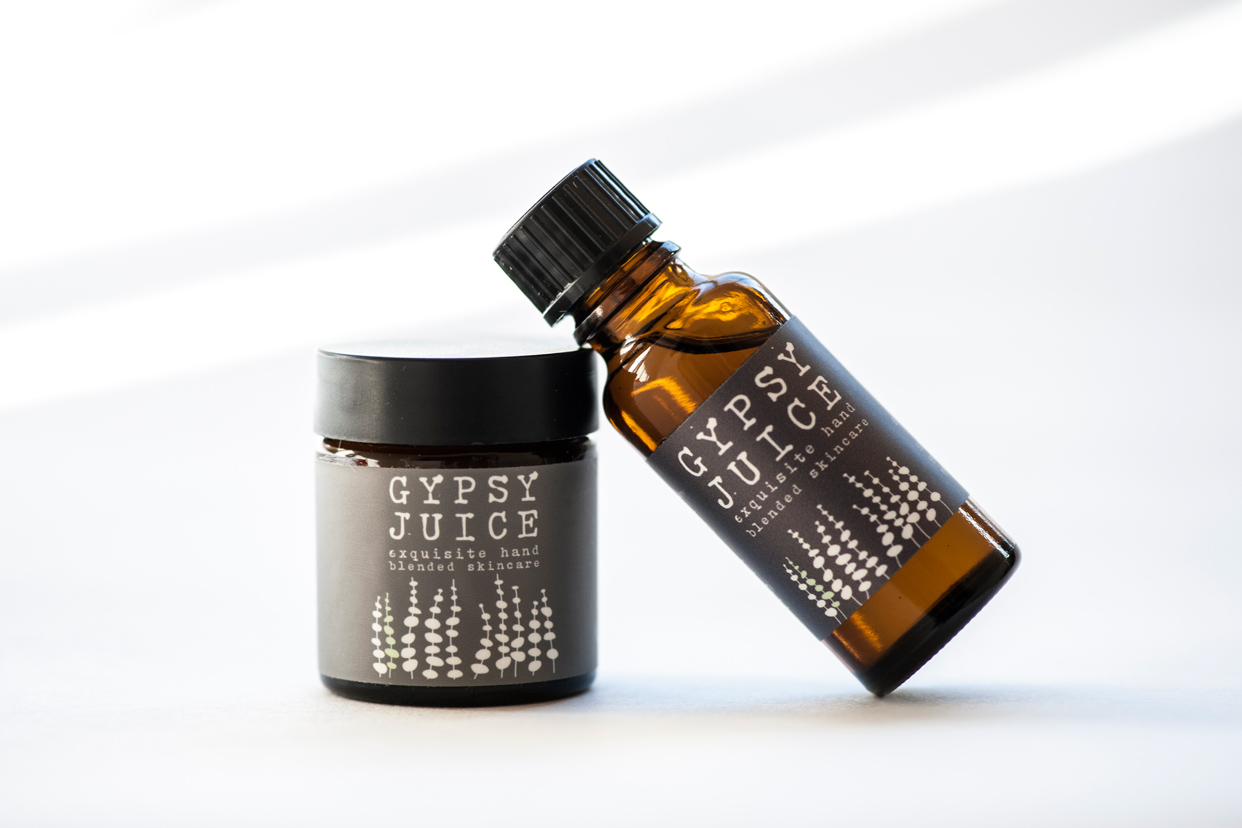 I think Sommer would agree. She's the enlightened, earth child behind Gypsy Juice. In her own words:
A lifestyle rich in organic love, freedom, health and happiness has inspired me to create a skincare range that is the yummiest, most nutritious, delicious and organic, raw meal for your skin. My small exquisite range provides your skin with all the minerals, nutrients, fatty-acids and antioxidants required for optimal skin health. Each Gypsy Juice product is hand blended using ingredients sourced from all corners of the earth, selected for their exquisite quality, purity and natural healing properties. Every aspect of the range exudes quality and organic craftsmanship, from hand-stamped muslin cotton bags, labels using chemical and solvent-free inks to my lovely website, which is powered by 100% wind energy.
Her inspiration behind the line?
My inspiration was mother nature. I wanted to share with others the amazing benefits of incorporating a lifestyle that embraces the use of products made purely from the incredible gifts that mother nature has shared with us.
The different herbs and foods found in Gypsy Juice's range of nourishing skin potion's are a reflection of  Sommer's wanderlust travels to exotic locales across the globe. Each ingredient in her organic line captures the essence and wisdom of a particular culture and region, supplying your skin with a truly diverse blend of nature's most healing plants and foods.
Learn more about her exquisite line on her website: gypsyjuice.me
About The Author
Meghan McDonald is the Co-founder and Editor-in-Chief of Conscious Lifestyle Magazine. She holds a master's degree in social psychology from San Diego State University where she conducted award-winning research into the nature of human social behavior. She is an advocate for many environmental and social justice causes and a champion of social impact-focused brands and products that adhere to high sustainability and ethical standards. As a regular travel and lifestyle contributor to Conscious Lifestyle Magazine, Meghan funnels her extensive knowledge of natural products, organic living, and consumer behavior into researching and reviewing brands and products that promote health, wellbeing, sustainability, equality, and positive social change. She has traveled to over 25 countries and loves exploring diverse destinations worldwide while documenting the local artisans and businesses offering conscious, healthy alternatives.