6 Unique Healing Gifts for the
Conscious and Spiritual People in Your Life
WORDS & PHOTOGRAPHY BY ALEXA GRAY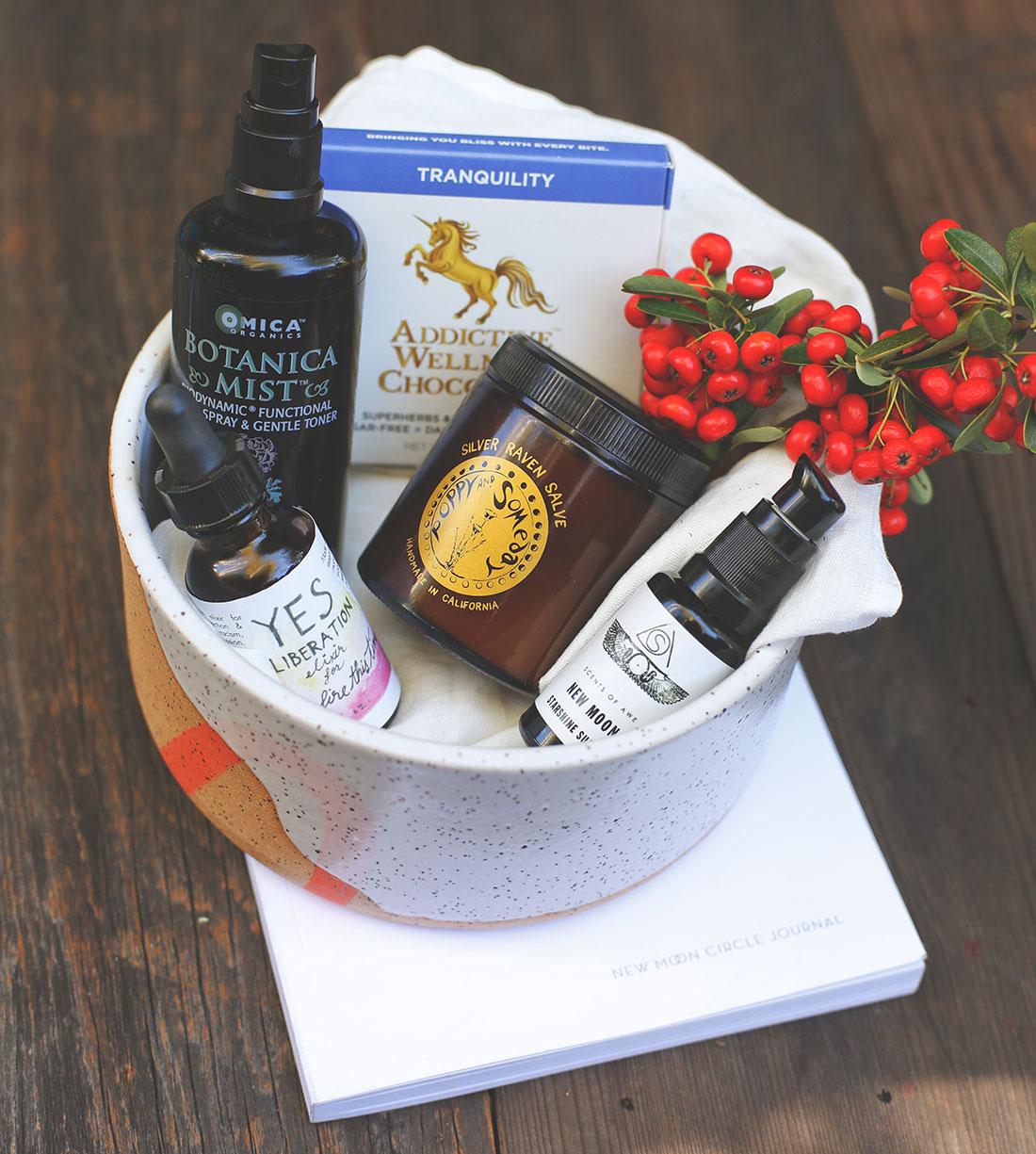 conscious gifts that heal and nourish the mind, body and spirit. photo: alexa gray
The holidays can get pretty crazy; from buying presents and attending parties to spending time with family, the best gift you can give may just be something that will keep one grounded, centered and
feeling great. These heartfelt gifts will connect you to your body, mind and spirit, and are good for both men and women of all ages. All hand crafted by people I admire and have come to know well, they put their soul into their offerings. May you give, receive and find true balance on all levels this holiday season.
For The Body
New Moon Serum by Scents of Awe – $47
This golden floral liquid is full of anti-inflammatory and nourishing ingredients that illuminate your face to leave you with a shimmering halo. Everything about this is magical and is even made on the new moon.
Ingredients: Sea Buckthorn Berry, Lavender, Tansy, Vanilla, White Champa (Magnolia), Calendula, Jasmine, Gingerlily, Agarwood (Oud) Attar, Grapefruit, and Jojoba, Gold Mica (mineral pigment)
Learn More: scentsofawe.com
Raven Salve by Poppy & Someday – $37
This raven salve smells like the holidays and will keep your skin soft and smooth. As the weather changes, oils are a great remedy for any dry or cracked skin, and this blend of organic oils helps expand your lung capacity and ease physical aches and pains.
Ingredients: Rosemary infused in Olive Oil, Shea Butter, Cocoa Butter, Coconut Oil, Beeswax, and Essentials Oils of Tulsi, Silver Fir, Ravensara, and Eucalyptus. Organic.
Learn More: poppyandsomeday.com
For The Mind
Tranquility by Addictive Wellness Chocolate – $8
With all of the holiday desserts we are likely to find ourselves craving sweet things. These tranquility chocolates will surely pacify any soul during a moment of angst or intense craving. Infused with Chinese tonic herbs, full of superfoods, and sugar free, you can indulge and relax knowing you are putting something of real value into your body.
Ingredients: Raw Organic Cacao Paste*∆, Cacao Butter*∆, Birch Xylitol, Mesquite*∆, Lucuma*∆, Reishi Mushroom*, Ashwagandha*, He Shou Wu, Mucuna, Vanilla Bean*, Stevia (Reb-A)*, Himalayan Salt
*=Certified Organic ∆=Raw
Learn More: addictivewellness.com
Rose, Geranium & Lavender Biodynamic Hydrosol by Omica Organics – $26
This functional body spray and gentle toner contains ingredients that will calm you from head to toe. When we come into contact with these plants, our nerves begin to relax and breathe easy. With a simple spray you can clear the space and bring about peace.
Ingredients: Biodynamic Organic Lavender, Rosemary and Rose Geranium Hydrosols (Floral Waters). Biodynamic Organic Grape Alcohol (7%), Organic Raw Vegetable Glycerin, Biodynamic Organic Lavender Essential Oil
Learn More: omicaorganics.com
For The Spirit
New Moon Journal by Paula Mallis & Danielle Beinstein – $52
New moons are potent times to reflect and set intentions for any upcoming dreams or goals that you're trying to call into your life. This beautiful journal, with original watercolor artwork, combines the ancient wisdom of astrology with practical spiritual guidance to teach you how to align with the new moon and create your own sacred ceremony. Watch as your visions manifest as you progress with the lunar cycle.
Learn More: newmooncircle.com
YES Liberation Elixir by Dori Landia – $25
Elixirs are a secret way of uplifting oneself and fit nicely in any handbag. This particular one is made with high intentions to help you overcome oppression of any kind and set your heart free.
Ingredients: Spring water, maple brandy, essences of protest under the new moon, black tourmaline, petrified wood, bloodstone, tiger iron, selenite, black birch, yarrow, ocotillo, red root, bleeding heart, post trauma stabilizer, fierce love and a spell for collective liberation.
Learn More: kestrelshop.com
About The Author
Alexa Gray is a passionate health coach, wellness educator, and natural health writer committed to teaching practical tools for ultimate wellbeing. Through her colorful blog SuperFoodSuperLife.com, she shares great products, restaurants, artisans and literature that are close to nature, made with compassion, and revitalize the spirit. A trained fine art photographer based in L.A., Alexa is also a certified holistic health practitioner and certified raw foods nutritionist. She is currently creating creative content for other companies and consulting brands as a freelance social media strategist. Visit her website: superfoodsuperlife.com