Dealing With Doggy Anxiety:
How to Calm Your Pup Naturally When They're Feeling Stressed Out
BY MEGHAN MCDONALD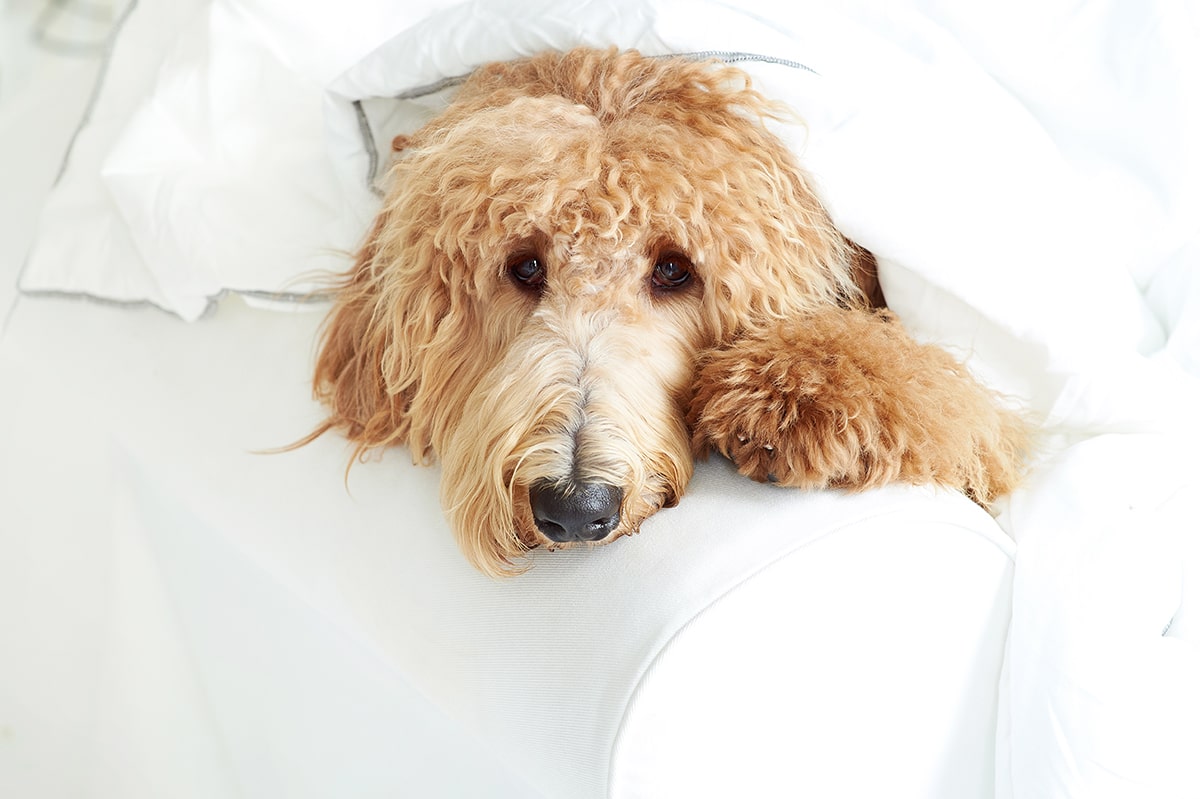 It's every dog owners least favorite moment: you have to leave the house to run an errand or go to work, and you can literally feel the sadness beaming back at you from your pup's big, loving eyes—they aren't coming, and they know it; and they are starting to get anxious.
If you've seen any of the videos of what your dog does when you leave the house, it's typically an extended, agonizing bout of whimpering from separation anxiety. With no concept of time, you may as well have just left forever in their eyes—that's why they are so excited when you get back!
Their worst fears are allayed because their favorite person in the world has returned—But what if they didn't need to feel that fear and intense anxiety in the first place?
What if you could safely and naturally keep them chilled out and calm while you are out and about?
And what if, especially for older dogs with hip or joint issues, you could also significantly reduce or even eliminate their pain at the same time?
Not only is it possible, but vets and savvy dog owners at the cutting-edge of holistic pet health have secretly been using a powerful natural herb to do all this and more for years: CBD.
The Natural Way to Put an End to Your Dog's Separation Anxiety and Pain
If you haven't heard of CBD yet, it's basically a borderline miracle compound extracted from the hemp plant that is one of nature's most powerful natural remedies for anxiety and pain in both animals and humans.
There's been a ton of real-world evidence about CBD for dogs as well as new research into the compound over the last few decades suggesting that it really does work for quickly reducing anxiety [1-2] and blunting pain in most mammals—dogs included.
In fact, a recent veterinary clinical trial conducted at the Cornell University College of Veterinary Medicine indicated that CBD was effective in reducing measures of pain in dogs with osteoarthritis. [3]
FOMO Bones: All-Natural CBD for Your Health-Conscious Pooch
And perhaps best of all, thanks to companies like FOMO Bones, it's super easy to use—no hiding pills in cheese or trying to sprinkle powders artfully in their food so they don't taste whatever medicine you are trying to give them—simply feed your pup an all-natural, organic dog treat a little bit before you leave the house or when they need some joint relief and voila, problem solved.
FOMO Bones (FOMO stands for 'fear of missing out', which is definitely what your dog is having when you leave them alone!) were created by dog owner and entrepreneur Beau Schmitt for his Goldendoodle Ziggy who was having intense bouts of separation anxiety and chronic pain from arthritis and cancer. After she passed away, Beau made a promise that he would create a solution for other dogs and their owners facing similar issues.
And these things WORK. According to pet parent Kourtney, "We love our FOMO Bones! My corgi gets nervous licking fits and also has bad car anxiety, and these bones help so much with both of those issues."
But perhaps our favorite thing about FOMO Bones as a solution to doggy anxiety is their all-natural and high-quality formulation, which is GMO and pesticide free. FOMO Bones help to safely and naturally relieve separation anxiety, social anxiety, and hyperactivity due to their unique combination of CBD isolate and an herbal anti-anxiety formula (made up of calming herbs such as Valerian root, Passionflower, and Chamomile). Their CBD comes from family-owned hemp farms in Colorado, and the treats themselves are made at an FDA-approved facility based in the U.S. Moreover, there's absolutely no THC in them whatsoever (in case you were wondering!), and they are soft, which makes them suitable for older dogs and those with sensitive teeth.
Head over to their website here to learn more about CBD for dogs and read stories from other dog owners who have had big success giving these delicious treats to their pets. Use code: LIFESTYLE10 for 10% OFF! And be sure to check out their super cute instagram here!
[1] Fusar-Poli et al. "Distinct effects of delta-9-tetrahydrocannabinol and cannabidiol on neural activation during emotional processing." Arch Gen Psychiatry 66.1 (2009): 95-105.
[2] Schier et al. "Cannabidiol, a Cannabis sativa constituent, as an anxiolytic drug." Rev Bras Psiquiatr, 34.1 (2012): 104-110.
[3] Gamble L-J, Boesch JM, Frye CW, Schwark WS, Mann S, Wolfe L, Brown H, Berthelsen ES and Wakshlag JJ (2018) Pharmacokinetics, Safety, and Clinical Efficacy of Cannabidiol Treatment in Osteoarthritic Dogs. Front. Vet. Sci. 5:165. doi: 10.3389/fvets.2018.00165
This article is a sponsored post written in collaboration with FOMO Bones, whose products and ethos complies with Conscious Lifestyle Magazine's stringent quality and integrity guidelines.
About The Author
Meghan McDonald is the Co-founder and Editor-in-Chief of Conscious Lifestyle Magazine. She holds a master's degree in social psychology from San Diego State University where she conducted award-winning research into the nature of human social behavior. She is an advocate for many environmental and social justice causes and a champion of social impact-focused brands and products that adhere to high sustainability and ethical standards. As a regular travel and lifestyle contributor to Conscious Lifestyle Magazine, Meghan funnels her extensive knowledge of natural products, organic living, and consumer behavior into researching and reviewing brands and products that promote health, wellbeing, sustainability, equality, and positive social change. She has traveled to over 25 countries and loves exploring diverse destinations worldwide while documenting the local artisans and businesses offering conscious, healthy alternatives.