Fall 2018 Issue Out Now
Conscious Lifestyle Magazine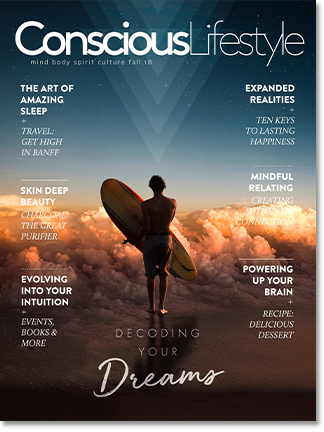 Digital Edition:
Order Now
Collectors Edition Print Issue:
Coming Soon!
THE ART OF AMAZING SLEEP
By Satchin Panda, Ph.D.
Dr. Satchin Panda reveals the science- backed practices emerging from sleep research for the best rest ever.
ACTIVATED CHARCOAL: THE GREAT PURIFIER
By Britt Brandon
For thousands of years people have been receiving immense health benefits from charcoal. Don't get left out.
RECIPE: LEMON RASPBERRY SLAB
By Matthew Prescott
This vegan, gluten and dairy free dessert is delicious, highly nutritious and a real people pleaser.
POWERING UP YOUR BRAIN
By David Perlmutter, M.D., and Alberto Villoldo, Ph.D.
Cutting-edge research into the brain is revealing that it can, in fact, regenerate itself when you do these things.
THE HAPPINESS TOOLBOX
By Jonah Paquette, Psy.D.
Discover ten timeless, research-backed keys to feeling good pretty much all the time.
DECODING YOUR DREAMS
By Clare R. Johnson, Ph.D.
Ever wonder what your dreams mean? Well, wonder no more because here's how to figure them out.
THE AGE OF INTUITION
By Penney Peirce
What if you could stay in a place of flow + ease throughout these chaotic times we live in? You can. Here's how.
SKIN DEEP: HOLISTIC BEAUTY
By Marci Zaroff
Learn how to avoid toxic chemicals in your skincare products and replace them with health-enhancing things.
MINDFUL RELATIONSHIP HABITS
By Steve "S.J." Scott and Barrie Davenport
Reading this article will equip you with the tools you need to create profoundly deep and rich relationships.
TRAVEL GUIDE TO BANFF NATIONAL PARK
By Lauren Kenson and Billy DeKom
If you haven't been to Banff National Park then it needs to go on your bucket list immediately. Here's why.
ART: EXPANDED REALITIES
The Art of Justin Peters
Digital surrealist Justin Peters takes you through a highly visual journey through his imagination and beyond.
CONSCIOUS EVENTS, BOOK REVIEWS, ENLIGHTENED PRODUCTS & MORE
Vote with your wallet for a better (and more stylish) future by supporting these conscious, sustainable brands.
– OR –
Order the Print Edition Fall 2018 Issue (Coming Soon!)
– OR –