Fall 2017 Issue Out Now
Conscious Lifestyle Magazine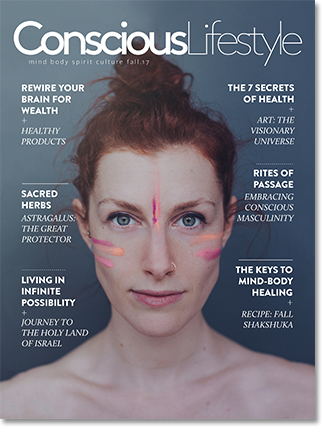 Collectors Edition Print Issues Now Available
Beautiful, ultra-high-quality collectors edition printed editions of Conscious Lifestyle Magazine are now available for you to curl up with in bed, at the beach or anywhere you like.
Order Now Through the Following Retailers with Free Shipping:
(Free shipping on qualifying US Orders only)
Amazon.com:

MIND-BODY HEALING
By Nathaniel Altman
Learn how to work with your thoughts, emotions and beliefs to create good health from the inside out.
THE 7 PILLARS OF HEALTH
By Terence Carfrae
Master holistic health coach Terence Carfrae shares the seven secrets to lifelong health and wellness on every level.
ASTRAGALUS: THE GREAT PROTECTOR
By Justin Faerman
Revered in China for its ability to extend life, protect the body and restore youthfulness, Astragalus is awesome.
RECIPE: HEARTY FALL SHAKSHUKA
By Summer Rayne Oakes
If you've never heard of Shakshuka, you are about to ask yourself how you ever lived without it…
REWIRE YOURSELF FOR WEALTH
By Paul McKenna
Creating wealth is an inside job. Paul McKenna, Ph.D. shares his best techniques to rewire yourself to thrive.
ALCHEMY OF THE HEART
By Nicholas Pearson
The heart does much more than just pump blood—it is the center of your being on many important levels.
LIVING IN INFINITE POSSIBILITY
By Mel Schwartz
What if you could reprogram yourself to live in a reality of infinite possibility? You can. Here's how.
CULTIVATING HEALTHY MASCULINITY
By Shems Heartwell
Everyone has important men in their lives that could likely use a bit of guidance on healthy masculinity.
THE HOLY LAND OF ISRAEL
By Justin Faerman and Meghan McDonald
Take a journey beyond politics into the sacred, modern, spiritual and sublime land of Israel.
ART: A VISIONARY UNIVERSE
By Allyson and Alex Grey
Take a journey deep into the most mystical aspects of consciousness with the artwork of Alex and Allyson Grey.
CONSCIOUS EVENTS, BOOK REVIEWS, ENLIGHTENED PRODUCTS & MORE
Vote with your wallet for a better (and more stylish) future by supporting these conscious, sustainable brands.
– OR –
Order the Print Edition Fall 2017 Issue (Coming Soon!)
– OR –