Fall 2015 Issue Out Now
Conscious Lifestyle Magazine
Collectors Edition Print Issues Now Available
120 page full color collectors edition of Conscious Lifestyle Magazine now available through Blurb on-demand printing. Click Here to Order

Fall 2015 Issue Preview + Highlights:
THE THREE TREASURES: ANCIENT KEYS TO RADIANT HEALTH & WELLNESS
By Neil Kingham
Thousands of years ago a concept arose in China that may very well hold the key to radiant lifelong health.
BREATHING YOURSELF WIDE OPEN
Master breathworker Shems Heartwell shares powerful techniques for infusing your cells with life-giving oxygen.

OVERCOMING FEAR FOR GOOD
Dr. Lissa Rankin shares powerful dis- tinctions about fear that have the power to remove it from your life.

RECIPE: RAW CACAO RASPBERRY CREME COOKIES
By Julia Corbett
These deliciously decadent raw raspberry chocolate creme cookie bars are sure to melt your heart into ecstasy.
HYDRILLA: NATURE'S SECRET SUPERFOOD
By Meghan McDonald
Floating just beneath the surface of the holistic health movement radar is a little-known, worldclass superfood.
FINDING YOUR PURPOSE
By Nick Seneca Jankel
We can pretty much guarantee that if you don't know your purpose going into this article, you will coming out.
CONNECTING WITH THE WISDOM OF YOUR HEART
By Dean Slutyer
The heart has a mind of its own, it turns out. Dean Slutyer teaches you how to ac- cess its profound wisdom.
THE ABUNDANCE LOOP
By Juliana Park
Juliana Park shows you how to rewire your brain to create abundance and wealth on autopilot. Rad.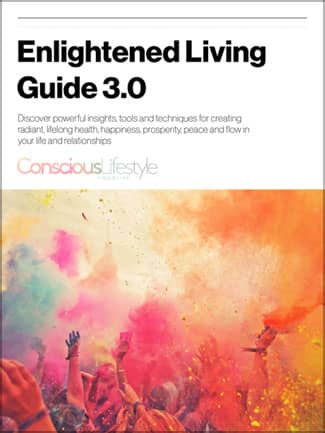 Free Enlightened Living Course:

Take Your Happiness, Health, Prosperity & Consciousness to the Next Level

Discover powerful insights and techniques for creating radiant health, happiness, prosperity, peace and flow in your life and relationships.

HOW THE FUTURE PREDICTS THE PAST
By Justin Faerman
Mindbending research into the nature of time is proving just how little we actually know about reality itself.
CONSCIOUS EVOLUTION
By Barbara Marx Hubbard
Futurist Barbara Marx Hubbard shares a manifesto for a new society and culture based on love, peace & abundance.
HOW MUSHROOMS WILL SAVE THE PLANET
By Justin Faerman
A new class of biopesticides made from mushroom spores could very well spell the end of 'big ag' and GMO crops
TRAVEL: JOURNEY TO THE HEART OF PERU
By Francesca Cassini
Get lost in the mystical heart of South America with spiritual traveler Francesca Cassini's Peru Odyssey.
ART: ECSTATIC MOTION
Art by Fabian Oefner
Fabian Oefner is a visionary artist who lets the art make itself and, quite frankly, the results are extraordinary.
CONSCIOUS EVENTS, BOOK REVIEWS & MORE