Journey to the Jungles:
The Top Destinations in Costa Rica For Conscious Travelers
BY JUSTIN FAERMAN & MEGHAN MCDONALD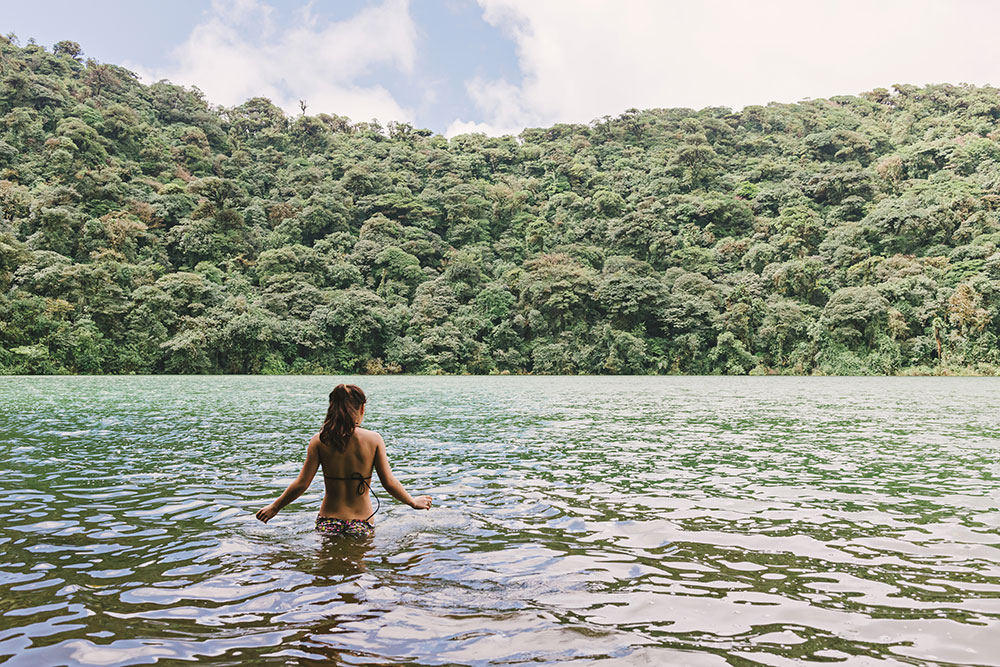 cerro chato, a high-altitude volcanic lake nestled in the middle of the jungle and one of the top adventure destinations in costa rica.
Everything about Costa Rica is wild: from the omnipresent, ever-encroaching jungles and encyclopedia of rainbow-colored animals, to the unpredictable roads, to the micro-climatic weather that seems to change at a
moments notice, everything here is alive, vibrant and evolving in real time. I can say this with relative certainty, having recently returned from a 5 week journey through the country's top conscious destinations, traveling well over 2,000 km visiting and exploring at least 4 unique and distinct regions from the sweltering jungles of the South to the lush Volcanic highlands of the north and everything in between. As we experienced it, Costa Rica is like a theme park of biodiversity—the highest on the planet to be exact containing 6% of the world's plant and animal species—each area of the country has a unique feel, flavor and local culture that makes journeying throughout the Central American paradise exciting and fresh no matter where you decide to go. And Costa Rica has it all—from lush cloud forests to impenetrable jungle, to white, black and pink sand beaches nestled against inviting crystalline waters, overflowing mineral hot springs, mystical, active volcanoes, howling monkeys, rainbow-colored parrots, wild jaguars, giant iguanas, insects and more varieties of exotic, mouthwatering fruits than possibly anywhere else on the planet. If you stay away from the overly-manicured resort destinations and opt-in for an experience of the real Costa Rica, you'll be surprised, shocked, awed, entertained and most definitely transformed if you go far enough off the beaten path. A friend who we met somewhere in the mountains North of San Jose told us, "There's never a dull moment in Costa Rica." And no sooner had the words left her mouth than two wild cows wandered onto the property a few feet away and a dog began chasing a giant, psychedelically colored frog. We'd have to agree.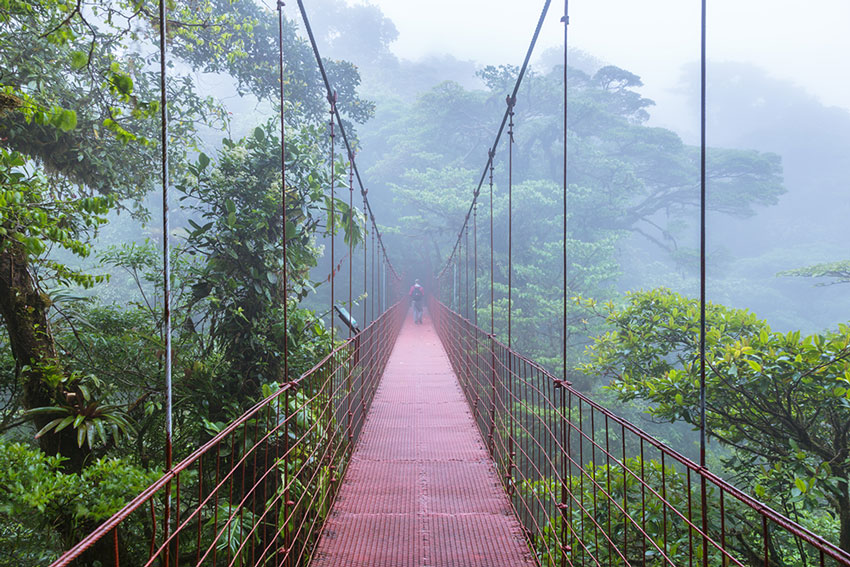 the montverde cloud forest, one of the top eco-destinations in costa rica.
Ask anyone who's been there where to go and they'll rattle off a list of quaint towns, cities and destinations with unusual Spanish names that range in character from semi-touristy to totally off-the-grid (literally speaking as there are no street addresses for destinations in Costa Rica!) all of them with some unique undefinable tropical charm that lures the adventurous from around the globe. There are literally hundreds of places to visit in the tiny country, roughly the size of West Virginia, so how does one choose where to go? Well, that all depends on how you like to travel, what you value in life and what you like to do. For us, we value (in no particular order) access to healthy, organic, natural food, conscious community, vibrant, wild, alive nature as close to its unadulterated state as possible and thriving local and indigenous culture. So it is with these criteria that we set out on our journey across this notoriously mystical and untamed land… to map a trail of consciousness, ecological harmony and Costa Rican soul and document what we found for the awakened travelers who seek the same.
Envision Festival and the Jungle Wonders of the South
A true microcosm of the country as a whole, Envision Festival is a wild, 4-day transformational celebration of everything conscious and Costa Rican nestled deep in the jungles of the Southern Osa peninsula in a beautiful area just north of Uvita and slightly South of Dominical. Imagine you and all your conscious, awake friends from around the world converging in the middle of a tropical rainforest for wisdom talks, transformative workshops and retreats on everything from permaculture, to herbalism to healing, sustainability, spirituality and everything in between, the best organic and natural food in Central America, world-class music and DJ's and ongoing yoga and movement classes all infused with local culture nestled alongside some of the most beautiful beaches in the county and you've got Envision Festival in a nutshell. It is, of course, so much more than that on every level, and we've covered Envision in great depth here where you can get a taste of the full flavor of the experience if this kind of thing gets you going. But in short it checks all of our travel values from above and it is definitely a seminal Costa Rica destination and experience that's not to be missed.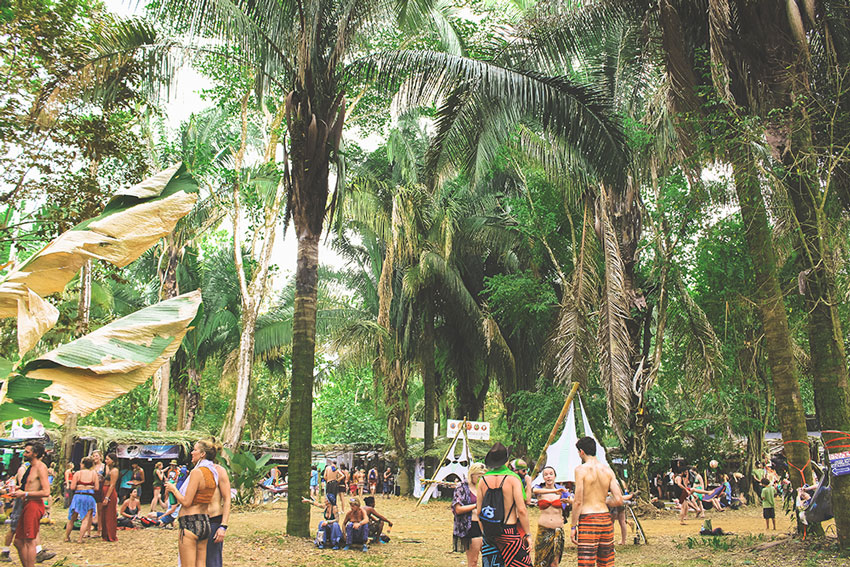 for the conscious traveler, few destinations in costa rica can compete with envision festival. photo: @verodubbie & salty souls
Festival or not, Dominical and Uvita are great places to visit either way for truly world-class surfing and beaches, along with hiking and ziplining in the dense jungles that surround them. If you are in the area, be absolutely sure to visit Marino Ballena National Park in Uvita, which is one of the most stunning beaches, Costa Rican destinations and land formations on the planet, where the ocean literally crashes into itself and is home to excellent snorkelling and is a frequent stop for passing whales. Dominical is home to Mama Toucan's, which is one of the best health-food stores in the country offering a pretty thorough selection of
organic and natural foods
and right next door is Cafe Mono Congo, a delicious, lively vegetarian restaurant that is definitely one of the best options in the area.
Carara National Park
In perhaps one of the greatest locations in Costa Rica sits the little-known Carara National Park. Seemingly close to everything important (the beach, San Jose, the main city, lush, untouched jungles, waterfalls, etc.) and yet far enough away from it all to feel remote, secluded and wild. The Carara mountains are home to some of the richest biodiversity in the country. As we drove in to the burgeoning Carara Resort area, which is a sustainable, ecologically minded, permaculture-based development happening in a handful of exclusive spots on the mountains, we we're greeted by no less than 8 vibrant, rainbow colored wild McCaw parrots perched in a precariously placed tree overhanging the edge of the multi-thousand foot mountains. They made regular appearances throughout our stay along with countless other stunningly beautiful birds. In fact, the Audobon society recorded Carara mountain as having more bird species in one place than anywhere else in the world and jaguar sightings are known to happen as well from time to time, reflecting the raw, wild beauty of the area, almost untouched by human development.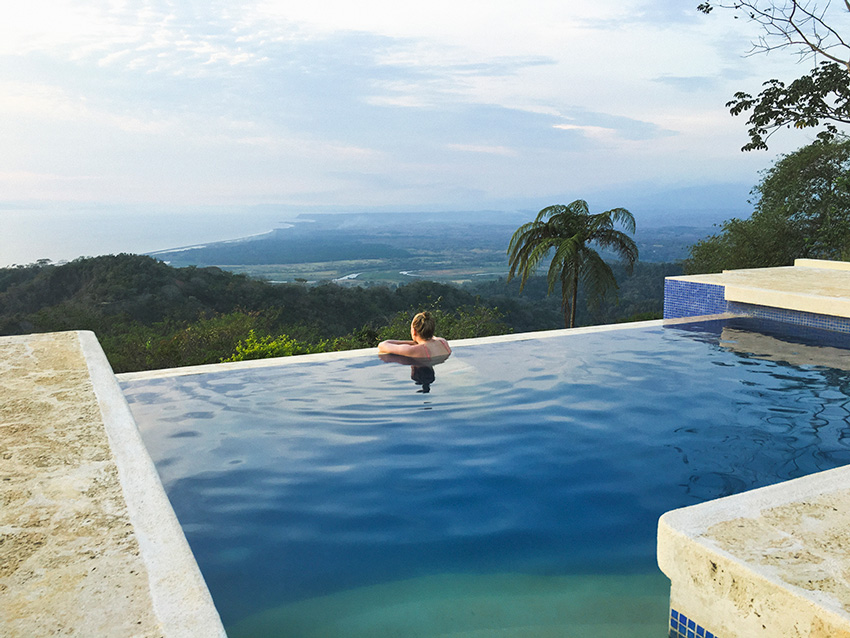 carara mountain offers the best of both worlds—luxury eco-living in a virtually untouched, wild natural setting, making it a top costa rican destination for nature lovers.
According to Raymond James who is the caretaker and head visionary overseeing the sustainable property development on Carara mountain, there are plans to create a true semi-off the grid ecological community, with an extensive permaculture operation supplying the residents with organic, locally grown food grown with extraordinarily pure deep mountain spring water that feeds the entire area. They've teamed up with Marc Coppola and the Valhalla Movement—world leaders in building sustainable communities and training a new generation of eco-activists and entrepreneurs—to oversee the project, who we met up with while we were down there to enjoy truly mind bendingly beautiful sunsets, night after night like clockwork. Perched atop the mountain you have a near 360 degree panorama of the ocean and mountainous highlands of the local area that is absolutely one of the most beautiful spots in the country.
A short 20 minute drive—but world away—is the Costa Rican resort town destination of Jaco, which has a great natural restaurant we ate at frequently with good wifi and live music called the Green Room. When we visited there was a local artisan market featuring handmade goods of all kinds from all over the country and a vibrant, albeit slightly touristy, local scene. Another five minute drive further south is Playa Hermosa, a stunningly beautiful beach lined with coconut palms, black sand and featuring world-class surfing and relaxing—definitely worth the trip if you are in the area.
Arenal Volcano
If epic natural beauty and adventure travel is your thing, you'll definitely want to make a point to visit Arenal and the surrounding areas. Greeting you as you arrive into La Fortuna, the neighboring town is a 5,500 ft. active volcano that towers above the landscape like the great pyramids of Giza. Almost a perfect cone in shape, smoke billows out the top regularly reminding you that the land in Arenal is very much alive. So alive, in fact, that the volcano has erupted quite recently in 2010 and before that in 1998. It's not unusual to feel tremors and earthquakes in the area, a sign that mother nature rules the show here. However, despite the paradoxically beautiful and ominous presence of the active volcano, the area is fairly well developed and established by Costa Rican standards (which means very little compared to any normal Western measure). The town of La Fortuna sits a few kilometers away from the base of the volcano and is a charming, restaurant packed area featuring some of the best organic food in the country.
Our favorite destination by far was Oragnico Fortuna, a lovely, all organic cafe serving all manner of delicious food from local vegetable stir frys sauteed in ultra-fresh coconut oil, to superfood smoothies, gluten-free treats and everything in between. This was hands down some of the highest quality (and
consciousness
) food we experienced in the country and the restaurant featured a health and superfood store with all Costa-Rican sourced products. The owners, Juan and his lovely wife, greeted us daily with smiles and shared all the best local secrets that were off the beaten path.

arenal is spectacular on every level and it should come as no surprise that its one of the top destinations in costa rica. even so, while we there it was very empty. photo: xlove&peacex photocase.com
One of those being the Chollin hot springs, which is fed by a geothermally active river emerging from the base of the volcano, carving its way through vibrantly green, lush jungles. Water temperatures were in the 90-100 degree fahrenheit range, which we made a point of visiting as often as possible.
Hot springs abound in the area with signs advertising them nearly everywhere, but the quality varies wildly and most are substandard at best. However, a few places stand out as truly world class, one of those being the El Springs resort. The perfect blend of wild jungle and creature comforts, the El Springs resort is a massive, open air luxury Costa Rican travel destination sitting just across the valley from the volcano, with stunning views of the surrounding countryside. The resort is truly a work of architectural magnificence, tastefully built and integrated into the side of a mountain and complementing the natural beauty of the area. Featuring 18+ hot spring pools of all shapes and sizes, each featuring unique mineral water compositions and temperatures, it makes a great home base for exploring the area.
The property is infused with wild flora and fauna including fragrant Guava trees which were fruiting while we were there making you feel like you are sitting in the middle of the jungle in the more remote parts of the sprawling property minus all the normal nuisances like fire ants and any number of skin-hungry jungle bugs. The El Springs property also features river rafting, a wild animal preserve and facilitates other exciting adventure trips you might want to experience.
Just down the road from the resort is Benedictus farm and restaurant, another all too rare all-organic restaurant featuring true farm to table food, all of it grown on the surrounding property. Somewhat hard to get to and mystical in nature, it's worth the trip as the food is outstanding by anyone's standards.
The Arenal Volcano, lake and surrounding areas are one of the top destinations in Costa Rica for adventure travel with a myriad of options from whitewater rafting to zip-lining, to backpacking, flyboarding, mountain biking and everything in between. If this is your kind of thing, we recommend booking your tour with Sky Adventures, one of the most reputable and well-established companies in the area.
Nosara and the Guanacaste Peninsula
Let's cut right to the chase: Nosara and the surrounding communities are the beating heart of the conscious community in Costa Rica. This area is hands down the place to be if you value spiritual and personal growth, healing, sustainability, yoga, meditation, longevity (Nosara is in a 'blue zone' where people live longer than anywhere else on the planet), natural beauty, organic food, friendly, thriving, vibrant local community and an active social life based around all of the above. The locals in Nosara fought hard over the last decade or so to resist the money and tourist-driven development that has become rampant across many parts of the country, instead working to preserve the integrity and vibe of the local community as much as possible. Although Nosara has not escaped development, it is and especially tasteful and intentional destination compared with the rest of Costa Rica and most definitely geared toward the conscious crowd.
The area features a number of amazing accommodations and experiences for conscious travelers and is an international destination for yoga, meditation, healing and spirituality focused retreats. One of the best in the area is the Bodhi Tree Yoga Resort, which is tastefully designed in the style of a hidden Balinese temple. We can safely say that you will be floored with the magnificence and beauty of this property, featuring a superfood-infused juice and smoothie bar and a daily organic and natural, gourmet buffet. We had the pleasure of attending the Trailblazer's Retreat while we there led by Lynan Saperstein, creator of the Experience Experts, and her wonderful crew of conscious entrepreneurs.
Just up the road from the Bodhi Tree is Naked Foods cafe, a wonderful all organic vegan cafe featuring a number of superfood-infused options all with a local Costa Rican flavor. The owners greeted us with smiles and love and offered to make us food to suit our particular tastes and needs, which was a real treat after four weeks of adventure travel in the sometimes sweltering heat. Definitely stop by and support the organic food movement down here if you are in the area… they might even tell you where the fabled pink quartz sand beaches are.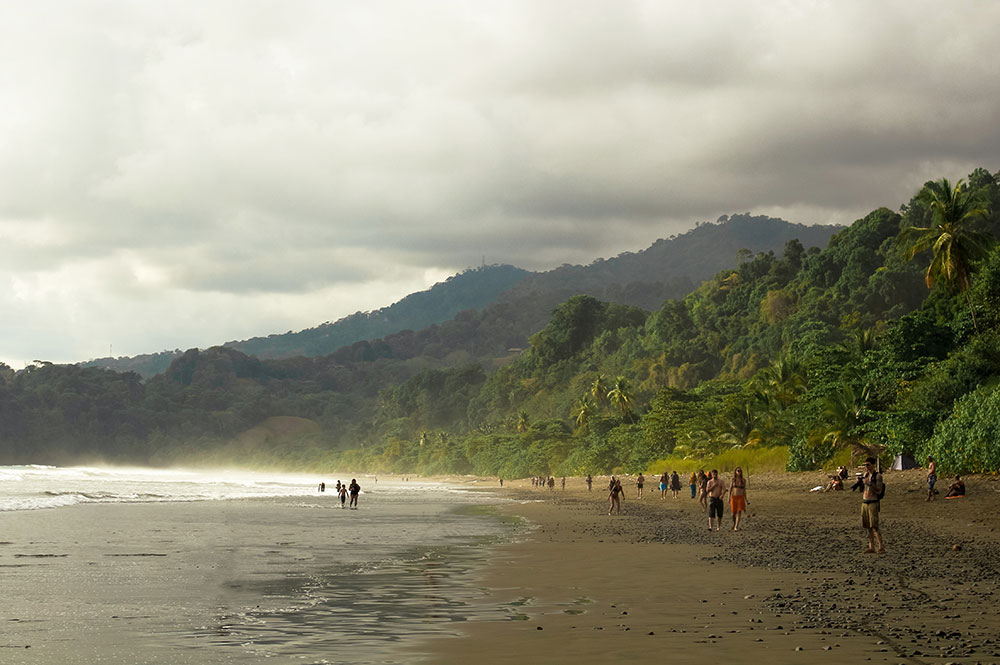 this is not nosara, but nosara looks very similar to this. another amazing, jungle-lined beach destination in costa rica. photo: @verodubbie & salty souls
Even further up the road toward Samara is the Blue Spirit Retreat Center, another not-to-be missed architectural wonder and uber-conscious Costa Rican destination nestled in the jungles of the surrounding area. We we're greeted onto the property by a pack of wild howler monkeys that put on quite the show, watching us just as much we were in awe of them. Home to concerts, healing retreats of all kind and an amazing natural restaurant, Blue Spirit is a pillar of the conscious community in the area.
In the heart of downtown Guinoes—for all intents and purposes one of the main areas of Nosara—is the ultra-chic-but-conscious
Harmony Hotel
. We definitely spent our fair share of time at this beautiful beach-side spot sipping on organic smoothies and juices and sampling their mouth watering, Costa-Rican inspired cuisine, the vast majority of which is grown organically at local farms. We also sampled their 90 minute therapeutic massage at the Harmony Healing Centre, which was one of the best we've ever had. Given by local Costa Rican healers, it felt amazing to nourish ourselves and simultaneously support the locals directly in a line of meaningful, skilled work that pays an honest, living wage, which unfortunately can be a hard thing to come by as the country makes its journey into the modern world. If you are looking for conscious accommodations close to all the action in Nosara, this is most definitely your spot. Within walking distance to the beach and the main areas of both Guiones and Nosara proper, it's a
top conscious destination
in Nosara and a great place to call home for your time in the area.
If you are looking to get off the beaten path and have a more authentic, spiritually raw experience in Costa Rica, then making a few-day trip (or few-month trip) to PachaMama, a conscious, spiritual community nestled deep in the jungle a 30 minute drive up the road from Nosara is most definitely your thing. PachaMama is a modern, thriving experiment in community living similar in style to the kibbutzim of Israeli fame, although most definitely very different as well. Members live, work, eat, sing, dance, celebrate and journey together in a co-operative style, all sharing a common ethos and collective vision for the community. You can come for any number of retreats open to visitors, stay for a few months (or years) to get more deeply integrated into the community, stop by for their notoriously transformational parties or plant medicine ceremonies, or drop in for the day just to get a tiny taste of what goes on here. No matter what you decide to do, check in with them first as some planning is required for a smooth arrival at this semi-off the grid Costa Rican spiritual destination.
Other conscious places to dine, stay and relax in the Nosara area worth mentioning are the Living Hotel and it's lovely cafe, which serves hearty, high-quality, natural and organic foods using healing ingredients like coconut oil, which although common in the US, is quite hard to find in Costa Rica. The staff embodied the 'Pura Vida' attitude with big smiles and lots of laughing, clearly imbuing the food with love, which was incredibly tasty and fresh.
And finally, if you are in the the area don't miss La Casa, a cozy, secluded and gorgeously designed farm to table restaurant just up the street from Living Hotel. They serve simple but delicious, Costa Rican-mediterranean style fusion all sourced freshly from local farms, mostly organic and all-natural at the very least. Talking with the owner after the meal, he let us know all their meats are sourced from neighboring farms, pasture-raised without antibiotics, growth hormones or anything unnatural and fed superfoods like Moringa in addition to native grasses, which are extra hearty and rich in Costa Rica.
Nosara just happens to be one of the best destinations for surfing (or learning how to surf) in the country. The ocean is magnificent in this part of the Costa Rica and slightly cooler than the South, making it a refreshing relief to the at times intense midday heat. Great snorkeling and diving is to be had both in the Nosara area and slightly further north, up near PachaMama in the small town of San Juanillo. If the ocean is not your thing, there's plenty of hilly terrain for mountain biking, hiking, nature walks, ziplining and other land-based activities. The area is particularly rich in wildlife as well with regular appearances from monkeys, iguanas, geckos, frogs and birds of all manner.
Puerta a La Vida
Saving perhaps the best for last (and only because we are describing our journey chronologically), we ventured to Puerta a La Vida, a 65-acre conscious community and retreat center just near the tiny seaside town of Miramar, which straddles the magnificent Gulf of Nicoya on the Pacific coast and is home to some of the most magnificent sunsets on the planet. If you want to be surrounded by some of the most amazing, aware and inspiring people you will ever meet and instantly feel at home and loved just as you are, come to Puerta a la Vida. The bohemian-meets-jungle-chic hilltop rancho is a worldwide beacon and destination for healers, artists, visionaries, change-makers, conscious entrepreneurs and all around awesome, interesting people of all colors, shapes and sizes. Upon arrival, we we're greeted with smiles, hugs, holy basil infused spring water and a feast of hibiscus-veggie stir-fry, a welcome, gourmet treat after many weeks of very simple Costa Rican style food. And that was just the first hour. The days that followed were a never ending feast of superfood-infused flavors conveniently sourced from the onsite permaculture gardens and converted into masterpieces by the resident vegan chef and artist Rosie Santos.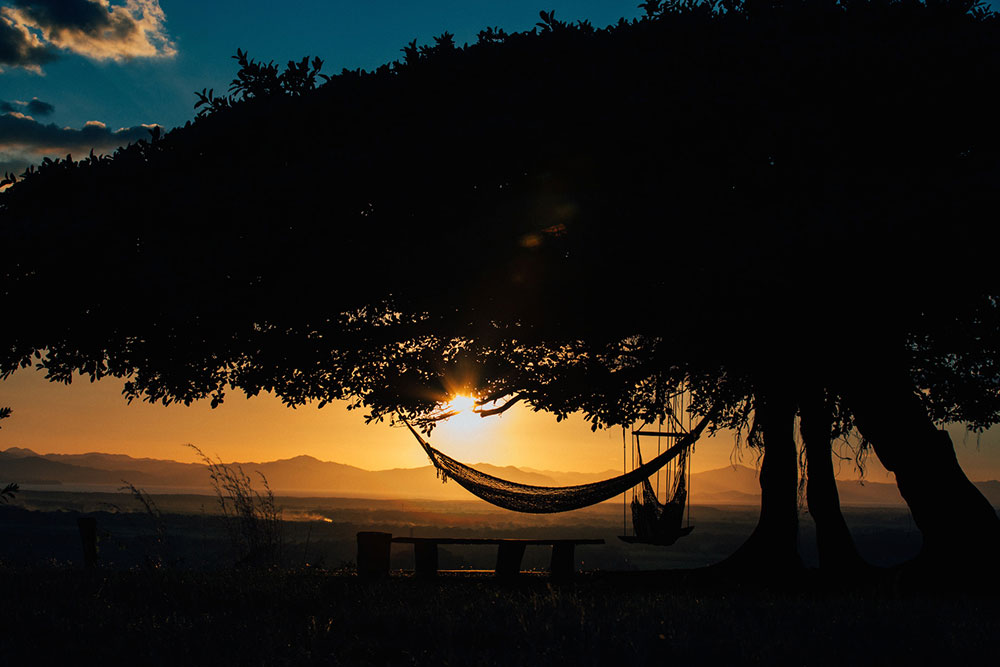 puerta a la vida is all the best parts of costa rica mixed with copious amounts of love, consciousness and nature, which means its basically paradise. go.
Puerta a La Vida is home to world-class retreats, workshops, lectures, musical performances, special events and adventures all revolving around transformation, health, wellness, healing, sustainability and ecology as well as a growing, semi-permanent conscious community of artists, healers, entrepreneurs and change-makers who call the area home for all or part of the year. Think of it like a prototype for a new way of communal living based around shared values of sustainability, personal and spiritual growth and holistic health. Future plans to consciously develop the surrounding property beyond the already magnificent grove of wild mango, coconut and cashew trees include a wellness center, spa and organic restaurant. These things, in fact, already exist here to some degree but founders Edward Zaydelman and Brooke Coleman (some of the loveliest people you'll ever meet) have a big vision for the property, despite their already impressive list of current offerings, which include boutique eco-conscious travel and event planning and hosting services on-site at any of the luxury glamping villages dotted throughout the jungle property.
With backgrounds in large-scale event and festival planning and fashion design respectively, Ed and Brooke infuse Puerta a La Vida with their own unique signatures—from Brooke's organic, colorful artwork, mandalas and murals tastefully integrated into the large open spaces to their impeccable design tastes, which create a cozy and inviting atmosphere that encourages collaboration, interaction and community building. When you arrive at Puerta a La Vida, you can tell nothing is an accident here—the level of intention and attention to detail is extraordinary from the sustainable building materials they use, to the native varieties of organic superfoods they choose to grow in the gardens, to the people they invite to be part of the core team. Like, for example, Marisa Gross, one of the most loving, funny, caring people we've ever had the pleasure of spending time with—herself a gifted healer and entrepreneur like so many who visit the space.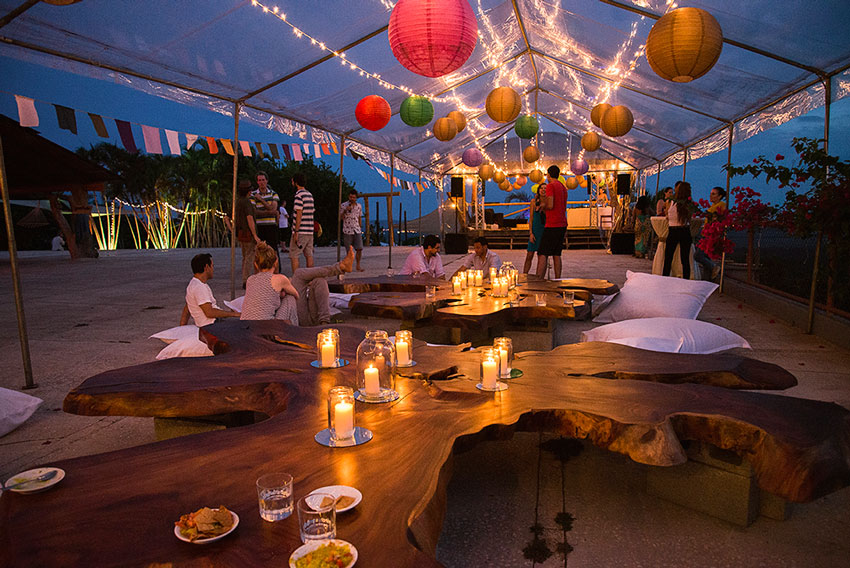 bohemian chic in the middle of the jungle is how they roll at puerta a la vida, one of the top conscious destinations in costa rica.
If you are thinking about making Costa Rica your home, we can hardly think of a better spot than Puerta a La Vida, especially if you value being surrounded by amazing conscious people on the same wavelength. About an hour or so drive west of San Jose, it's an easy and highly recommended place to stop by if you are in the area.
And as much as we saw of the tiny country, we only experienced a fraction of this wonderful land. Conscious friends who have spent many years in Costa Rica also recommend visiting destinations like Limon and the Punta Mona Center for Regenerative Design and Botanical Studies on the Caribbean Coast, home to one of the greatest collections of edible plant species on the planet, the cloud forests of Monteverde and the Tortuguero National Park. Our only recommendation is to stay as long as you can to soak up and integrate the 'Pura Vida' philosophy and vibe that permeates the country and is the perfect antidote to our hyperactive digital culture… a lifestyle grounded in appreciation for the simple things that give our lives meaning: connection, community, fresh food, abundant time in nature and an appreciation of and alignment with the rhythms and flows of the natural world.
About The Authors
Justin Faerman has been studying and writing about holistic health practices, herbalism and natural medicine for over 14 years and is a leading authority on both modern and ancient therapies for creating lasting health and wellness. He has a degree in Environmental Science from the University of California, Santa Barbara and has conducted field research into organic and regenerative agriculture practices and eco-social sustainability during his time there. He is also the Founder of Lotus Superfoods, a boutique purveyor of rare herbs and superfoods as well as the Co-founder of Conscious Lifestyle Magazine and the Flow Consciousness Institute. Learn more about his work at flowconsciousnessinstitute.com and lotussuperfoods.com
Meghan McDonald is the Co-founder and Editor-in-Chief of Conscious Lifestyle Magazine. She holds a master's degree in social psychology from San Diego State University where she conducted award-winning research into the nature of human social behavior. She is an advocate for many environmental and social justice causes and a champion of social impact-focused brands and products that adhere to high sustainability and ethical standards. As a regular travel and lifestyle contributor to Conscious Lifestyle Magazine, Meghan funnels her extensive knowledge of natural products, organic living, and consumer behavior into researching and reviewing brands and products that promote health, wellbeing, sustainability, equality, and positive social change. She has traveled to over 25 countries and loves exploring diverse destinations worldwide while documenting the local artisans and businesses offering conscious, healthy alternatives.