Ao Phang Nga National Park:
The Hidden Jewel of South Thailand
BY JUSTIN FAERMAN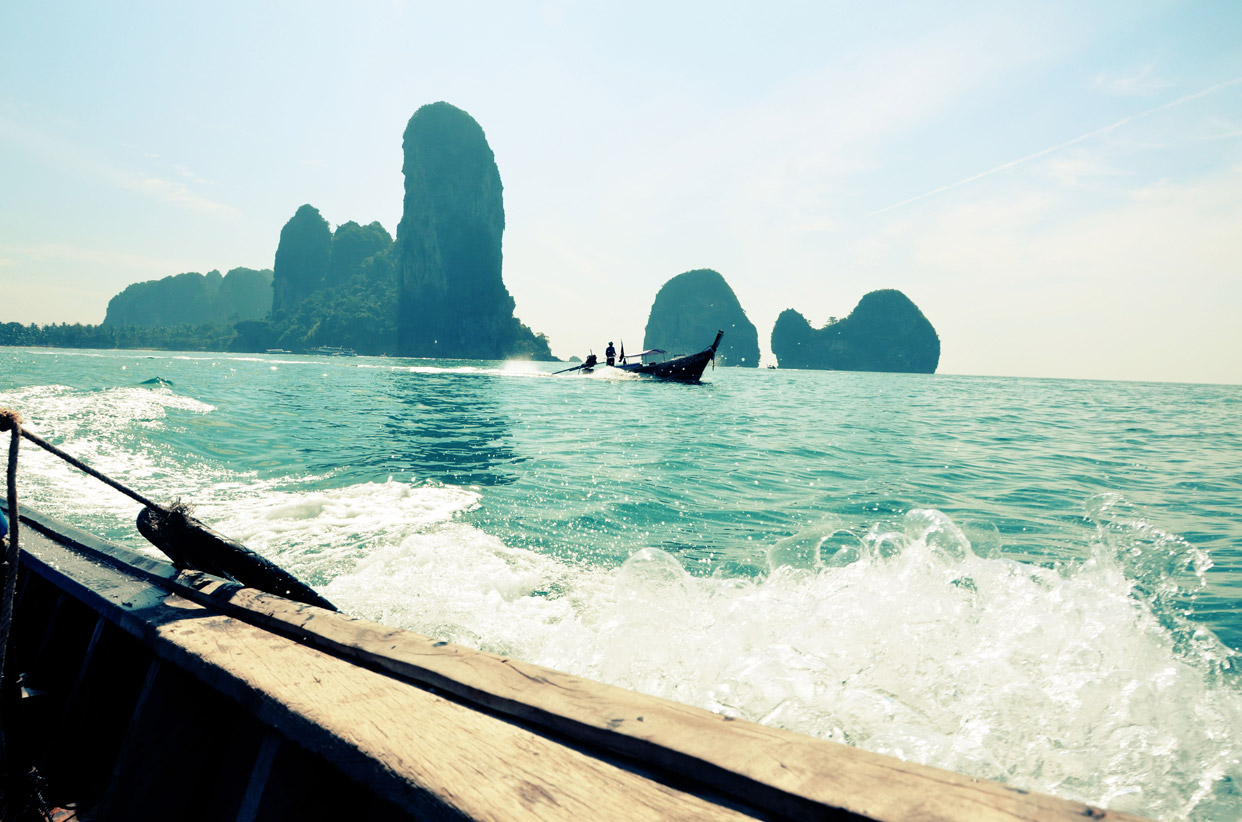 rai leh beach, near ao phang nga national park in southern thailand. photo: mem-film.de
Although you've probably never been there, there's a good chance you might recognize the dramatic island scenery of Ao Phang Nga National Park, nestled cozily in the warm, jade waters of the Andaman Sea near the
southern tip of Thailand. The iconic mangrove-edged bay is spiked with limestone karst formations nearly 900 feet in height—the jungle-clad backdrop permanently etched in the minds of millions as the hideout of James Bond villain Francisco Scaramanga in the 1974 hit The Man With the Golden Gun.
Established in 1981, Ao Phang Nga national park covers nearly 250 square miles (400 kilometers) and is home to more than 40 islands with massive vertical cliff faces plunging treacherously into the tranquil waters below; many of which guard secret caves, accessible only during low tide, that lead into hidden lagoons surrounded by solid rock walls. The Ao Phang Nga area is a kayaker's paradise and exploring it in this manner offers many opportunities to get off the beaten path and avoid some of the more touristy spots during high season.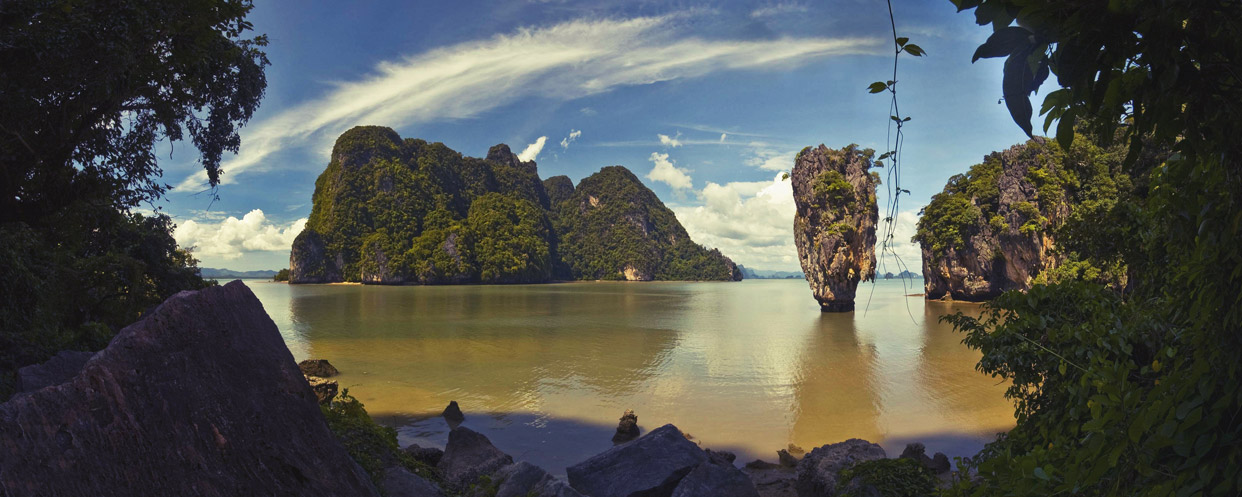 james bond island—one of the most picturesque spots in ao phang nga national park, thailand.
Islands Ko Racha and Ko Bon in the heart of Ao Phang Nga national park offer excellent snorkeling and scuba diving in the region's pristine waters, as well as accommodations for those looking to spend some time immersed in the area. Otherwise, neighboring Phuket province is one of the most stunningly beautiful islands in the country and is so close to Ao Phang Nga that it would be silly to visit the region and not stop by.

paradise on earth somewhere in ao phang nga national park, thailand. photo: lucien muller
The resort city of Patong is known for its nightlife if you are looking for something more lively, but if that's not your thing, it's easy to get away from it all quite quickly in the more remote southern parts of the island where you'll find locals selling all manner of tropical fruits on luxuriously pristine white sand beaches. There are also many excellent yoga,
meditation
, and health-focused retreats scattered throughout the province if you seek a more spiritual and rejuvenating experience.
boats shuttle visitors around the 250 square mile ao phnag nga national park in thailand.
Despite a heavy influx of tourism in recent years, Thai culture has changed little and still retains its famed hospitality, friendliness, and talkative, grinning locals who wholeheartedly embody the philosophy of 'sanuk'—a Thai word that translates loosely to "enjoy life." Be warned, many people intend to come to Ao Phang Ngo or anywhere in Thailand for a week or two and end up staying for months. It's cheap, the food is fresh and delicious, and you'll make friends everywhere you go, whether it's with travel-happy Australians or the Thai people themselves. It's a country with an often times paradoxical balance between ancient culture and modern development, but one that has managed to retain its heart and soul through it all.
Conscious Retreats in the Phuket – Ao Phang Nga National Park Region of Southern Thailand
Dharana Phuket Meditation Center
Located in the lush Phuket countryside the Dharana Meditation Center is a truly rejuvenating experience for the mind, body, and spirit with several meditation-focused programs to choose from and a host of healing amenities including herbal steam rooms, saunas, yoga classes, and vegetarian meals for all guests.
phuket-meditation.com
Atmanjai Health Spa
Nestled cozily on the beachfront in Chalong Bay, Phuket, the Atamanjai Health Spa offers a range of detoxes and cleanses utilizing the latest healing therapies from around the world combined with traditional Thai healing practices. If you are feeling more active, the spa also features a range of fitness based programs that include yoga and water sports like paddleboarding and kitesurfing, among other activities.
atmanjai.com
About The Authors
Justin Faerman is the co-founder of Conscious Lifestyle Magazine.