The Evolution of Almond Butter:
Decadent, Delicious, Medicinal
BY MEGHAN MCDONALD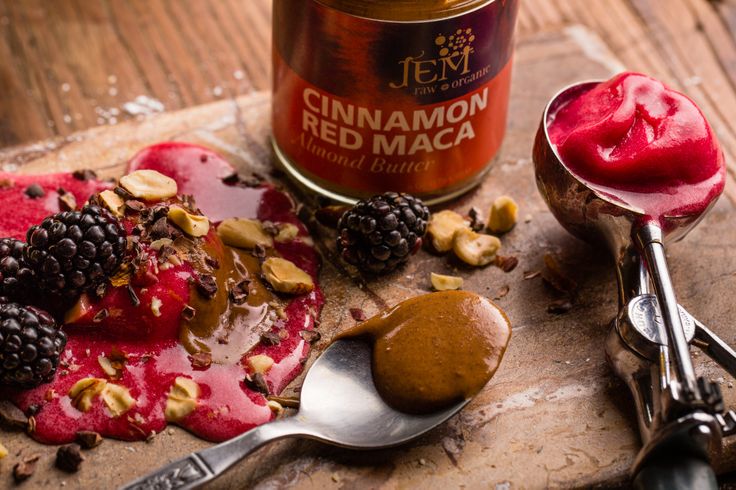 images courtesy of jem nut butters
To be able to create a food that is simultaneously healthy and decadent is a halmark sign of culinary artistry, a craft that Jennifer, Timothy, Nik and Scott of JEM's Almond Butters are true masters. The indulgent, exquisite flavor profiles they have managed to create with their line of
medicinal-grade nut butters are so phenomenally unique and transcendent (yes, they really are that good…) that you simply have to taste them to believe something so delicious and nourishing can actually exist. These are meticulously crafted superfood delicacies of the highest caliber, infused with artisan-quality, ethically sourced ingredients and prepared in a refreshingly health-
conscious
manner.
Each sensual flavor is built upon a base of organic, sprouted, stone-ground almond butter that is alchemically blended with an exotic assortment of nutrient-dense superfoods. The combinations may seem odd, that is, until you taste them and experience the genius culinary artistry at work.
The rich flavor profiles are perfectly complemented by your favorite bread, be it sprouted ancient grains like kamut and einkorn or a gluten-free treat like the apple cinnamon muffins featured in this issue. However, don't be surprised if you find yourself eating it straight from the jar like we did.
Each of the four flavors currently available are infused with unique medicinal-quality spices and superfoods, such as:
Cardamom
A long-adored spice in Indian cuisine with warming qualities that can aid digestion.
Maqui
A dark purple, Chilean berry extremely high in antioxidants and anti-aging flavonoids.

Lucuma
A sweet, maple-tasting fruit that is native to Peru and abundant in iron, niacin (B3) and calcium.
Maca
A medicinal root vegetable known for boosting energy, balancing hormones, and combating stress.
Camu Camu
A tropical berry rich in Vitamin C and amino acids, which contribute to it's impressive antioxidant profile.
Cacao
Seeds from the Theobroma Cacao tree, long valued by indigenous cultures throughout Central and South America and used to produce chocolate worldwide.
What We Love About JEM's Almond Butters
+ Almonds are raw, organic, sprouted, and non-irradiated
+ Almonds are stone ground at low temperatures to preserve nutrients
+ Fair-trade, Non-GMO ingredients
+ Superfood-based formulas
Featured Medicinal Almond Butter Flavors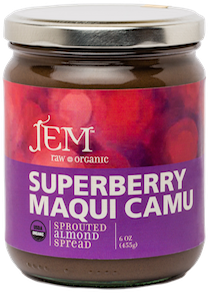 Maqui Camu Super Berry
JEM Raw
Patient as a mountain and wild as the seasons, Maqui and Camu Camu find their sweet and complex flavor in the richness of the wild soils of Patagonia and The Andes. Two antioxidant berries and raw sprouted almonds make this blend perfect for the adventurous at heart.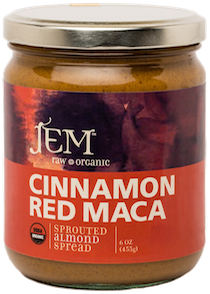 Cinnamon Red Maca
JEM Raw
A raw inner fire emerging from within, giving birth to your inner spirit. Red Maca a Peruvian root with warming cinnamon, and sprouted almonds make this creamy blend a balanced fuel for the strong at heart.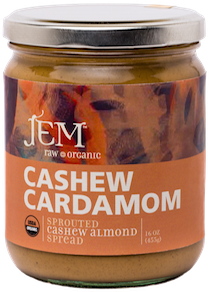 Cashew Cardamom
JEM Raw
You'll want to use a golden spoon to enjoy the riches of this palatial flavor-blend of exotic cardamom, activated yet calming sprouted, organic cashews & almonds, orchid vanilla and Pure JEM ambrosia!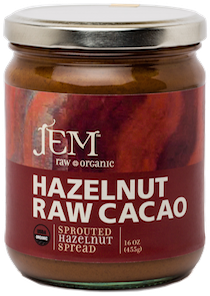 Hazelnut Raw Cacao
JEM Raw
Keep the lid on tight because JEM's ideal blend of four quintessential ingredients, sprouted organic hazelnuts, raw organic cacao nibs, coconut crystals, and orchid vanilla will have trouble staying in the jar! The quality is so good and so pure, each spoonful will blow you away!
About The Author
Meghan McDonald is the Co-founder and Editor-in-Chief of Conscious Lifestyle Magazine. She holds a master's degree in social psychology from San Diego State University where she conducted award-winning research into the nature of human social behavior. She is an advocate for many environmental and social justice causes and a champion of social impact-focused brands and products that adhere to high sustainability and ethical standards. As a regular travel and lifestyle contributor to Conscious Lifestyle Magazine, Meghan funnels her extensive knowledge of natural products, organic living, and consumer behavior into researching and reviewing brands and products that promote health, wellbeing, sustainability, equality, and positive social change. She has traveled to over 25 countries and loves exploring diverse destinations worldwide while documenting the local artisans and businesses offering conscious, healthy alternatives.