Winter 2019 Issue Out Now
Conscious Lifestyle Magazine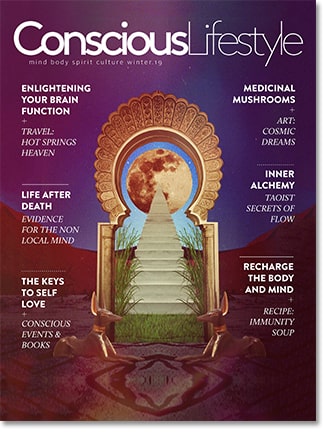 Digital Edition:
Order Now
Collectors Edition Print Issue:
Coming Soon!
CLEANING UP YOUR GENES
By Dr. Benjamin Lynch
The future of medicine will be personalized to your unique genetic makeup. Here's what you need to know now.
HEALING MUSHROOMS: MEDICINAL MARVELS
By Tero Isokauppila
Discover the incredibly potent healing and health-boosting powers of medicinal mushrooms.
RECIPE: SAVORY IMMUNE BOOSTING SOUP
By Claire Ragozzino
This hearty vegetarian soup is packed with nutritious vegetables, immunity-boosting mushrooms and flavor.
THE ENLIGHTENED BRAIN
By Dawson Church, Ph.D.
Dr. Dawson Church shares the latest research into how to optimize your brain for enlightenment and beyond.
INNER ALCHEMY: A TAOIST PATH TO WELL-BEING
By Dr. Pedram Shojai
Learn how to optimize your life for greater flow, harmony and longevity with this ancient Taoist knowledge.
THE EVIDENCE FOR LIFE AFTER DEATH
By Mark Gober
Learn what near-death experiences can teach us about life after life and the nature of reality itself.
THE KEYS TO SELF-LOVE
By Lynn Marie Lumiere, MFT
Stop chasing your tail on the personal development hamster wheel by learning to live in wholeness and self-love.
TRAVEL: HOT SPRINGS HEAVEN
By Justin Faerman
Join us for a healing journey through some of the United States' best kept hot spring locales.
ART: COSMIC DREAMSCAPES
The Art of Devany Amber Wolfe
Dive deep into symbolic and esoteric imagery that invokes the most mystical aspects of our psyche and soul.
CONSCIOUS EVENTS, BOOK REVIEWS, ENLIGHTENED PRODUCTS & MORE
Vote with your wallet for a better (and more stylish) future by supporting these conscious, sustainable brands.
– OR –
Order the Print Edition Winter 2019 Issue (Coming Soon!)
– OR –