The 10 Most Spectacular Things to Do in Banff: A Nature Lovers Guide to Canada's Most Beautiful National Park
BY LAUREN KENSON & BILLY DEKOM
A trip to Banff National Park Canada will leave you in awe of the sheer power of Mother Nature. Everything in the Canadian Rockies feels larger, grander, and wilder. Some of the mightiest peaks stand over 3,000 meters high and hundreds of species of wildlife call this 6,000-square-kilometer stretch of wilderness "home." You can expect to share these Rocky Mountain views with a few of these wild creatures and fellow adventure seekers from around the globe.
Last year, over four million people from various corners of the world came to visit this park. And after you've spent a little time wandering around the steep trails, turquoise lakes, roaring waterfalls, and glacier-studded mountain ranges—it becomes abundantly clear what drew them here. Swapping city skylines for crisp mountain air and wide open spaces leaves you feeling more at ease as soon as you pass under the "Welcome to Banff" road signs.
As you drive along the main highway, the sweeping glacier-carved valley will continue to climb up past dense tree lines and up to rugged summits—the scale of which feels almost impossible to capture with pictures alone. The peaks in Alberta are truly massive. Staring up at them you can't help but feel acutely aware of your smallness in the world and wonder what must have happened geologically to bring these giants into existence. Standing among these towering mountains, you can breathe deeply and let that sweet feeling of oneness with nature and your surroundings wash over you.
Here is just a sampling of what stands out in this national park along with some of the top things to do in Banff, Canada.
The drive alone through this park is stunning and makes for an epic road trip.
Even just standing outside a café in Canmore or strolling between stores in the Town of Banff—you'll be immersed in jaw-dropping 360-degree mountain views. The wild beauty of this place is, in a word, inescapable.
The first trip we took here, we remember driving along the paved highway cutting through the park. We were ducking down and twisting, turning, and craning our necks trying to catch a glimpse of the mountain tops through the rental car windows. Clouds swirling slowly and hypnotically around the highest peaks.
It's the kind of drive where you end up turning the radio dial down low. Keeping an eye on either side of the road, pointing excitedly across the windshield. Looking, searching, taking it all in. Hoping to spot ribbons of water cascading down the steep slopes. Squinting for signs of critters between the evergreens. Peering past the edge of the road as the ice blue Bow River comes into view. You almost don't know where to look, there's just so much beauty to take in.
While this park certainly attracts a subset of people drawn to challenging outdoor sports and activities—there's tons to see just from the road or by those able to take short walks to the water's edge. Further up in Banff, along the Icefields Parkway, you can spot glaciers from the road. Look for large snow-white masses tucked into the mountains and don't be surprised if you find yourself stopping at almost every turnout, viewpoint, or lake along the way.
mistaya canyon. photo: billy dekom
Canada's first national park is best known for its stunning glacial lakes.
There is no denying that the breathtaking glacial lakes are considered the best of Banff. The color of the water here takes on such vibrant tones of blue and green that you almost have to experience them in person to believe they're real. Varying from deep jade to vibrant turquoise, these glacier-fed lakes draw people from all over the world who hope to stand at the water's edge and see them with their own eyes. Crossing their fingers that the shots they take from the shoreline will capture the color well enough to inspire others to make the trip north.
These lakes owe their signature color to something called "rock flour," which is made of fine-grained particles of rock created by the grinding of bedrock during the glacial erosion process. Since the material is so small, it becomes suspended in the meltwater—making the water appear slightly cloudy and giving it that solid-looking, surreal blue-green color (totally different than clear blue ocean water).
Along with the ability to see some of the world's remaining glaciers, these bodies of water are what set Banff apart from any other vacation destination.
Banff is a dream destination for adventure seekers.
Wondering what to do in Banff if you love an adventure? There are ample opportunities for hiking, backpacking, camping, fishing, biking, canoeing, kayaking, climbing, mountaineering, running, paddle-boarding, and sightseeing.
As the snow melts in the summer and the higher elevation trails start to reopen, you can expect the park to draw more travelers. But the winter months offer slightly smaller crowds. In those months, you can also take advantage of the snow-packed trails and frozen lakes to enjoy some downhill skiing, ice skating, cross-country skiing, snowboarding, and snow-shoeing.
The vastness of this place will keep you coming back.
We've spent a combined six weeks, spread across two summers, exploring this stretch of Alberta and still the list of things we have yet to see continues to grow. The sheer number of things to do and places to explore in Banff can feel overwhelming.
There are a lot of things to do in Banff. If you come visit in the summer months, you may leave itching to see the same lakes you hiked around when they're frozen in the winter time. Or wonder how magnificent the landscape looks during larch season in the fall.
You'll want to find a way to see, hike, and do it all, but don't be surprised if you find yourself making a "must-see" list for your next trip as soon as you wrap up your first one.
We've heard park rangers say that even if you were to stay there all summer long and backpack the entire time…you still wouldn't make a dent in it. That's how vast the number of lakes, trails, and peaks is.
And while it would be a fool's errand to try to capture all of its wonders in just these few pages, in this travel guide to Banff, we've collected a list of what keeps us coming back year after year.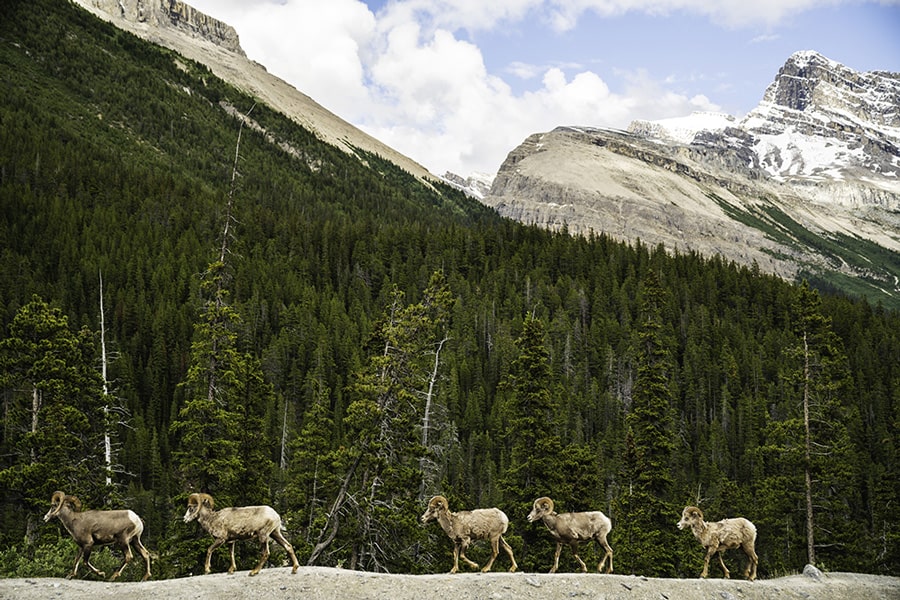 bighorn sheep on the icefields. photo: billy dekom
1. Wildlife Viewing Opportunities
There are a lot of things to do in Banff National Park, which include wildlife viewing. Wildlife is abundant here. Like much of the American Rocky Mountains, this is bear country. Banff National Park is home to both black bears and grizzlies. They share this territory with a number of other species—including other predators like wolves, foxes, coyotes, cougars, lynxes, and various birds of prey. You'll also see elk, bighorn sheep, mountain goats, caribou, deer, and moose along with plenty of smaller animals like pine martens, marmots, pikas, squirrels, and more.
But don't let the wildness of this place scare you off. With simple respectful, sensible practices and an awareness that these are indeed wild animals—you can travel very safely throughout the park. Just stop by any visitor center to speak to a friendly park ranger for a quick, but thorough, lesson on wildlife safety practices. Bear spray is also available throughout the park for purchase, and you're encouraged to carry it if you plan to hike or camp during your stay.
Some of the best times to view wildlife are at dawn or at dusk, when they are most active and out foraging for food. Bow Valley Parkway is supposed to be one of the best spots to see them but we're willing to bet you'll stumble across plenty of them just on your drives throughout the park.
2. Experience a Sunset at Moraine Lake
Experiencing the sunrise at Moraine Lake is one of the many things to do in Banff. When you search for "Banff National Park" chances are very good that an image of Moraine Lake at sunrise will come up right away. This spot is known for its picturesque views and is particularly striking at sunrise. Early in the morning, the still lake waters look like glass—perfectly reflecting the snow-capped mountains on its surface. This lake sits in the Valley of the Ten Peaks and taking in a sunrise here can be a very calming, spiritual experience.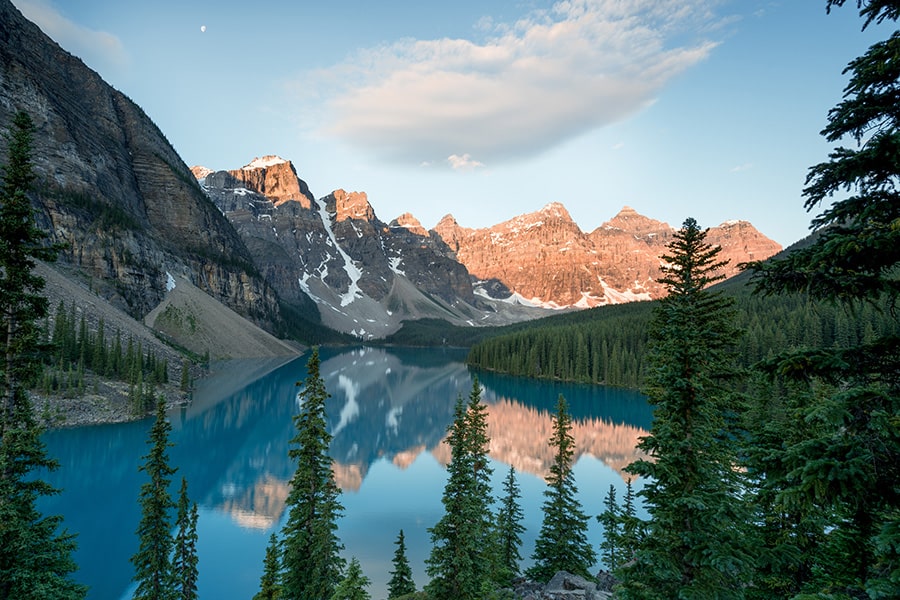 moraine lake. photo: billy dekom
Another reason to arrive early is that the parking lots at Moraine Lake and Lake Louise tend to fill up very quickly. Occasionally they do have overflow parking lots with shuttles available, but it's worth it to sneak some time in while everyone else is asleep.
Park at the lot right near the lake edge and make your way up on top of the rock pile. It's a short walk up there, but this height lets you fully appreciate the reflective views. On your way up, listen for high-pitched squeaks coming from the rocks and keep your eyes peeled for the darling little critters called pikas. They are tan colored with short bodies, round ears, and no tails.
You can also take in the view from the water's edge or rent canoes to paddle out onto the water.
From this spot, hikers can choose to take the Larch Valley Trail to Sentinel Pass. In September, the larches start to change to a lovely golden yellow color—making for a very striking autumn scene in the valley along the trail. Photographers travel to this spot every year to try to capture the larches turning.
3. Stop and See Lake Louise
No Banff travel guide would be complete without recommending this stop. The main draw of this area is its namesake body of water—Lake Louise. Sitting at the edge of the Fairmont Chateau, its turquoise waters are truly stunning. People traveling in groups will love how easily accessible Lake Louise is—just a few hundred feet from the main parking lot.You can take in a view from the rocky lakeshore, rent canoes to spend time out on the water, or walk around toward the backside to see where the glacial melt feeds into the lake itself. You'll be mere steps away from the historic Fairmont Chateau Lake Louise—and, even if you're not staying at the hotel, it's a great place to wander around or grab a meal.
4. Hike from Trail to Tea House
Not surprisingly, hiking is one of the many things you can do in Banff, Canada. From Lake Louise you have your pick of several hiking trails. Two of which have tea houses waiting for you once you arrive at your destination. What makes these tea houses so unique is that they have no electricity and no running water—supplies like flour and sugar are flown in by helicopter at the beginning of the season. All fresh food is packed in by the tea house staff members, carried on their backs up the trail. All trash is packed out the same way. Their menus feature specialty teas and made-from-scratch goods.
Heading off to the right side, up and away from the lake will take you up to Lake Agnes—another glacial lake with clearer waters and a tea house serving snacks, sandwiches, desserts, and tea. You'll want to bring cash with you if you're interested in enjoying some food while sitting by the lake. If you continue past the tea house, you can take the trail even further up to Big Beehive, which overlooks Lake Louise and the Chateau down below. Those craving a challenge can head up for an even higher vantage point at the forebodingly named Devil's Thumb.
Going back to Lake Louise, if you chose instead to take the trail that goes around the shoreline, it will lead you to the trail of the Plain of Six Glaciers. This will also take you to a tea house; but between the two options, this is the one we prefer to spend our money and time on. It's decidedly less crowded here and the Swiss-style rustic building (built in 1924) is very charming. There's also a friendly dog, named Arlo-Barlo, who has spent the last ten summers living up at the tea house.
It's a sweet place to enjoy some tasty food in Banff and pause before continuing to the final area where you can view the Plain of Six Glaciers. And depending on the time of year, you may even spot an avalanche off in the distance.
In contrast to the one at Lake Agnes, where you'll find long lines (for the food and for the outhouses) and people talking loudly, bustling around—at the Plain of Six Glaciers Tea House you'll find most hikers and patrons are often quieter. Smiling at each other over sips of tea, remarking upon the delicious bread freshly baked that same morning. Respectfully, calmly taking in the scenery around them. Happily sharing tables with hikers who have just arrived, regardless of whether they know one another or not. Chili and hot meals are made on a propane stove, along with freshly baked goods, and an impressive selection of specialty teas (especially considering this spot is a 6.4 kilometer climb away from the trailhead).
Experienced hikers might try hiking from tea house to tea house—connecting the two trail routes we've laid out here with little detours to Big Beehive or Devil's Thumb.
5. Hike along Rushing Water and Waterfalls in Johnston Canyon
One of the best places to stay in Banff if you want to relax is in Johnston Canyon. There's a number of hiking trails sprinkled along the Bow Valley Parkway but one of the most rewarding day hike areas is in Johnston Canyon. Like most places in Banff during peak season, get here early to avoid the crowds and park in the lot right at the trailhead. In the early morning driving in, you may be able to spot wildlife feeding along the road.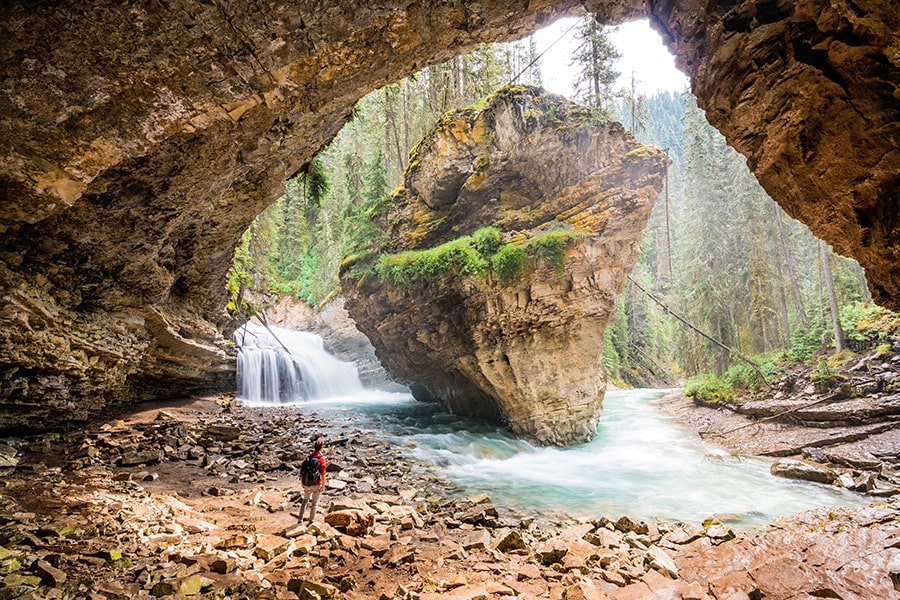 johnston canyon. photo: billy dekom
The paved trail and series of walking bridges follows rushing water up to several beautiful waterfalls. You can even take the trail further out to an area called the Ink Pots—where five gorgeous, turquoise pools in an idyllic meadow setting will be waiting for you. These pools are mineral springs, and you can sit on benches and watch sandy pools swirl in circular patterns. With mountain ranges surrounding you and Johnston Creek just past the pools, it's a perfect place to picnic after this moderate hike.
6. Take a Gondola up to Sunshine Meadows
One of the best places to escape the crowds and see wildflowers is in Sunshine Meadows. You can take a shuttle up to a gondola that drops you off at the very top. With a view of Mount Assiniboine in the distance and a platform overlooking three stunning lakes, you can take in some gentle hiking trails up here and see a huge variety of flowers. Even with a wildflower guidebook in hand, we still came across some blooms that we'd never seen before or didn't know the names of.
The views up here are breathtaking, and because you have to drive a bit away from town and pay for a ride up—you'll shake some of the crowds by heading up to this gorgeous day-hike area. On the gondola ride, keep an eye out for bald eagles circling in the skies, and see if you can spot the winter ski lifts glimmering on the other hills in the distance. Tickets are available online for advance purchase.
If you are still wondering what to do in Banff, this is a great option for many. Lush greenery and tall trees are everywhere you look. And if you find yourself here during peak wildflower season (mid-July to mid-August), you'll find bright blooms of all shapes and colors dotting the landscape too.
7. Take a Road Trip up the Icefields Parkway
Along the drive up the Icefields Parkway, you may feel the urge to pull over the car and stop at every viewpoint. This is one of the most beautiful and scenic drives in the world, and there really aren't any "bad" places to stop to take it all in.
Not only can you spy glaciers from the road but there's an unbelievable number of peaks surrounding you along the way. As you leave behind the busy Lake Louise village area and your cell service drops out, you'll start to become fully immersed in miles of ridgelines. It is one of the funnest things to do in Banff because you can choose your own adventure.
Stop at Herbert Lake, just off the road, for a beautiful mirrored view of the skyline. Then continue up the parkway to see even more gorgeous lakes. Once you arrive at Bow Lake, pull into the parking lot and take the short trail out to the water's edge. Walk along the shore and cross the little bridge to get a better view of Bow Glacier Falls across the water.
Further up the parkway lies Peyto Lake—where you can park and take a short, paved walk up to a viewing platform. Further past the platform, you'll find a trail that heads out to an even more scenic spot. Keep going on the paved section until you see a dirt path disappear into the trees. Take that path. It leads you to a large rock pile and open area overlooking the lake where you can enjoy the views with far fewer people.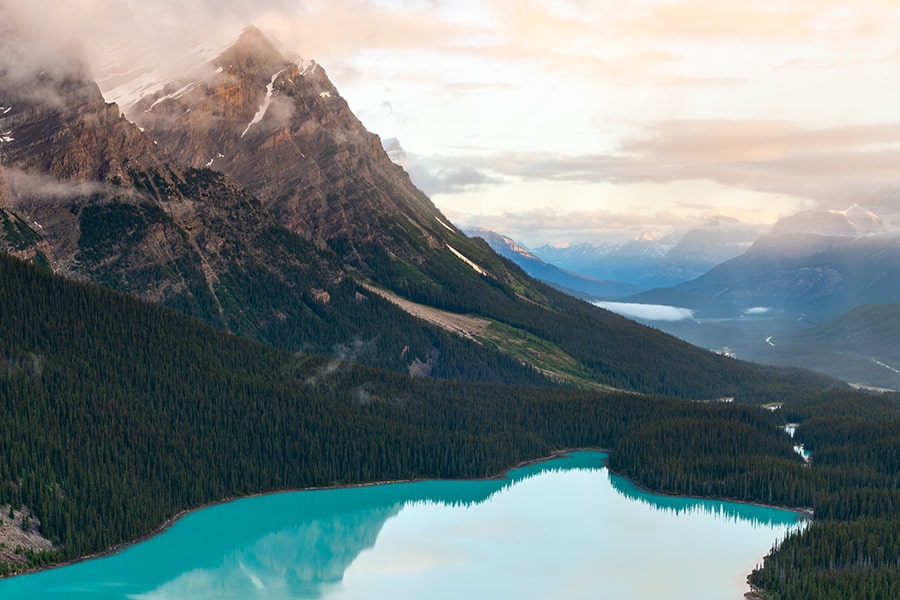 peyto lake. photo: billy dekom
Mistaya Canyon is another beautiful spot to stop at—a few minutes' walk will take you to a bridge overlook where you can see and hear the water thundering through the narrow slot canyon. Cross the bridge to access spots that take you even closer to the edge, though be wary of wet rock ledges in the summer and slippery ice in the colder months.
One of the most impactful and scenic hikes along this stretch of the parkway is Parker Ridge. A hike up to the top gives you a fantastic perspective of the Saskatchewan Glacier just on the other side. The ratio of distance to wow factor can't be beat here—for a relatively short hike you will be rewarded with epic views.
Now, that we've covered what to do in Banff, you might be wondering where to sleep, where to eat and where to explore next!
Lodging
When it comes to lodging, you've got several choices of where to get a restful night's sleep.
Within the park boundaries, the Town of Banff offers a number of hotels to choose from. The advantage of this is that it places you close to restaurants, shops, grocery stores, and cafés within walking distance from your room, but expect crowds and difficulty finding street parking. Look for a hotel that offers free parking for guests, and keep in mind that many of these underground garages have a height limit (good to know when you're choosing a rental vehicle that bigger isn't always better).
For a unique experience just outside of town with stunning views, check out the Juniper Hotel. Perched up on the hillside, many of its rooms have a panoramic view of the park. There's a bistro right on site, making it one of the best places to stay in Banff.
The Lake Louise area also has a handful of places to stay, but with fewer dining options available. You can expect prices per night to be about the same in either area but expect to pay a premium if you choose to stay in the historic hotels. The Fairmont Chateau Lake Louise and the Fairmont Banff Springs both offer luxe accommodations for those looking for an upgraded experience.
Just outside the park boundary is Canmore. After two three-week trips to this area, this is our favorite place to stay and where we recommend you go if (like us) you're crowd averse. There are plenty of options here for dining and shopping, with a much more laid-back vibe than the touristy (but lovely) Town of Banff. Plus, there's a greater selection of grocery stores and a Canadian Tire (a large department store where you can pick up any outdoor gear you forgot to pack for a cheaper price than shops in the park).
No matter where you choose to stay, try to secure your bookings in advance. Places fill up quickly in the summer and in peak season you'll be hard pressed to find vacancies in town.
Camping
Of course, the most affordable way to experience this area is to opt to stay in the many campgrounds sprinkled throughout the park, which is also one of the most highly recommended Banff National Park things to do. Tent camping, trailer, and RV sites are available. Some can be reserved in advance and others (usually the ones sprinkled along the Icefields Parkway) are first-come first-serve. Something unique about Canada's park service is that it stocks many campgrounds with wood piles for campers to use—just ask at check-in if fires are allowed and pay for a fire-permit for your site.
Each place has different amenities available, and it's worth noting that not every one has showers—so if you aren't mixing your campground stints in with hotel stays, choose one that has the facilities you need.
Having tried a few of the campsites and places to stay in Banff, we recommend trying to reserve a spot at the Lake Louise campground. While this will put your home base further away from the dining options in Banff and Canmore, the campground is fantastic. Clean, large sites; showers; flush toilets; and an electrified bear fence surrounding the entire campground. Plus, it's just a short drive away from Moraine Lake and Lake Louise if you want to catch a sunrise or get an early start out on the trails.
Parks Canada has an online reservation service you can use with detailed information on each of their campgrounds, along with pictures of each site when you book.
Where to Eat
There is a variety of food in Banff. Just outside of the park in nearby Canmore is our favorite spot to eat when in Banff—Communitea Café. They have options for vegans, vegetarians, and meat eaters alike, with a variety of nourishing bowls, fresh salads, in-house baked goods, and a truly delicious breakfast burrito. They serve up fantastic coffee from Pilot Coffee Roasters. Pick up a bag of their light roast called "Academy" to take home with you as a souvenir.
The Town of Banff also has some great options for food and dining:
The panoramic view of Banff from Juniper Bistro is hard to beat, some even considered it the best of Banff. Definitely plan on coming here for brunch at least once. The menu has healthy foodie favorites like avocado toast, a "brekky salad," and shakshuka. But the indulgent brie-stuffed French toast is also worth consideration.
Balkan Restaurant has delicious, fresh Mediterranean fare with lots of gluten-free and vegetarian-friendly options. The Greek bowl makes for a great lunch. The creamy feta dressing is wonderful, and the crispy fried chickpeas taste like buttery croutons, but better.
Indian Curry House has delicious food with plenty of options for omnivores and vegetarians alike. Hidden in an upstairs location, it might not seem like much at first glance, but their garlic naan, coconut rice, and tikka masala are fantastic.
Indulge in some of the world's best ice cream at COWS (ranked number 1 on the world's top ten places to get ice cream by Tauck World Discovery in 2017). On a hot summer day, you can spot the line snaking out the door on Banff Avenue. They have classic and unique flavors—including strawberry ice cream made from fresh-picked berries from Prince Edward Island.
Some of our other favorite food in Banff includes Park Distillery + Restaurant + Bar (quality food with a commitment to sustainability practices) and Earl's Kitchen + Bar (offering a wide selection with a great choice of mocktails).
In the Lake Louise area, we recommend skipping the eateries in the village area. Drive up to the Chateau instead. For something light, head to the very back of the hotel to visit Jusu Bar (featuring fresh juices, acai bowls, and smoothies). For lunch, just past the main lobby, you can dine at the Lakeview Lounge. It has fantastic views overlooking the lake, and you won't want to miss out on their sweet potato fries or house-made seasonal sodas.
Grocery
For those who want to cook on their own (whether in an Airbnb or in their camp kitchen), you can stock up on healthy food staples at the natural grocery store—Nutter's Bulk and Natural Foods—in Canmore. This is the only place we were able to find things like stevia, organic snacks, clean bath and body products, nut milk, and quality local honey. There's also a Safeway in Canmore with a lot of produce options. And if you're really in a pinch, there's two grocery stores within the Town of Banff with much more limited selection—IGA and Nester's Market.
Farmer's Market
We also suggest that you look into the farmer's market schedule while you're in town. Although it's not one of the top things to do in Banff, the combination of fresh produce, local goods, and mountain views can't be beat. In the summer, Canmore has a farmer's market every Thursday—check out the artisan soaps, local berry jams, and fresh food vendors. The Town of Banff holds theirs on Wednesdays.
Beyond Banff
If you have time to explore a little beyond Banff's borders, consider making the drive out to any of the adjacent parks. Here are some of the most notable spots where you can experience even more of the wonders that the Canadian Rockies have to offer.
8. Jasper National Park + Mount Robson Provincial Park
When it comes to hiking here, the 360-degree views from the top of Sulphur Skyline are well worth the steep trail it takes to get there.
After trying out all the interesting things to do in Banff National Park, traveling here could be the best idea. For a relaxing trip on the water, book a boat tour at Maligne Lake out to Spirit Island, one of the most photographed spots in the entire world.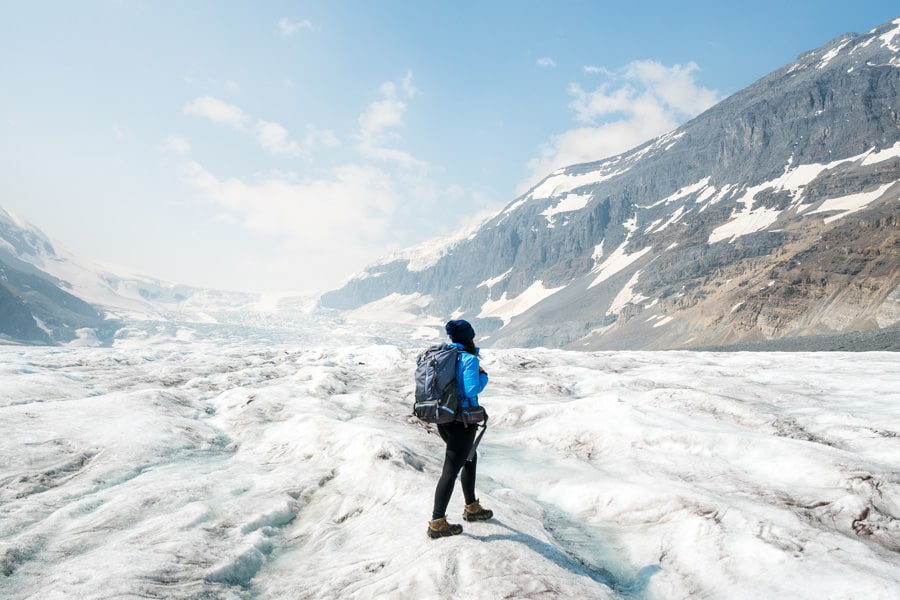 athabasca glacier. photo: billy dekom
For an unforgettable bucket-list experience, book a tour with Ice Walks to spend some hours walking on the Athabasca Glacier. Do yourself a favor and skip the tour with the rovers—you can spend some real time on the ice, peeking into ice-blue crevasses and trying a sip of pristine glacial water with a mountaineering guide instead.
A short drive outside of Jasper and into Mount Robson Provincial Park will take you to the world-renowned Berg Lake Trail. The full trail up to Berg Lake is a multi-day hike for experienced hikers and backpackers. But there's a gentle day hike out to Kinney Lake that offers exceptional views as well and gets you closer to the base of Mount Robson—the highest peak in the Canadian Rockies.
9. Yoho National Park
After hiking the best of Banff, traveling to Yoho National Park is highly recommended. About a 15-minute drive from the Lake Louise area will take you out of Alberta and into British Columbia where the Banff National Park terrain transitions into Yoho National Park, which sits just to the west. Hikers will recognize Yoho as the home of famed Lake O'Hara—another beautiful glacial lake area with miles of trails. Besides the gorgeous color of the waters, what makes a stay at Lake O'Hara so unique is the limited access.
Unlike some of the other lakes in this area, you cannot just drive up to it—you have to park your car at the bottom of the 11 kilometer road and either hike up or take the paid shuttle bus. You'll need advance permits if you want to snag a camping spot in this idyllic hiking destination. You can also look into advance reservations if you prefer to stay at the Lake O'Hara lodge. Either way, expect to call (and call again) on opening day for reservations—it's an internationally sought-after destination for lovers of the outdoors.
10. Kananaskis Country
If you have extra time to visit other locations beyond the stunning town, you may choose to drop by the Kananaskis Country. Just southwest of Banff, this area includes several other provincial parks all in one park system. Away from the hustle and bustle of the Town of Banff or the tourist-packed Lake Louise area, things look and feel a little wilder out here. This area has a number of ridge hikes for those who are up to challenging hikes and scrambles. Opal Ridge in particular offers exceptional views from the top. The hike up is difficult—you'll have to use your hands to scramble up the last stretch of scree to the top, but the view from here is well worth it. This lesser-trafficked trail means you might have those views all to yourself.
If possible, try to schedule enough time up here to weave in a trip that doesn't just include spots in Banff but includes Jasper and a few other surrounding areas as well. You won't be sorry you did. No matter how you choose to spend your time in Alberta, there are hardly any wrong choices. The abundance of beautiful trails and ways to spend your days up there can feel overwhelming, but we hope this Banff travel guide inspires you to keep coming back season after season.
About The Authors
Lauren Kenson is the recipe creator and writer behind Free Your Fork, a taste-driven yet health-minded food blog. She is passionate about helping others discover the joys and benefits of cooking in their own kitchen. Her blog is a resource for those looking to develop more mindful eating habits and a happier relationship with food. She is committed to using local, seasonal, and organic ingredients whenever possible. Outside the kitchen, she is an avid long-distance hiker who loves camping and exploring the outdoors with her partner and food photographer, Billy DeKom. Learn more at freeyourfork.com
Billy DeKom is a self-taught landscape and adventure photographer based out of the California Bay Area. He's an avid hiker and backpacker who is passionate about conservation, leave-no-trace, and eco-friendly practices. Billy seeks to encourage others to get out and explore the outdoors by showcasing some of nature's wildest places through his photography. His Instagram and website are inspiration for those who love to travel. He also does food photography for his wife's wellness blog, Free Your Fork. Learn more at billydekom.com