Conscious Travel Guide Marrakech:
Things To Do in the Surreal Capital of Southern Morocco
BY JUSTIN FAERMAN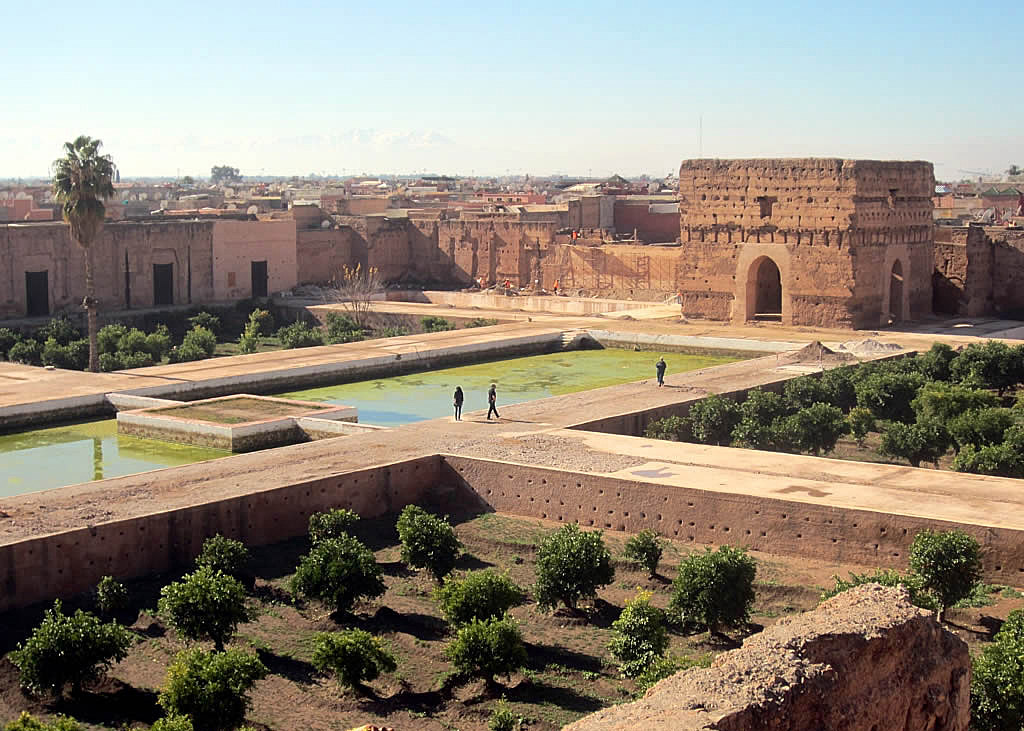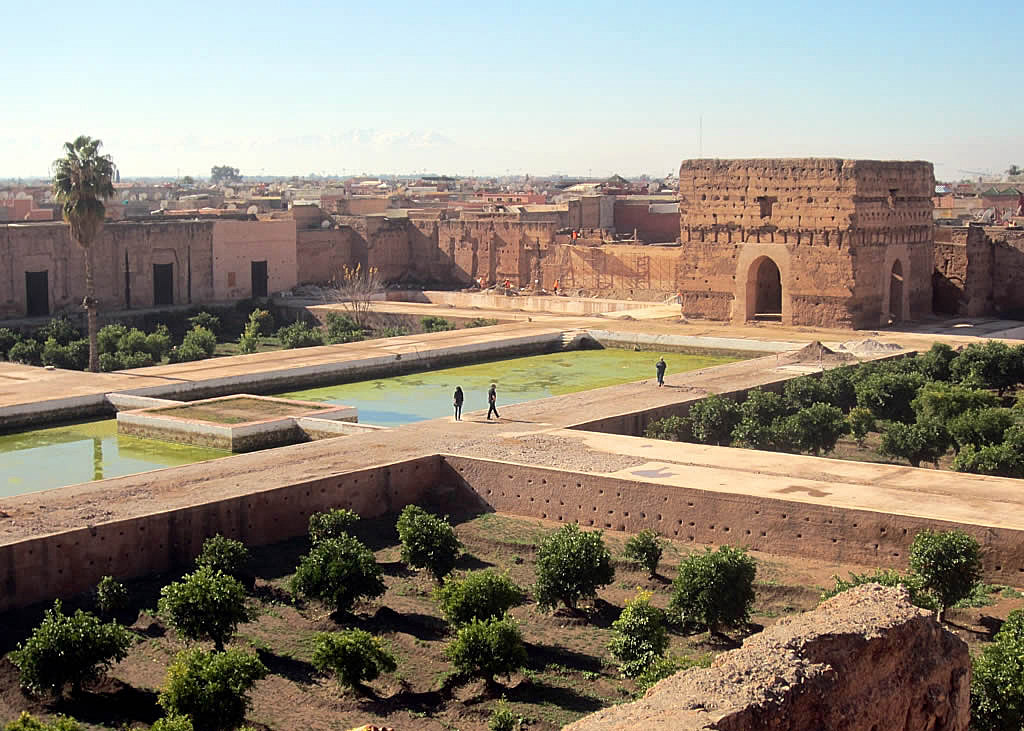 palais el badi, just one of the hundreds of spectacularly beautiful things to do in marrakech, morocco. photo: david stanley
Few places on earth have the ability to conjure up exotic visions of old-world culture and charm quite like Morocco. And, of the country's countless gems, none shine as brightly as Marrakech. Straddling the
towering, snow-capped Atlas Mountains, Marrakech is in every sense an outpost—the last major bastion of civilization before the creeping edges of the Western Sahara Desert.
For nearly a thousand years, Marrakech has been a melting pot of civilizations—a vibrant mixture of Sufi, Muslim and French colonial influence—built upon a tribal foundation of the native Berber culture. And perhaps one of its most alluring qualities is that it has retained much of those ancient influences to this very day, despite an ever-encroaching Western culture. Wandering through the snakelike alleyways and passages in the old city of Marrakech, you could be forgiven for thinking you had suddenly been transported back in time to the bustling heart of an Aladdinesque medina—not much has changed here over the centuries.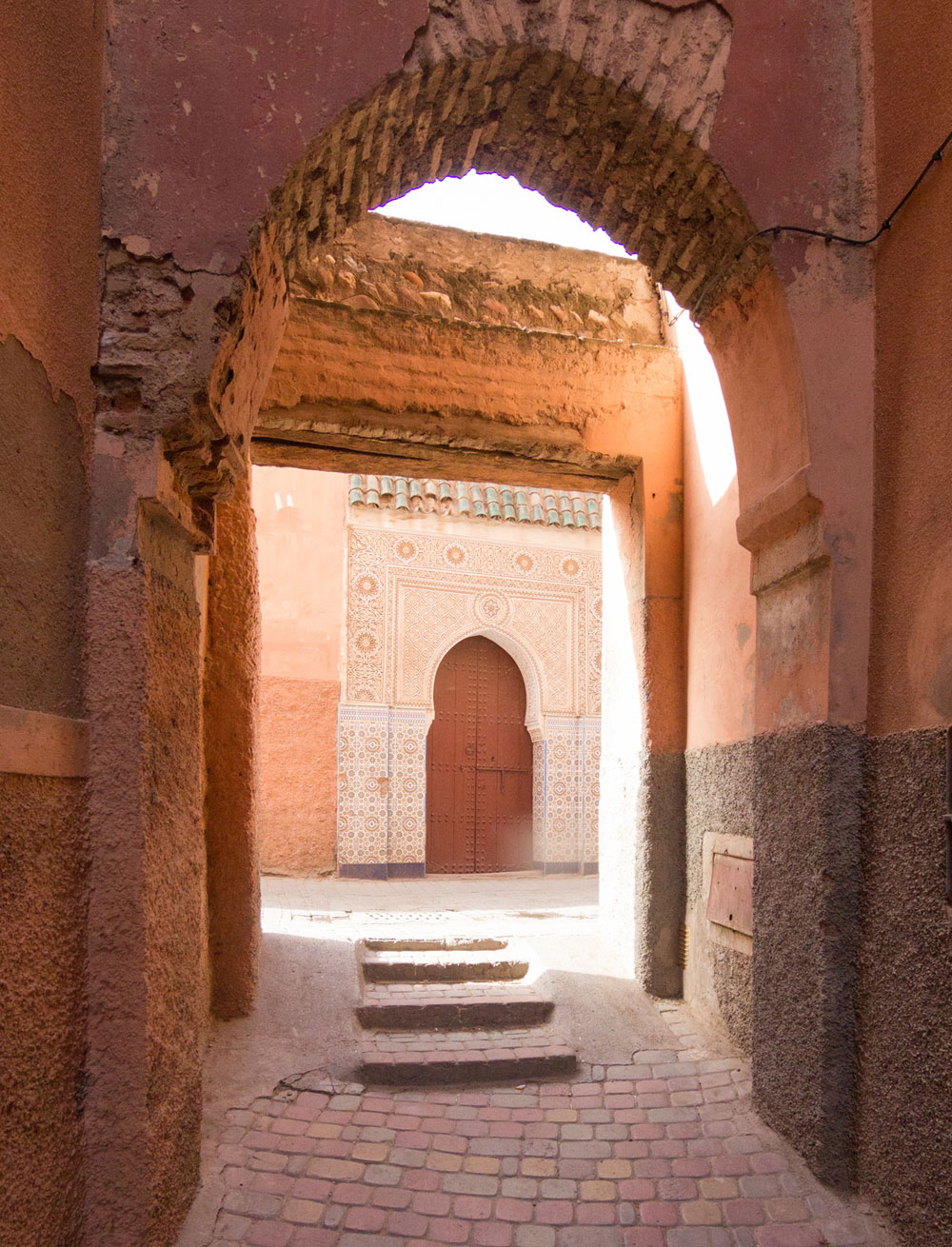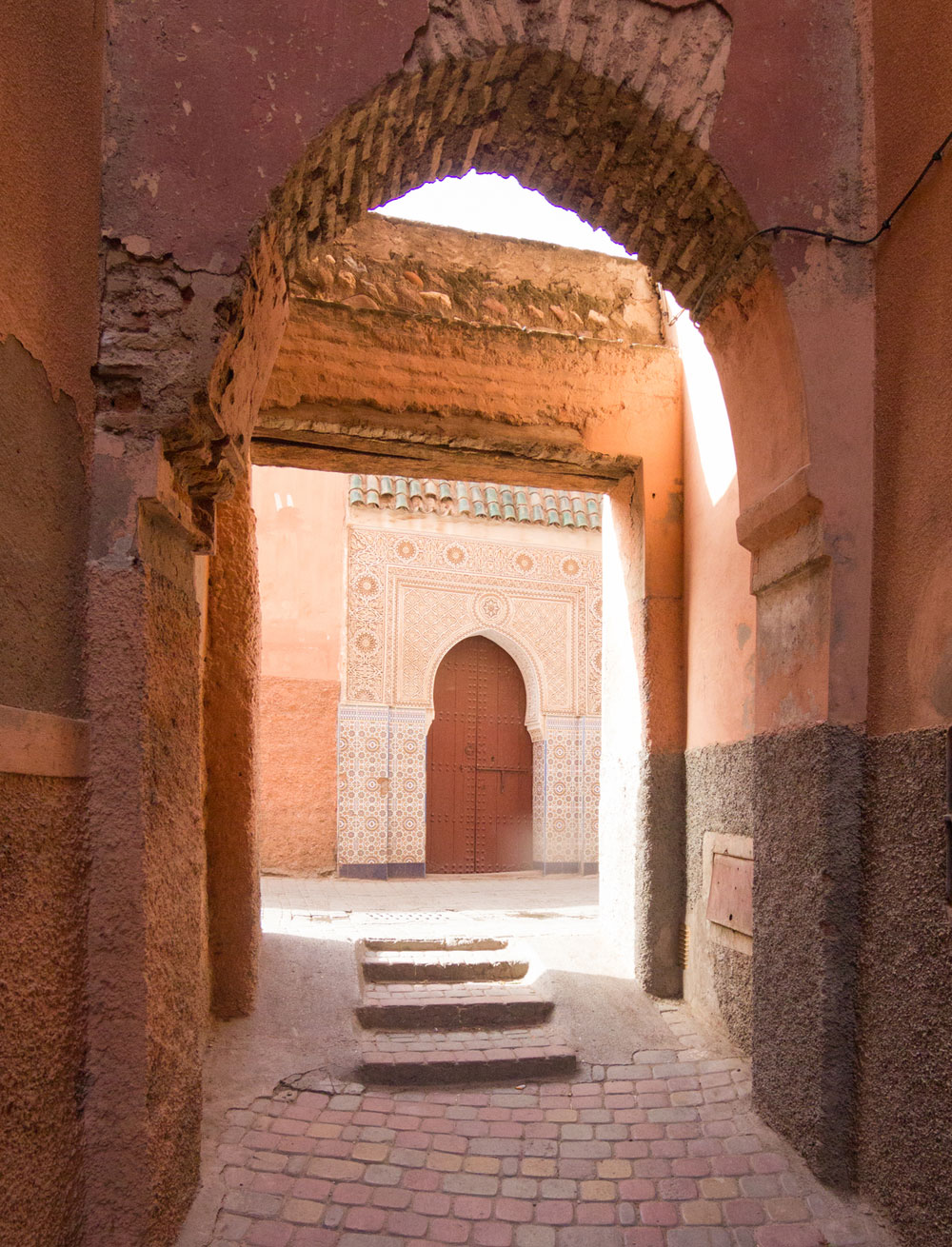 aone of thousands of aladdinesque alleyways in the old city. wandering through them (and getting hopelessly lost) is one of the essential things to do in marrakech.
Marrakech has traditionally been—and still is—one of the most prominent cities in, not just Morocco, but the entire West African region; and this is clearly reflected in the city's often-lavish architecture. Palm-lined palaces with sprawling gardens, towering mosaicked mosques, decadent riads and modern art-deco-á-la-Morocco-inspired hotels dot the desert city and are constant reminders of the power and wealth that have flowed through the region for nearly a thousand years.
"Marrakech is in every sense an outpost—the last major bastion of civilization before the creeping edges of the Western Sahara Desert."
But don't let me give you the wrong idea and make you think that Marrakech is by any means an expensive destination. For the most part, it's quite cheap. (I had the best croissant of my life there for the princely sum of two cents.) However, the truth is, how expensive (or inexpensive) it becomes for you is largely a reflection of your haggling skills and what kind of experience you want to have. For about 50% of the things you'll be purchasing or doing in Marrakech, you'll enter into a dialogue with the seller and negotiate a fair price. Be warned that Moroccans are arguably the world's best hagglers—they literally can talk money right out of your pocket! That being said, even a bad deal in Marrakech is usually far less than you'd pay for similar things in the West. And, after all, the general standard of living for locals is substantially lower than it is in the West; so, if you can afford it, it can be—shall we say—philanthropic.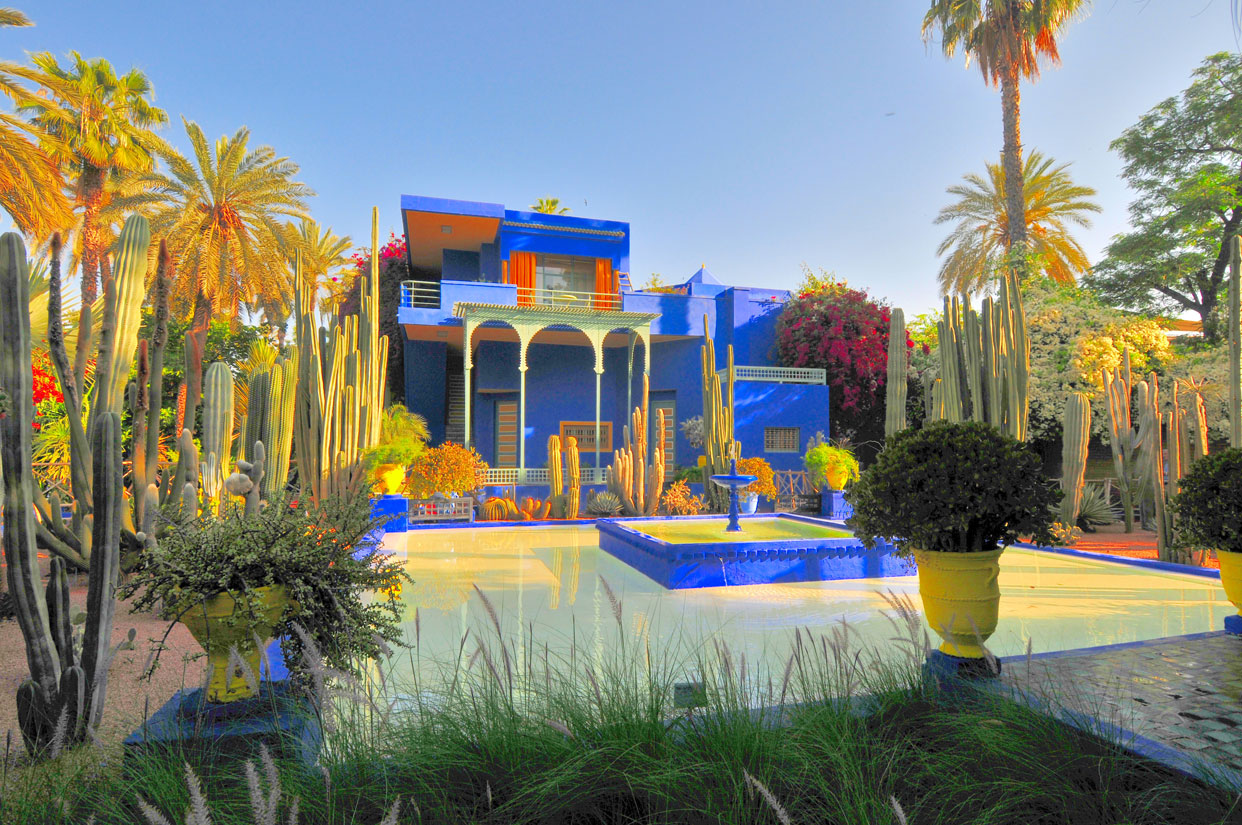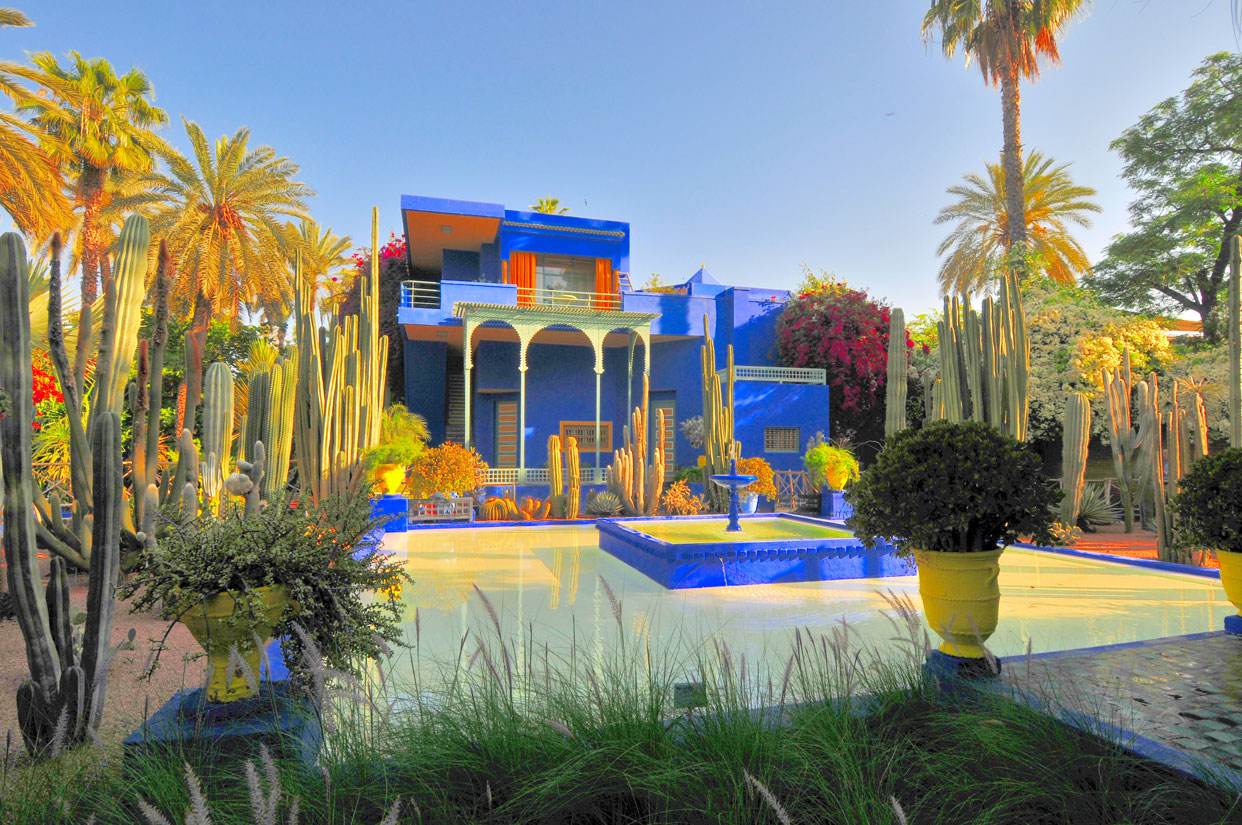 la jardin des majorelle, a surreal sight if there ever was one. not to be missed if you are looking for things to do in marrakech. photo: viault
Even so, if you want to travel in style, there are plenty of places and things to do in Marrakech that can accommodate that too; you certainly can find ways to spend a lot of money quite easily, especially in the Ville Nouvelle, the newer, more modern part of the city. On the whole, the old city of Marrakech (which is the most vibrant and colorful—it's what everyone thinks of when they think of Morocco) is substantially cheaper. We stayed at a cozy, ornate riad (an old grand house converted into an inn) in the heart of the souks with absolutely phenomenal, freshly made breakfast every morning for $20 per person per night.
And speaking of food, that's one of the best parts about a trip to Marrakech. The surrounding countryside is basically all farmland and supplies the city with a never-ending supply of incredibly fresh, wholesome produce that is transformed at the hands of local chefs into an array of simple, hearty, spiced-but-not-hot dishes. Moroccan cuisine is reminiscent of traditional Middle Eastern fare but with a distinctly regional bent, with a focus on tajines—heavily spiced stews cooked in special clay pots that add some special je ne sais quoi to the dishes. Delicious mint tea is served nearly everywhere you go in Marrakech and Morocco in general, but be forewarned: it's got quite a kick! It's actually about 90% green tea, with a bit of sugar and a few mint leaves thrown in for good measure.
"Marrakech is one of those cities where wandering aimlessly and exploring whatever catches your fancy is a brilliantly good time."
Marrakech is one of those cities where wandering aimlessly and exploring whatever catches your fancy is a brilliantly good time. There are street performers and acrobats and snake charmers and monkeys, and all kinds of unusual things far outside the norms of daily life in much of the world to keep you shocked and entertained. And beyond that, it's easy to get lost (literally, hopelessly lost; there are no maps and very few named streets in this area of the city) in the endless stalls and alleyways of the souks, which are the vibrant ancient markets in the heart of the old city.
"If you can dream it, you can probably buy it somewhere in the souks."
As great as those things are, a trip to Marrakech would be woefully incomplete without making time for the following essential experiences: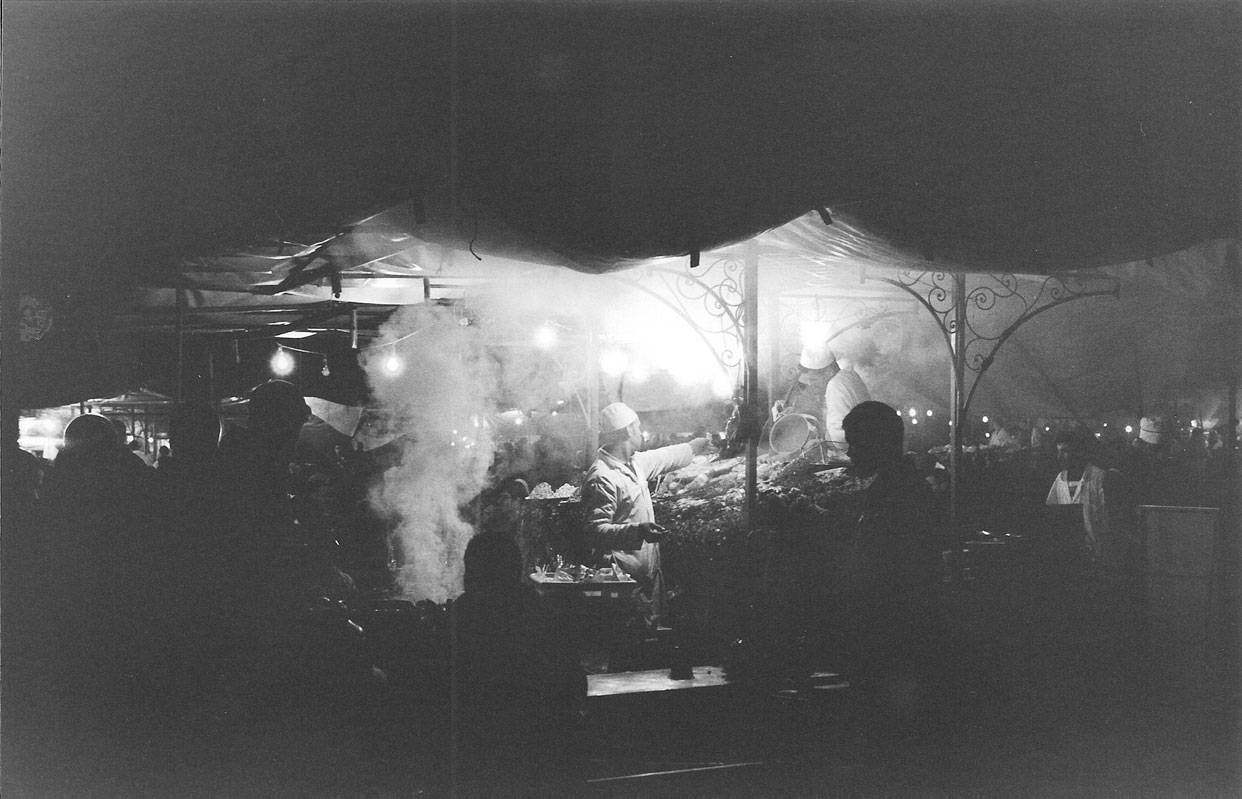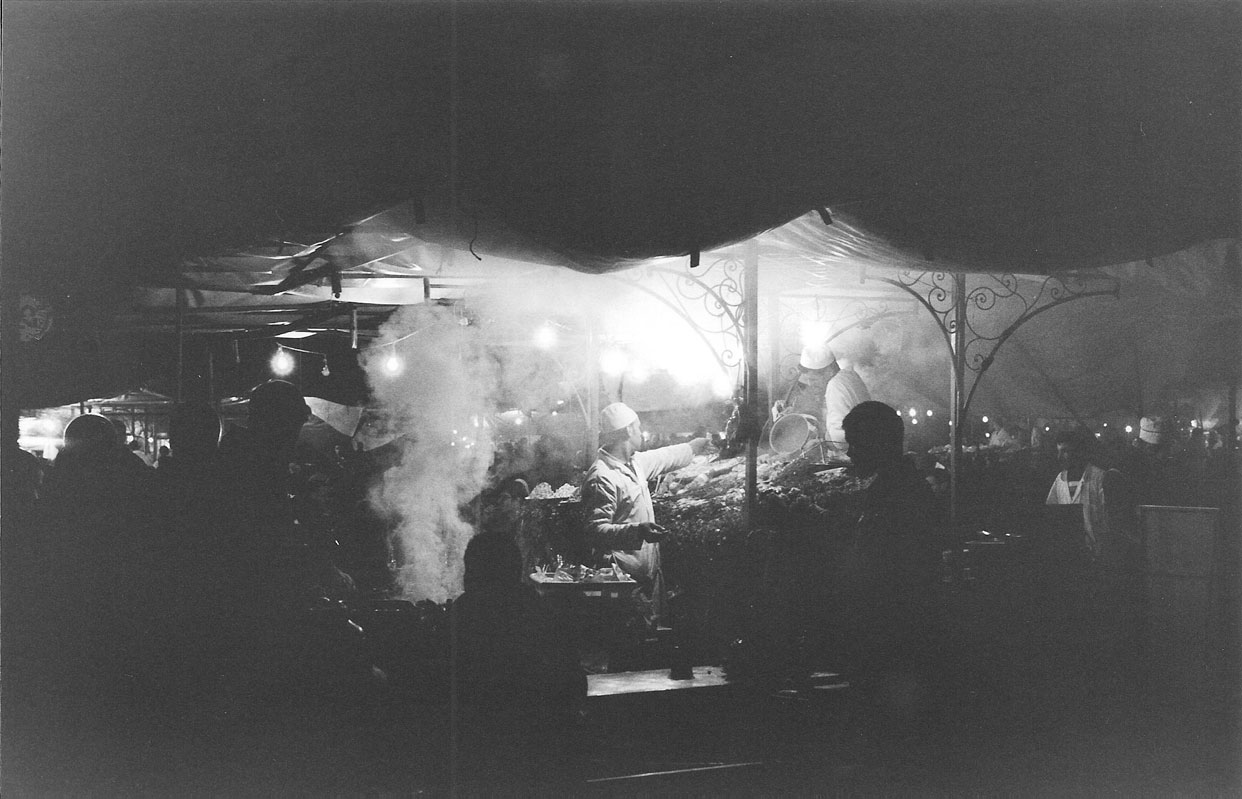 hazy, bustling, noir… all appropriate adjectives to describe the night market scene at djema el-fna square in the old city of marrakech, one of the ultimate things to do in the city.  photo: mathias barbagallo

Dinner at Djemaa el-Fna Stalls
The proverbial heart of Marrakech, Djemaa el-Fna is a large, prominent square in the middle of the old city, which transforms itself like clockwork every night from a largely deserted, sunbaked mid-city oasis to a bustling makeshift marketplace filled with street performers, lights, and a swath of open air restaurant stalls serving all kinds of exotic Moroccan dishes. It's cheap, it's fun, it's delicious, and it's not to be missed at any cost—absolutely one of the essential things to do in Marrakech.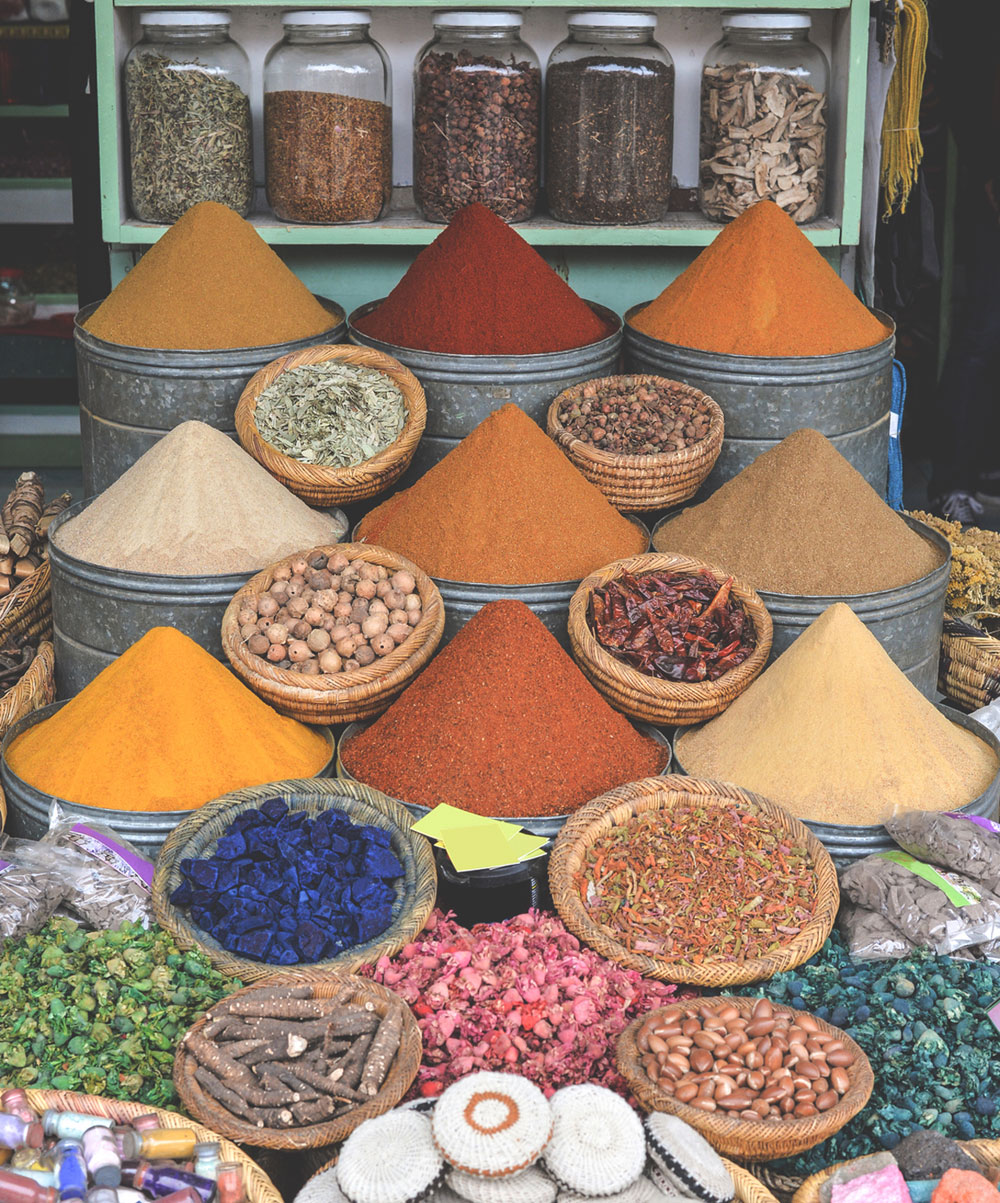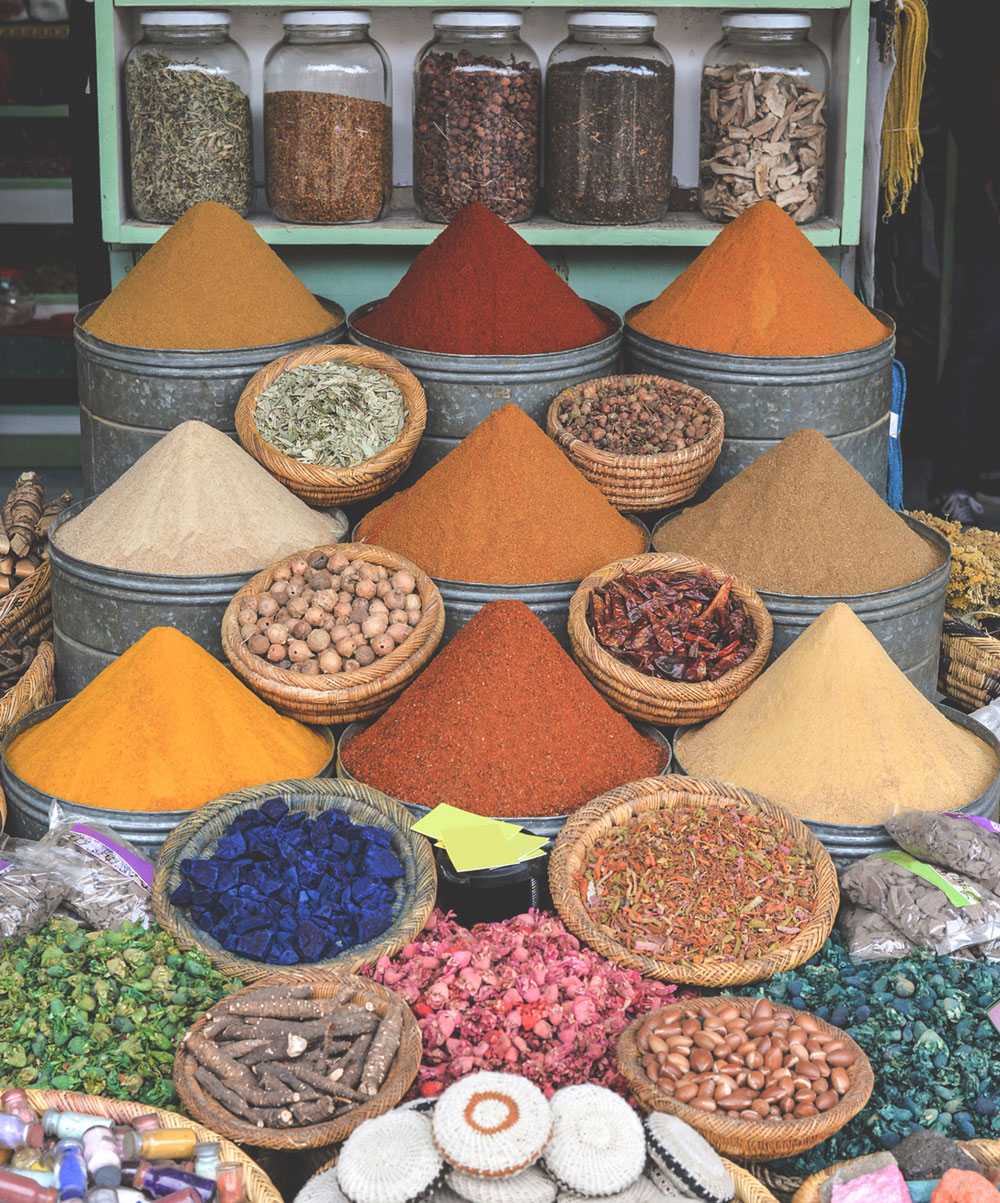 the beating heart of marrakech, the souks are rowdy, vibrant, cheap and fun. one of the ultimate (and unavoidable) things to do in marrakech.
Haggling in the Souks
Bring some extra money because you're absolutely going to want to buy things in the souks—if only to have the quintessential haggling experience famous the world over. From aromatic spices to ornate metal lanterns to handmade, intricate Berber rugs and everything in between—if you can dream it, you can probably buy it somewhere in the souks. It's hectic, it's loud, it's fast-paced, and it's the most fun you're ever going to have buying something.
Spa Day at the Hammams
Throughout Marrakech there are a number of hammams, which are traditional Islamic bathhouses and spas that have a distinctly Romanesque feel. They're usually unassuming on the outside and stunningly gorgeous on the inside (at least the nicer ones are) and a great place to slip away for a little relaxation and rejuvenation. Typically, there are heated pools, steam rooms, saunas, massages, and an array of expected spa services, making it one of the more relaxing things to do in Marrakech.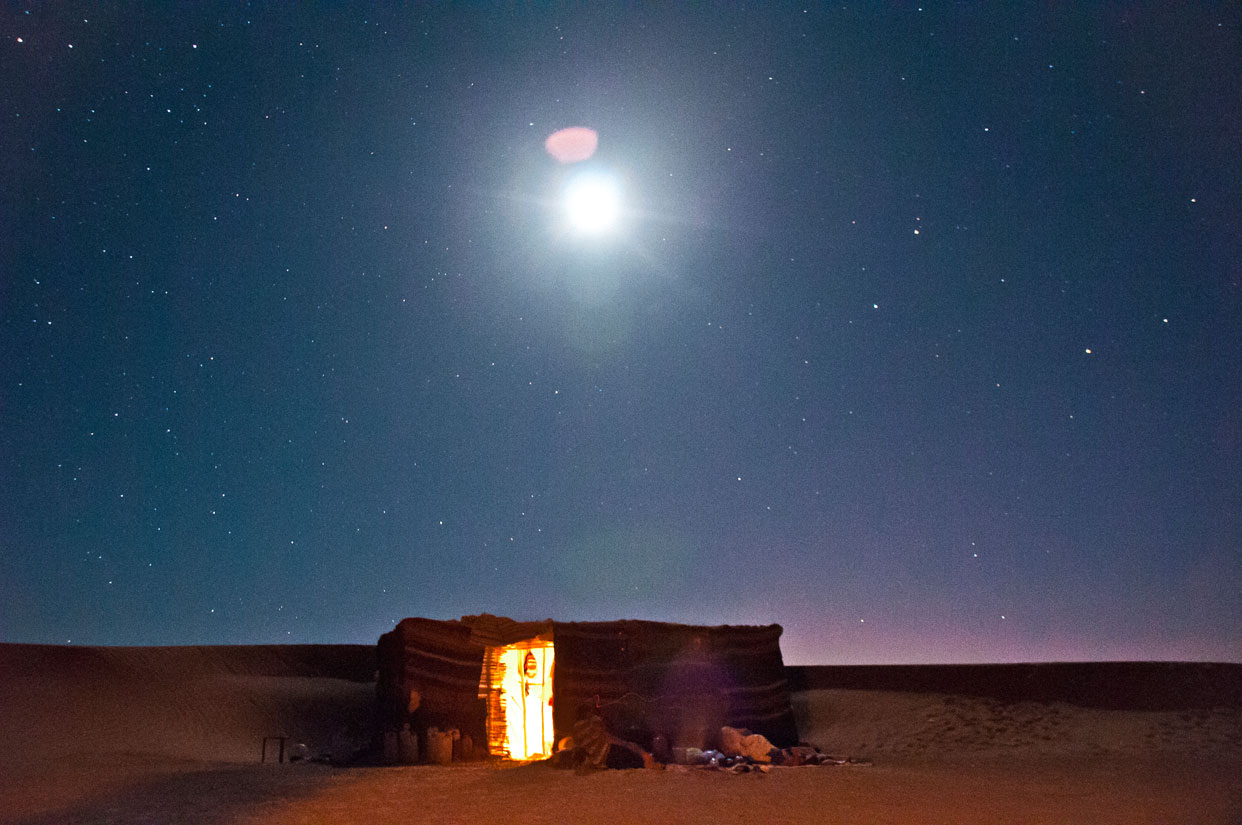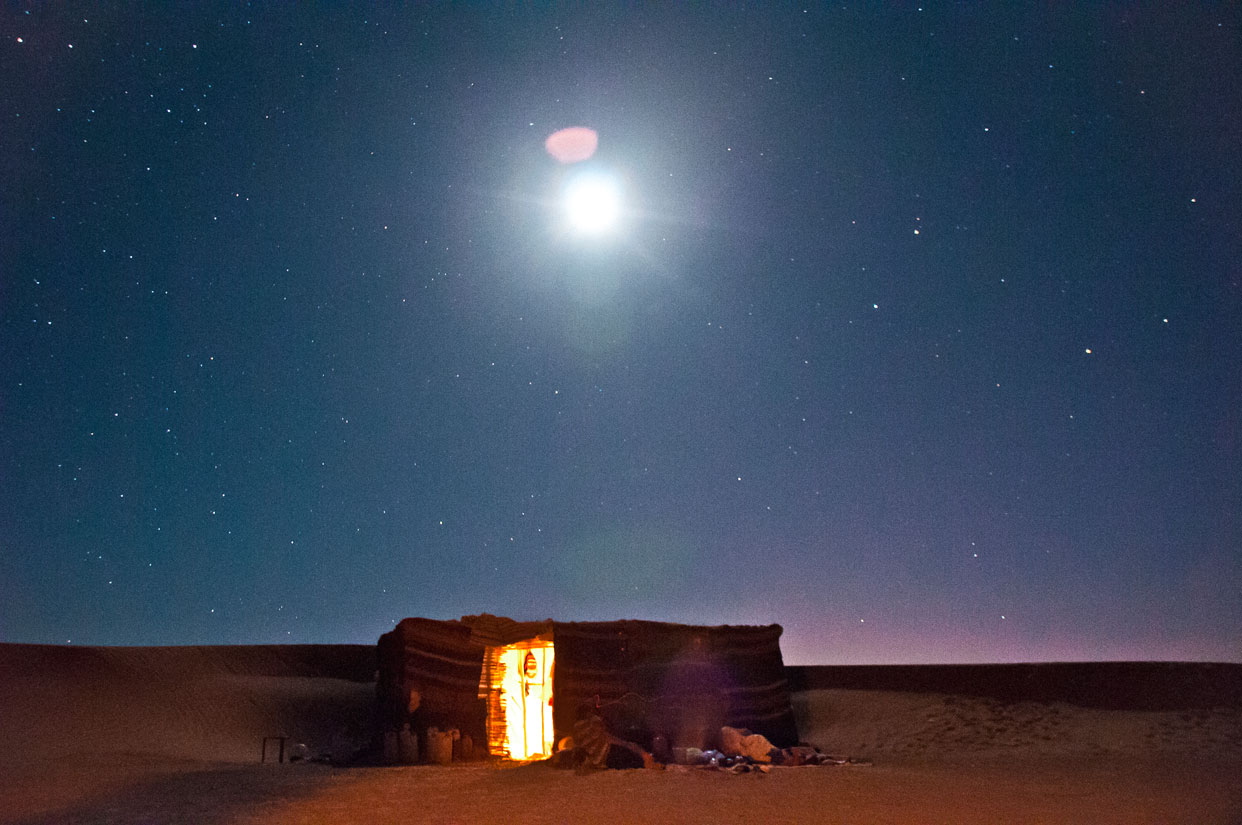 you haven't really seen the stars until you've spent a night camping in berber tent in the sahara desert, just a few hours drive outside, and one of the ultimate things to do in and around, marrakech. photo: ling wang marina

Sahara Desert
On the other side of the Atlas, lays the legendary Sahara Desert, and it absolutely does not disappoint. This, dear readers, is the trip of a lifetime and worth every cent if you have the time. It's truly an extraordinary and unique experience. You can arrange overnight trips (or longer) where you literally sleep under the stars with a Berber tribe, meals and camel treks included. It's a great place to ponder the big questions in life and reflect on the unbelievable magnitude of the universe, which feels oddly tangible in the vast expanse of the dunes. Of course, you can venture out on your own; but be forewarned: you're getting into some wild areas that are still under dispute, with secessionist movements underway. It's safe to visit with a guide; but beyond that it becomes more of a "legendary journey"— either way, a wildly fun thing to do just outside of Marrakech.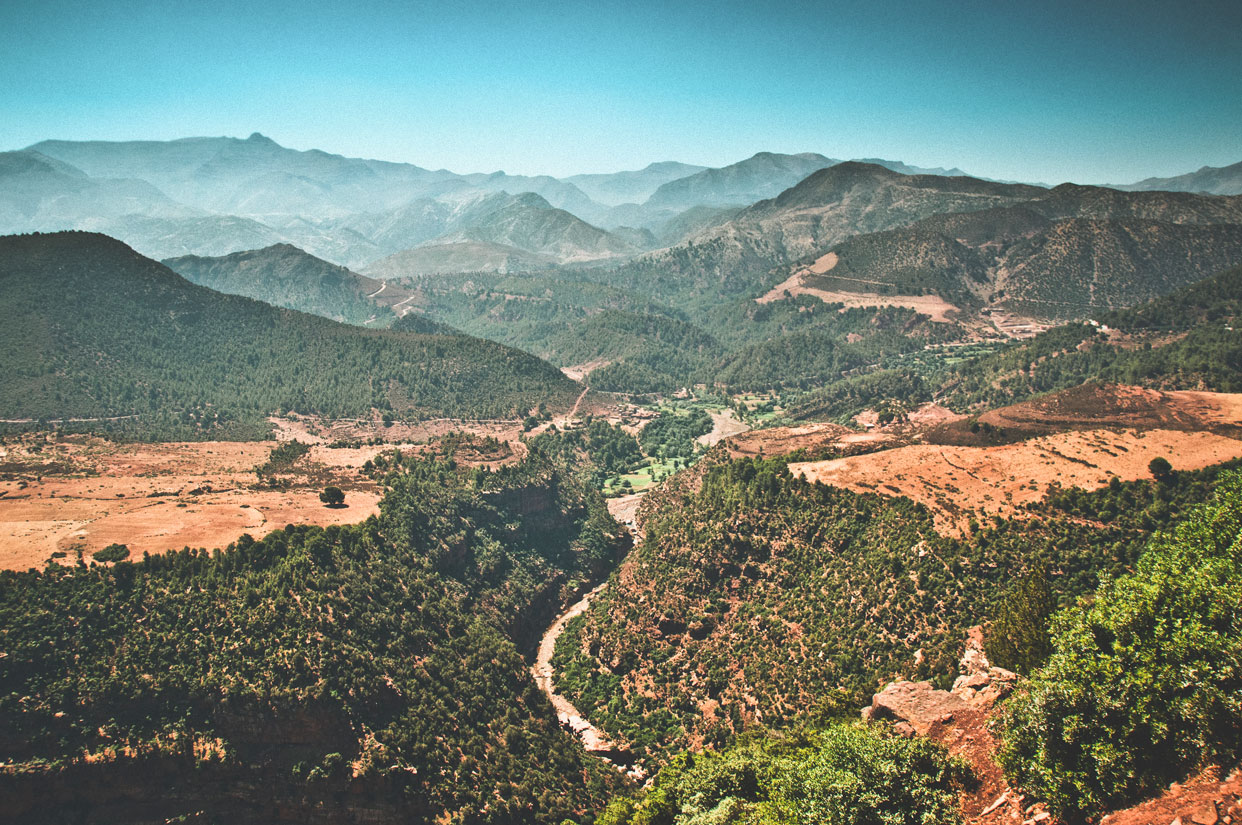 snow melt runoff in the high atlas mountains creates surprisingly lush valleys in the foothills leading toward marrakech. another excellent thing to do just outside of marrakech. photo: ling wang marina
Atlas Mountains
It's an interesting juxtaposition seeing snow-capped mountains in the distance while you're baking in the mid-day city heat. Standing at 13,671 feet, the Atlas range is one of the tallest in the world and unusual on the African continent, which is relatively flat by comparison. Within the craggy canyons and valleys of the high Atlas, lay a handful of extraordinarily beautiful Berber towns and villages. This is the real Morocco—the cultural lifeblood that you can only catch manufactured glimpses of in cities. Aside from a few roads and cafes, things remain largely unchanged here from how they have been for thousands of years. Local Berber tribesmen still siphon their water from the pristine snowmelt-fuelled streams, and old women with camels in tow tend farmland and shuttle goods between villages.
You can hire a local guide to take you hiking, which can be a hair-raising and downright treacherous experience, but makes for a great story if you survive. There's probably a way to do it safely, but be sure to ask some questions before paying and committing. You can arrange day trips (or longer) from Marrakech; and renting a car and heading out on your own is also an option if you're the more adventurous type.
Wherever you are and whatever you end up doing in Marrakech and Morocco in general, one thing's for sure: communication is rarely an issue, which is unusual in this part of the world. Moroccans are master linguists and typically speak fluent Arabic, French and English, which makes travel throughout the area somewhat easier than neighboring countries. And that's probably also due in part to the fact that Moroccan hospitality is legendary, and they're just generally happy people; we made friends everywhere we went.
About The Authors
Justin Faerman is the co-founder of Conscious Lifestyle Magazine.