The Extraordinary Benefits of
Astragalus Root: The Ancient Herb of Longevity and Strength
BY JUSTIN FAERMAN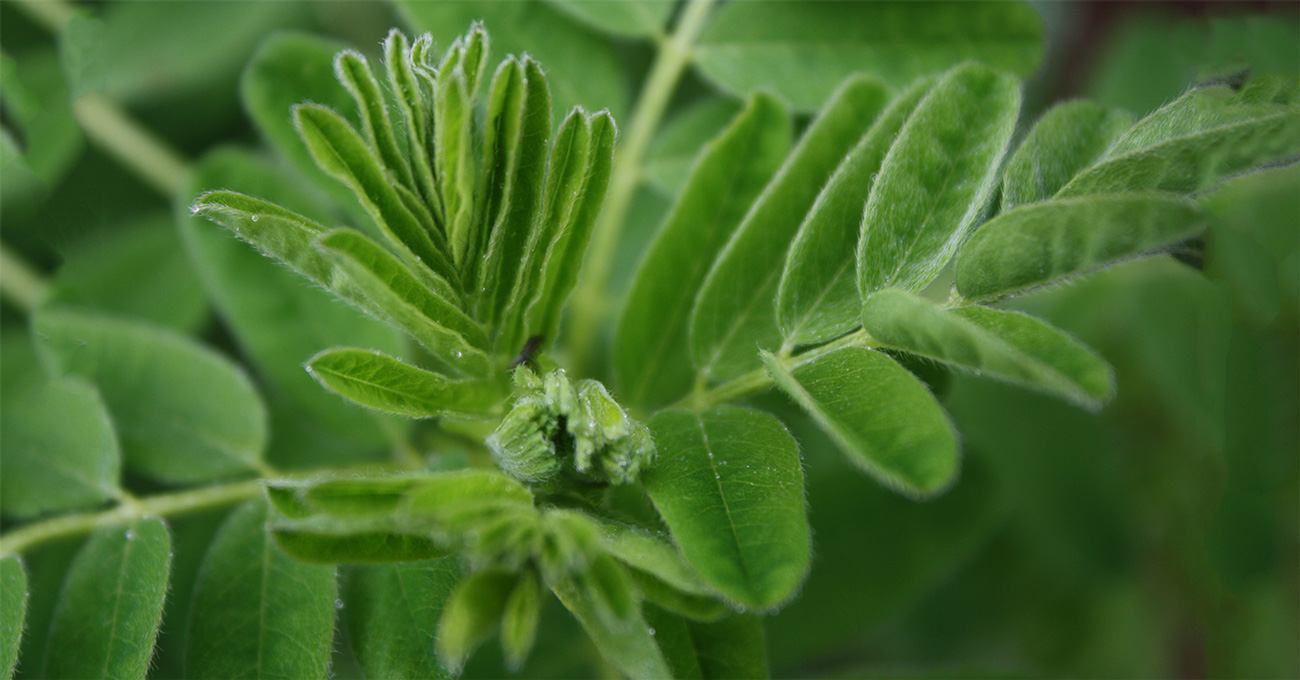 in the ancient, highly sophisticated system of chinese medicine, astragalus is considered one of the top herbal tonics of all time, prized for its ability to restore health and extend life. photo: gail edwards
In the world of herbal medicines, not all are created equal. Most offer a handful of minor health benefits, but nothing that could profoundly change your life. However, there are a select few that are considered legendary by both modern scientists and ancient cultures alike—a special class of herbs that have truly extraordinary health-boosting properties that make them a borderline must for those seeking greater wellness, happiness, longevity and healing. Astragalus is widely considered to be one of those plants—a prized herbal medicine in many traditions that has stood the test of time and continues to be validated as researchers study the medicinal compounds that are active within the plant.
The Health Benefits of Astragalus
For over 2,000 years, Astragalus (also known as Astragalus membranaceus and huang qi in Chinese) has been one of the 50 elite Chinese tonic herbs that are most frequently used in the Traditional Chinese Medicine pharmacopeia due to its remarkable ability to restore health on virtually every level—mentally, emotionally, physically, energetically and spiritually. It is one of the few herbs mentioned in multiple ancient Chinese medical texts as a "Heaven Class" premier herbal medicine for restoring health and rejuvenating the body and mind at the deepest levels. But just what exactly makes it such an extraordinary tonic that has been sought by emperors and medicine men alike for thousands of years? Let's explore…
1. Promotes Longevity, Reverses Aging and Enhances DNA Repair
A number of fascinating studies on human cells and animals have shown that certain compounds in Astragalus root have measurable telomerase-stimulating and enhancing effects, which have been linked to increased longevity, anti-aging and DNA repair. Telomerase is a special kind of protein that repairs damaged DNA sequences in our cells.
Telomerase Activator
Here's how it relates to DNA repair and longevity: as we age, our cells are continually replicating and dividing. Each time that happens, new copies of our cellular DNA must be made for the new cell to be able to function properly. However, due to environmental factors like chronic stress, improper nutrition, exposure to toxins in the food and air, as well as exposure to low level radiation, and other things that are simply part of modern daily life on this planet, our DNA can and does become damaged, altered and degraded. When new cells are made, they often copy these genetic errors over into the new cells. Furthermore, there is a small percentage of genetic transcription errors that naturally occur each time a cell is replicated. While typically minimal, over time these minor changes compound and add up into bigger problems. This degradation of cellular DNA over time is what most scientists agree causes aging.
However, this is where telomerase and Astragalus benefits come into play. Telomerase is our body's natural mechanism to fight DNA damage and aging. The telomerase enzyme works to repair the genetic errors in damaged DNA and restore it back to its healthy, original blueprint. On this front, Astragalus root contains special compounds called cycloastragenol and Astragaloside IV that have been shown in human and animal studies to powerfully stimulate the activity of telomerase. [1, 2, 3, 4, 5]
Historical Use as a Longevity Tonic
What is interesting about these modern findings is that Astragalus has long been prized as a longevity herb by the Daoists in China and was a core part of the daily herbal regimen consumed by Li Ching Yuen who was reported to have lived to be around 256 years old, according to government records and newspapers at the turn of the 19th century. [6]
While research is ongoing into Astragalus's anti-aging properties, the preliminary findings suggest that in order to consume enough cycloastragenol and Astragaloside IV to stimulate telomerase, a larger dose of a high-quality extract of the herb is needed to provide significant amounts (see the recommended products at the end of the article for our top picks on the best quality Astragalus root supplements available).
2. Boosts Immunity and Helps to Fight Bacteria, Viruses and More
Another benefit of Astragalus that it has become famous for over the years is its powerful immune-boosting properties. So much so, in fact, that it has become somewhat of a staple for people with AIDS, chronic fatigue and other debilitating immune system disorders who prefer natural treatments. However, it works equally well for those simply seeking to fortify their immune system during cold and flu season or long term as a general preventative and health-boosting measure. Human studies have shown that regular use of Astragalus root leads to an increase in disease-fighting immune antibodies, stimulation of T-cells (which are powerful immune-regulating white blood cells) and an increase in levels of the anti-viral compound interferon. [7, 8, 9, 10]
3. Reduces Stress and Promotes Organic Energy and Vitality
Astragalus belongs to a special class of herbs known as adaptogens, which have unique effects that work to bring the body and mind into greater balance, depending on what is needed. For example, if someone is stressed out and anxious, they will likely find Astragalus benefits to be centering and calming whereas if they are depleted and fatigued, the plant will tend to have more uplifting, rejuvenating and energizing properties. As such, Astragalus has been shown to help the body deal with stress more effectively and has been used for this purpose for thousands of years. Most notice that it has a subtle energizing effect without being stimulating. It's more of an increase in organic vitality and aliveness that increases the more often you take the herb.
Ron Teeguarden, a master Chinese herbalist, adds that, "As an energizer, Astragalus is famed for its strengthening effects on the outside of the body, in particular to the musculature. It is therefore beneficial to… [those] who tend to be physically active and require abundant external energy. Astragalus root extract is used to strengthen the legs and arms, and is commonly used by people who work outdoors, especially in the cold, because of its strengthening and warming nature."
4. Supports the Health of the Heart, Lungs and Blood
In the Traditional Chinese Medicine (TCM) system, Astragalus is said to protect lung Qi or lung energy, and modern research into the plant has also found it to have a protective and healing effect on the lungs. Astragalus is one of the rare herbs that has beneficial effects on issues related to breathing like asthma [11], allergies, shallow breathing and respiratory illnesses and infections. Over time it tends to clear congestion and improve fullness of breath.
In close proximity to the lungs is the heart and cardiovascular system, which Astragalus also has beneficial effects on. It has been shown in various studies to help prevent the hardening of arteries and the buildup of plaque, reduce elevated blood pressure and improve overall heart function [5, 12]. In the Traditional Chinese Medicine literature, Astragalus root is also said to be a supreme blood tonic, meaning that it has beneficial effects on the hematological systems of the body. TCM doctors often use it to help increase circulation and blood flow, heal wounds and ulcers and generally invigorate the blood. Interestingly, Astragalus extract is known to be rich in highly bioavailable iron, which is a widely acknowledged blood-building essential mineral.
5. Reduces Inflammation and Improves Skin Health and Elasticity
According to Ron Teeguarden, "Astragalus root is said to have an effect on the 'surface' of the body—that is, it is used to tonify the 'protective Qi,' known as Wei Qi in Chinese. This protective Qi is a special kind of energy that circulates just under the skin and in the muscle. Protective Qi circulates in the subcutaneous tissues, providing suppleness to the flesh and adaptive energy to the skin." As such, many find that Astragalus taken over time restores a youthful glow to the skin and reduces wrinkles, damage and other signs of aging, which could be in part due to its telomerase-stimulating effects as well. The raw herb powder can be used as an ingredient in face masks and lotions for a more penetrating effect.
However, Astragalus's beneficial skin effects are also partially related to its ability to reduce inflammation in the body in a number of ways. Various studies have shown that it lowers the inflammatory effects that histamines have in the body by modulating inflammatory markers in the digestive tract, the kidneys and other important body systems [13, 14, 15, 16].
6. Psychospiritual Effects: Deeply Rejuvenating Qi and Life Force Tonic
In Traditional Chinese Medicine and Daoist philosophy, Astragalus root is considered to be one of the most powerful Qi tonics on the planet, meaning that it works to restore, cultivate and supply Qi energy in the body, mind and spirit. Qi loosely translates to life-force energy, which is a form of subtle energy on which the body and its energy bodies run. Qi can be depleted in a number of ways through poor diet and lifestyle habits, chronic stress, lack of deep breathing, lack of proper sleep, lack of exercise, overexertion, sexual overindulgence and exposure to chemicals and toxins, among other things.
According to Chinese Medicine and Daoist philosophy, it is this depletion of—or imbalance of—Qi that underlies most all disease and dysfunction in the body. Consequently, abundant, balanced and flowing Qi energy, which Astragalus supplies in spades, is believed to be at the root cause of good health, longevity and even superhuman abilities.
Upright Qi: Keeping the Body Balanced and Strong
An important health benefit of Astragalus is in its ability to strengthen upright Qi, which is the subtle energy used by the body to maintain upright posture and the position of the organs in their proper places within the body. Normally as one gets older, this upright Qi is naturally depleted, which is why many elderly people are often hunched over to some degree. However, daily use of Astragalus works to reverse this trend by supplying upright Qi to the body.
All of these beneficial properties combine to make Astragalus root a premier rejuvenative herb that literally works to restore the body from the inside out. Through a complex series of interactions on all the levels outlined herein, Astragalus benefits, tonifies, strengthens and supports nearly every organ and system in the body, which is why it has earned such a legendary reputation in both modern and ancient times.
How to Choose a Quality Astragalus Supplement
Like all herbal products, organic, wild-harvested and wildcrafted Astragalus supplements are typically the best. As a native herb to China and Asia, much of the world's supply originates in these regions so it is important to look for quality suppliers who don't cut corners (see our recommendations that meet these guidelines opposite). While pills work equally well, we recommend taking Astragalus in powder or tea form so that you can adjust the dosage to meet your needs. Astragalus tastes fairly good as herbs go, and as such it is popular in tea form as well. For maximum longevity-boosting effects, it is best to use a high-potency Astragalus extract, which typically contains more of the telomerase-stimulating compounds.
Recommended Astragalus Products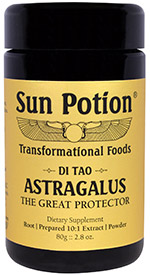 Wildcrafted Astragalus Root Extract Powder
Sun Potion
Sun Potion offers a high-potency, 10:1 cold water extract of Astragalus root, sourced at high elevations in the 'Di Tao' native growing regions of China. Their Astragalus extract is ethically and sustainably wildcrafted, which means it is grown in the wild, in its native habitat for maximum strength, potency, qi- boosting effects and freshness.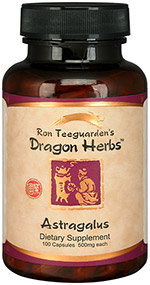 Astragalus Root Capsules
Dragon Herbs
Dragon Herbs offers premium grade Astragalus root capsules that are highly concentrated to their precise, world-class standards, yielding a product high in polysaccharides and saponins for maximum medicinal and health-boosting effects.
Astragalus Root Tea
Dragon Herbs
Dragon Herbs also offers a premium grade Astragalus root tea in convenient granule form for brewing and medicinal tonics. Their proprietary extraction technology captures the original phyto-chemical profile of the herbs and transfers it safely into the final extract, preserving the aroma, color and taste of the plant perfectly.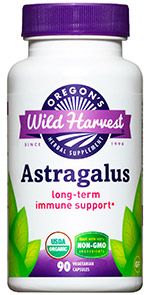 Organic Astragalus Root
Oregon's Wild Harvest
Oregon's Wild Harvest offers premium grade, sustainably sourced Astragalus root capsules grown on an organic farm in the U.S.A. Oregon's Wild Harvest only uses the fully developed principal tap root of Astragalus, which Traditional Chinese Medicine practitioners believe provides a much greater health benefit than smaller immature and secondary roots.
References
1. Hector F. Valenzuela, Thomas Fuller, Jim Edwards, Danielle Finger, Brenda Molgora. Cycloastragenol extends T cell proliferation by increasing telomerase activity. The Journal of Immunology April 1, 2009, 182 (1 Supplement) 90.30;
2. Bernardes de jesus B, Schneeberger K, Vera E, Tejera A, Harley CB, Blasco MA. The telomerase activator TA-65 elongates short telomeres and increases health span of adult/old mice without increasing cancer incidence. Aging Cell. 2011;10(4):604-21.
3. Molgora B, Bateman R, Sweeney G, et al. Functional assessment of pharmacological telomerase activators in human T cells. Cells. 2013;2(1):57-66.
4. Harley CB, Liu W, Blasco M, et al. A Natural Product Telomerase Activator As Part of a Health Maintenance Program. Rejuvenation Research. 2011;14(1):45-56. doi:10.1089/rej.2010.1085.
5. Ren S, Zhang H, Mu Y, Sun M, Liu P. Pharmacological effects of Astragaloside IV: a literature review. J Tradit Chin Med. 2013;33(3):413-6.
6. Wikipedia, the free encyclopedia. Li Ching-Yuen. Accessed August 4, 2017.
7. Chang HM, But PPH, eds. Pharmacology and applications of Chinese material medica, Vol. 2. Singapore, World Scientific Publishing, 1987.**
8. Hou YD et al. Effect of Radix Astragali seu hedysari on the interferon system. Chinese medical journal, 1981, 94:35-40. **
9. Institute of Basic Medical Sciences, The Chinese Academy of Medical Sciences. Immunity parameters and blood cAMP changes in normal persons after ingestion of Radix Astragali. Chung hua I hsueh t'sa chih, 1979, 59:31-34. **
10. Finter NB. Interferons and interferon-inducers. Amsterdam, North Holland, 1973:363. **
11. Yuan X, Sun S, Wang S, Sun Y. Effects of astragaloside IV on IFN-gamma level and prolonged airway dysfunction in a murine model of chronic asthma. Planta Med. 2011;77(4):328-33.
12. Ren S, Zhang H, Mu Y, Sun M, Liu P. Pharmacological effects of Astragaloside IV: a literature review. J Tradit Chin Med. 2013;33(3):413-6.
13. Al-Snafi, A. E. (2015). Chemical constituents and pharmacological effects of Astragalus hamosus and Astragalus tribuloides grown in Iraq. Asian J of Pharm Sci & Tech, 5(4), 321-328.
14. Ko JK, Chik CW. The protective action of radix Astragalus membranaceus against hapten-induced colitis through modulation of cytokines. Cytokine. 2009;47(2):85-90.
15. Lu J, Chen X, Zhang Y, et al. Astragalus polysaccharide induces anti-inflammatory effects dependent on AMPK activity in palmitate-treated RAW264.7 cells. Int J Mol Med. 2013;31(6):1463-70.
16. Astragalus. (n.d.). University of Maryland Medical Center. Retrieved August 04, 2017, from http://www.umm.edu/health/medical/altmed/herb/astragalus
Recommended Product Disclaimer
The products recommended in this article may have different formulations than the products used in the studies and research cited in this article. As such, they may have different effects than have been reported by these studies. No claim is made or implied whatsoever as to the effects of any recommended products or their effects on health. The statements made in this article have not been evaluated by the FDA. Any products recommended are not intended to diagnose, treat, or cure any disease.
About The Author
Justin Faerman has been studying and writing about holistic health practices, herbalism and natural medicine for over 14 years and is a leading authority on both modern and ancient therapies for creating lasting health and wellness. He has a degree in Environmental Science from the University of California, Santa Barbara and has conducted field research into organic and regenerative agriculture practices and eco-social sustainability during his time there. He is also the Founder of Lotus Superfoods, a boutique purveyor of rare herbs and superfoods as well as the Co-founder of Conscious Lifestyle Magazine and the Flow Consciousness Institute. Learn more about his work at flowconsciousnessinstitute.com and lotussuperfoods.com